Filson Bourbon Academy Comes To St. Louis
It's with great excitement that Bourbon & Banter announces that author and historian, Mike Veach, will be bringing his Bourbon Academy seminar to St. Louis, MO on November 9, 2013. Ever since we learned that Mike Veach was taking his Bourbon Academy on the road we wanted to get him to town. We're pl

It's with great excitement that Bourbon & Banter announces that author and historian, Mike Veach, will be bringing his Bourbon Academy seminar to St. Louis, MO on November 9, 2013. Ever since we learned that Mike Veach was taking his Bourbon Academy on the road we wanted to get him to town. We're pleased that we were able to convince Mike to visit St. Louis and help us spread the bourbon gospel in our hometown.
We've partnered with the soon to be opening Gamlin Whiskey House to host the event and look forward to spending the day learning about whiskey with other like-minded folks from the St. Louis area. Here's all the details you need to know.
---
Filson Bourbon Academy with author & historian Michael Veach
Saturday, November 9th, 9-5pm at the Gamlin Whiskey House, St. Louis
The Filson Bourbon Academy  answers every question you ever had about the native spirit of the United States, but were afraid to ask.
"Was there any one person that invented Bourbon?"
"Why did rye whiskey fall out of favor until recently?"
"Where did Bourbon REALLY get it's name?"
"How did whiskey end up aging in wood?"
"What makes an American whiskey a Bourbon?"
"What whiskeys were still being made during Prohibition?"
Enhance your appreciation of Bourbon and increase your knowledge of Kentucky whiskey products at the Filson Bourbon Academy. The Kentucky Distillers Association and the Louisville Convention and Visitors Bureau support this class. The Academy offers licensed bartenders, servers working in the hospitality industry, and interested connoisseurs with a firm background in Kentucky's native spirit.
This eight-hour course will consist of lectures & stories pertaining to the history of Bourbon in Kentucky, as well as Bourbon tastings.
Topics to be addressed include:
"Farmer Distillers and the Birth of Bourbon"
"Bourbon and the Industrial Revolution"
"The Early 20th Century and Prohibition"
"Post-Prohibition and the Modern Era of Bourbon"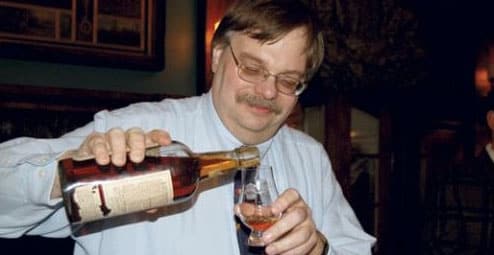 Join Michael Veach, former archivist for the legendary Stitzel-Weller Distillery and the Filson Historical Society in Louisville, KY , a recent inductee into the Bourbon Hall of Fame and author of the new bestselling book "Kentucky Bourbon Whiskey: An American Heritage" as he answers any & all questions about the true American spirit, in a condensed 8-hour version of his 4-week long Filson Bourbon Academy on the History of American Whiskey on Saturday, November 9th, from 9 AM-5 PM at the Gamlin Whiskey House, 236 N. Euclid, St. Louis, MO 63108.
Mr. Veach will also be signing copies of his book, which will be available for purchase!
Tuition is $200, and all proceeds go to benefit the not-for-profit Filson Historical Society. This price includes a light breakfast offering and a plated lunch for each participant
All attendees completing the course will be certified as a member of the Filson Bourbon Academy and made honorary members of the Kentucky Bourbon Trail.
Attendance is extremely limited, so sign-up quickly.
You must be at least 21 years of age to enroll.
Supported By:
The Kentucky Bourbon Trail
Kentucky Distillers' Association
The Filson Historical Society
St. Louis Event Sponsors and Hosts:
Bourbon & Banter
Gamlin Whiskey House