Four Roses 2020 Limited Edition Small Batch Review
Similar to last year's release, this year's Four Roses Limited Edition Small Batch bourbon has a lovely nosed filled with buttery vanilla and complemented with a pome fruit bomb and spiced orange.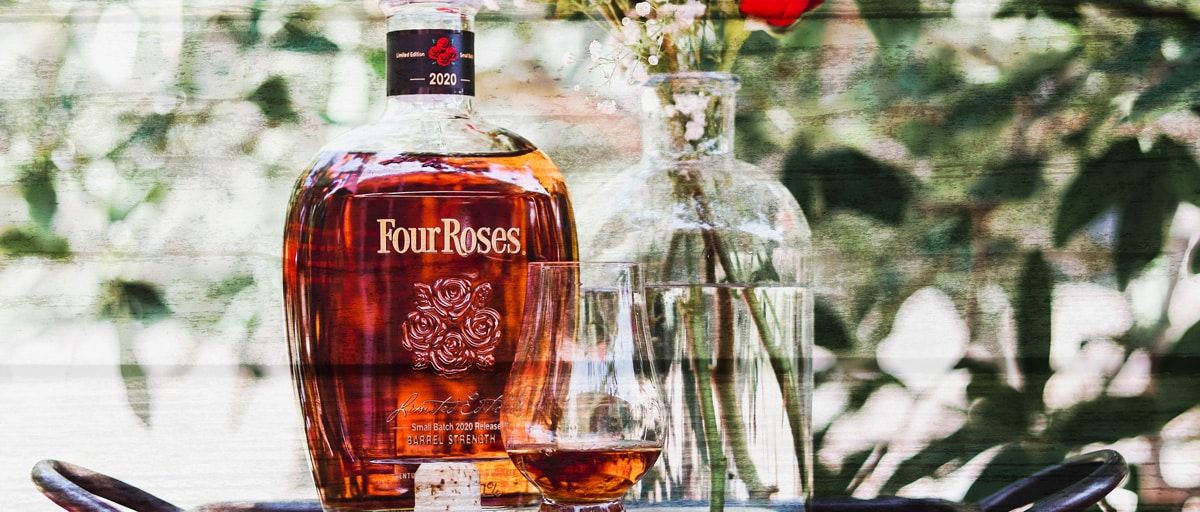 BOTTLE DETAILS
---
DISTILLER: Four Roses Distillery
MASH BILL: A blend of four different Four Roses recipes: OBSV - 12 years / OESV - 12 years / OESK - 16 years / OBSK - 19 years
AGE: A blend of 12, 16 and 19-year bourbons
YEAR: 2020
PROOF: 111.3 Proof (55.65% ABV)
MSRP: $150.00
BUY ONLINE: The special bottling will roll out to select retailers in late September. Additionally, Four Roses will offer a limited quantity for sale at the Four Roses Distillery Visitor Center via a public lottery drawing. Individuals may register for the lottery from August 25 to September 9 by visiting the Four Roses website. Those selected via random draw will schedule appointments to pick up their purchase at the Four Roses Distillery.
POPS' REVIEW OF FOUR ROSES 2020 LIMITED EDITION SMALL BATCH
---
NOSE: Buttery Vanilla  |  Fruit Bomb (apples/pears) | Toasted Marshmallow |  Spiced Oranges
TASTE: Berries & Cream  |  Crystalized Brown Sugar  |  Orange Peel |  Toasted Oak
FINISH: Long finish of mild oak, dry spice and Juicy Fruit.
SHARE WITH: It's okay to share this with only a select group of friends with palates advanced enough to appreciate the differences between Four Roses recipes. You can tell your whiskey and coke swilling brother-in-law to back off and go back to his Jack and Coke. Of course, any Four Roses fan will love this release!
WORTH THE PRICE: At an MSRP of $150 this year's release is $10 more than last year's. While Four Roses is pushing the upper limit of what I'm willing to spend on a limited edition release, I'd still grab a bottle if given a chance to buy one at MSRP. But once it goes crazy on the secondary market I'd probably pass and let others chase it down and spend all their money.
BOTTLE, BAR OR BUST: This is a bottle purchase if putting down $150 for a bottle of bourbon doesn't cause you any discomfort.  If it gives you pause, try it at a bar or get some friends to split a bottle.
OVERALL: Similar to last year's release, this year's Four Roses Limited Edition Small Batch bourbon has a lovely nosed filled with buttery vanilla and complemented with a pome fruit bomb and spiced orange. Each aroma is full represented solidly but also flow naturally with the others creating an overall aroma that is greater than just the sum of its parts.
It's sweet on the tip of the tongue with berries & cream covered with crystalized brown sugar. As it hits your mid-palate, the flavors shift with notes of orange peel and toasted oak that balance out the sweetness with bitter - just enough to bring it all into harmony.
The finish is long and leaves a very pleasant balance of oak, drying spice a dash of Juicy Fruit. It's not a legendary finish but it's very pleasant and one that I imagine would be complemented with some great selection of candied or chocolate covered fruits.
Once again Brent Elliott shows us Four Roses is in excellent hands and that new and long-time fans have plenty to be excited about each fall when the limited edition small batch is released.
"Each batch in this year's limited edition bottling is an exceptional whiskey that could have stood on its own as a single barrel offering. But in this case the sum is even greater than the parts – as together these bring a perfect balance of bright, vibrant flavors and aromas from the 12 and 16-year-old barrels combined with the oak tones and aged expressions from the 19-year-old batch."

Brent Elliott, Four Roses Master Distiller
BRAND NOTES
---
Only Four Roses combines two mash bills with five proprietary yeast strains to create 10 distinct Bourbon recipes, each with unique flavor characteristics. In the beginning states of handcrafting a Limited Edition Small Batch bottling, Master Distiller Brent Elliott creates countless test batches from hand-selected barrels in an effort to mingle the best offering.
The 2020 Limited Edition Small Batch is the newest release in Four Roses Distillery's series of limited-quantity special bottlings. non-chill filtered and bottled at barrel strength, this Limited Edition Small Batch features a 12-year-old Bourbon from the OBSV recipe, a 12-year-old OESV, a 19-year-old OBSK and a 16-year-old OESK.
NOSE: Apple, Orange Peel, Honey & Vanilla
PALATE: Apricot, Pear, Hints of Red Berries
FINISH: Rye Spice, Light Oak, Refreshing Fruit