Four Roses Bourbon Blooms as the Official Bourbon of the Rose Bowl Stadium
Four Roses has become the Official Bourbon Partner of the Rose Bowl Stadium.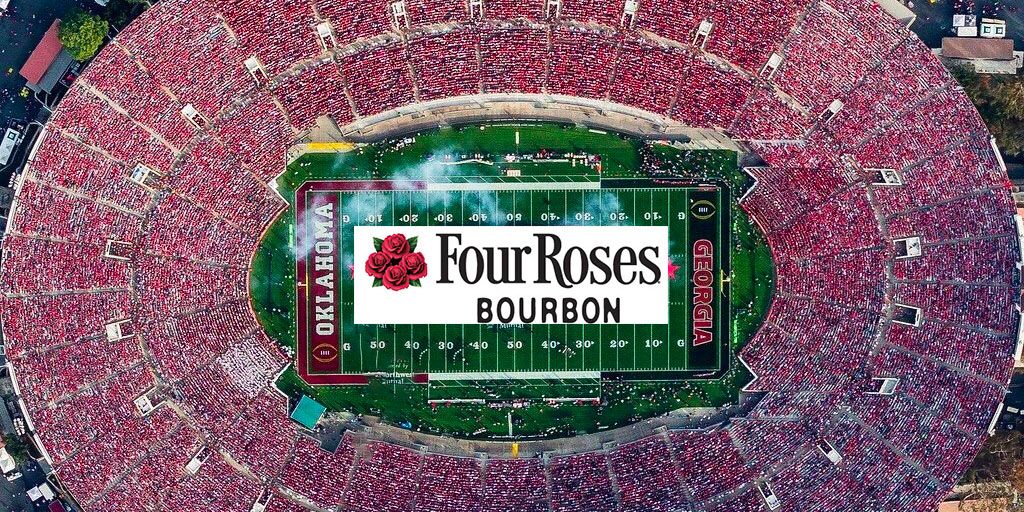 Award-winning Kentucky Straight Bourbon signs partnership with America's Stadium

LAWRENCEBURG, Ky. – Four Roses has become the Official Bourbon Partner of the Rose Bowl Stadium. Kentucky-based Four Roses Distillery is pouring specialty cocktails made with its award-winning Bourbon and offering tastings of Four Roses Single Barrel, Four Roses Small Batch, Four Roses Bourbon and the newly released Small Batch Select at all Rose Bowl events.  
Four Roses will be served from branded carts throughout the concourse and in the TCL Lounge, Stella Rose Wine Garden, Terry Donahue Pavilion and Brookside Golf Club, beginning now through January 2021.  
Paul Engl, General Manager of IMG Los Angeles, stated, "Aligning these two iconic brands is a sensational opportunity. We are thrilled to begin serving Four Roses' premium Bourbon products at America's Stadium and at Brookside Golf Course year-round. I look forward to our adult fans enjoying Four Roses at all Rose Bowl Stadium events for years to come."
Four Roses dates back to 1888 when founder, Paul Jones, Jr., trademarked the company name as a symbol of his passion for his true love–a passion he thereafter transferred to making Four Roses Bourbon.  
"With a legend that began the same year as the Rose Bowl's storied history, and the obvious connection to roses, it only made sense for Four Roses to partner with the iconic stadium," said Four Roses Master Distiller Brent Elliott. "We're proud to announce our partnership with America's Stadium and we look forward to offering Rose Bowl guests a unique and mellow experience by sharing our Bourbons."
For more than a century, Four Roses has grown from its humble roots on Louisville, Kentucky's Whiskey Row, surviving Prohibition, the Great Depression, two World Wars and 40 years abroad. Now situated in scenic Lawrenceburg, Kentucky, Four Roses is an internationally-recognized Bourbon brand.  
"We are excited to welcome Four Roses to the team at the Rose Bowl Stadium," said Jens Weiden, CRO at Rose Bowl Operating Company. "We can't think of a better brand to align with here at America's Stadium."