Four Roses: The Ten Recipe Tasting Experience
The kit will include 50ml bottles of each recipe for bourbon enthusiasts to get a taste of where the brand's offerings originate.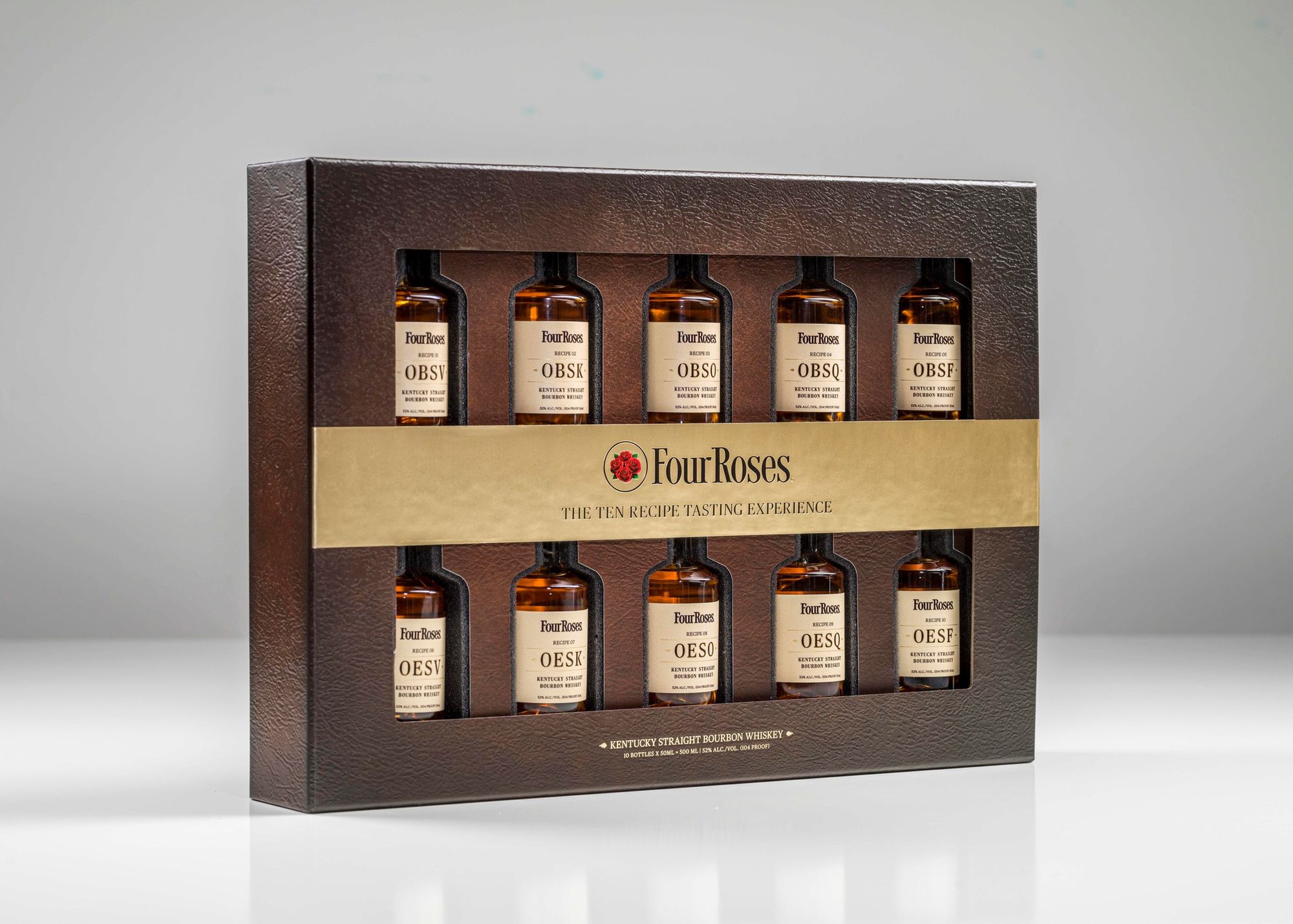 As part of the brand's first global brand refresh since 2006, Four Roses is releasing, for the first time, a limited edition kit - The Ten Recipe Tasting Experience - which will feature each of the ten unique bourbon recipes that make up Four Roses' bourbons. It's these ten signature recipes that set the brand's bourbons apart, and gives the liquid in each bottle its distinctive characteristic. The kit will include 50ml bottles of each recipe for bourbon enthusiasts to get a taste of where the brand's offerings originate. A QR code on the box will lead to a guided tasting video with Master Distiller Brent Elliott for a more immersive experience. This limited edition kit (SRP: $129.99) will be available for purchase starting June 30 at the Four Roses Visitor Centers in Lawrenceburg and Coxs Creek, Kentucky, and will roll out in select retailers in Georgia, Illinois, Kentucky, and California starting in mid-July.
You can read the full press release below where the brand details out other changes they're making as part of the brand refresh – including a new website design that says farewell to the black website and replaces it with a much easier-on-the-eyes version that I'm enjoying more than I would have expected.
Look at their changes and let us know what you think in the comments.
Four Roses Distillery Celebrates 135 Anniversary with First Global Brand Refresh in Nearly Two Decades
LAWRENCEBURG, Ky., June 20, 2023 /PRNewswire/ – Today, Four Roses Distillery, the award-winning Kentucky-based bourbon brand, announces its global brand refresh, the first update for the brand since 2006. The new visual identity also comes as Four Roses, a heritage brand that predates Prohibition, celebrates its 135th year. Fans of the brand and consumers alike will see the refreshed branding across all of Four Roses' bourbon bottles, and on its new website, starting today.
Since its founding in 1888, the bourbon brand has maintained its commitment to quality and consistency in its liquid and overall product. Four Roses has continued to stay true to its roots and time-tested process of creating bourbons with an unmatched flavor that are not only complex, but also delightfully mellow. Four Roses looks to pay homage to the brand's heritage while exploring a more modernized approach through evolving the labels on all bottles, and revitalizing the website for a more user-friendly and cohesive experience.
"In our 135th year, we're thrilled to reveal our refreshed, modernized branding, which aims to maintain the spirit of our rich history while appealing to today's bourbon drinker," said Kelly Edney, Senior Brand Manager. "Four Roses is about creating and being part of life's mellow moments, and we hope that our dedicated fans and future customers continue to feel that connection."
Helmed by agency Camp + King, the design updates from the brand refresh include:
A renewed, 3D rose emblem - the brand's classic logo - offering a more refreshed and refined representation of the brand's founding story
A new engraved rose cluster on the cork of each bottle
Brightened labels with gilded borders on all bottles labels, to bring a more contemporary look to the design. Labels on each of the brand's four bourbon expressions show a varying color palette that correspond with the richness of the product
The publico typeface on the new label brings an elegance that is as timeless as the brand itself
The addition of Master Distiller Brent Elliott's signature on the face of each bottle as a nod to the care and attention he puts into every bottle; tasting notes have also been added to the back of each bottle label to highlight the unique flavor profiles of each product.
An updated website design that still includes cocktail recipes, events, and purchase links, but with a brighter and more cohesive look to match the refreshed branding