Four Roses 135th Anniversary Limited Edition Review
When I finished the Zoom tasting, I was skeptical about the 25-year-old whiskey in the final blend. Did it contribute that much, or was it just meant to make this Small Batch Limited Edition a little more special on paper for its anniversary?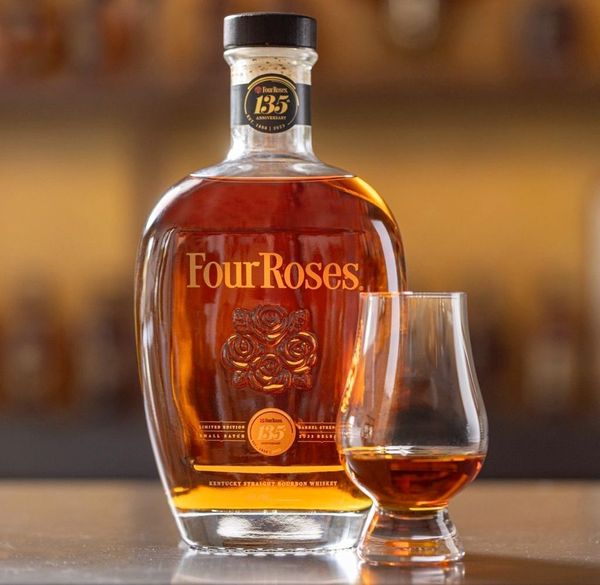 BOTTLE DETAILS
---
DISTILLER: Four Roses
MASH BILL: 95% of the blend is drawn from the OE mash bill (75% corn, 20% rye, 5% malted barley) and 5% from the OB mash bill (60% corn, 35% rye, 5 % malted barley)
AGE: A blend 12-, 14-, 16-, and 25-year-old barrels
YEAR: 2023
PROOF: 108 Proof
MSRP: $199.99
BUY ONLINE: Four Roses Retailer Locator
DREW'S NOTES
---
SHARE WITH: This is a great bottle to share with anyone who enjoys a complex and flavorful bourbon and, of course, Four Roses fans, especially those who gravitate toward the sweeter OE recipe single barrels that comprise the bulk of this blend.
WORTH THE PRICE: It is certainly worth its MSRP. Unfortunately, many retailers will likely add a hefty markup, especially given the "anniversary" status that will elevate its value in the eyes of collectors and drinkers alike. Depending on where you shop, this bottle may be a difficult value proposition for anyone but the most devoted Four Roses drinker.
BOTTLE, BAR OR BUST: Bottle. As a Four Roses fan, this is worth a generous markup for me, and I think this particular release ranks among some of the best yet from Master Distiller Brent Elliot.
OVERALL: Steve Coomes and I attended a Zoom with Brent before the official launch. When asked if he used previous Small Batch Limited Edition (SBLE) releases as inspiration for this latest offering, Brent said he "revisited old friends" to ensure that he was creating something new that showcased the unique potential of the distillery's ten different bourbon recipes. He also called it his "favorite time of the year," and I can see why.
While this year's SBLE required 35 test blends, it was apparent from Brent's comments that he arrived pretty quickly at the bulk of the winning formula: a mix of 12-, 14-, and 16-year-old bourbons all drawn from the OE mashbill with most of those made using the V "Delicate Fruit" yeast strain. The harder part was settling on the top dressing, a 25-year-old OBSV bourbon, the oldest whiskey used in a Four Roses blend.
Small Batch Limited Editions are always impressive bourbons, but the 135th Anniversary may be Elliot's best yet. It's initially buttery and nutty on the nose, but the aroma transforms with fruit and spice as it opens. Notes of tinned pears, pie spice, caramel apple and seasoned oak are inviting with a pronounced richness. The palate is round and warming. Vibrant notes of gumdrops and almond syrup give way to toasted coconut and chocolate shavings before leaning hard into the sweet fruits with pear Jelly Belly and cherry rock candy notes. It would all skew too saccharine if not for a lacing of ginger, nutmeg, and clove, which balance the sweetness and add an impressive depth of flavor. The finish is long and gently spiced with a flourish of red fruit, raspberry almost, and a lingering fudgy chocolate note.
After tasting how it all came together, I have to imagine that older stock - well-spiced, woody and rich - really did contribute worthwhile nuance in what may have otherwise been a whiskey a bit too sweet and fruit-forward. Elliot told us he wanted to make something "worthy of the brand's heritage." I think he has certainly succeeded.
BRAND NOTES
---
Bottled at 108 proof, the 135th Anniversary Limited Edition Small Batch features four hand-selected bourbon recipes: A 12-year-old and a 16-year-old OESV recipe, which features notes of delicate fruit and caramel; a 14- year-old OESK recipe, with notes of baking spice; and a 25-year-old OBSV recipe that boasts delicate fruit and rye flavors.
Nose: Allspice, vanilla and elegant oak, mingled with a hint of cinnamon and clove.
Palate: Rich layers of honey and rye spice, balanced out by the taste of ripe berries and pear that lead to a long mellow finish.
---
Disclaimer: Bourbon & Banter received a sample of this product from the brand for review. We appreciate their willingness to allow us to review their products with no strings attached. Thank you.