Goodwood Stout Barrel Finish Bourbon Review
There is an old saying that goes: there is no use in crying over spilled milk and fallen bourbon rickhouses. Okay, so I may have taken artistic liberties with the latter half of the saying but you'll see where I am going with this.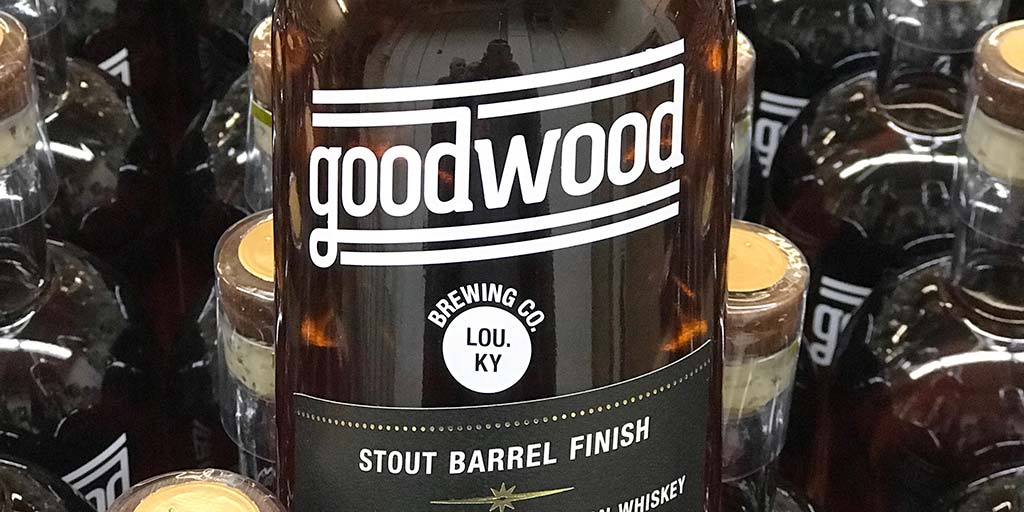 Update from the Editor: After the release of @brownwaterguy's review of Goodwood's Stout Bourbon and the connection that was made to the fallen Barton 1792 Warehouse it has been reported that the origin of the bourbon source may have been erroneous. Sazerac, owner of Barton, has since sent Ted Mitzlaff, Goodwood CEO, a Cease and Desist letter claiming that no transaction ever took place and that Sazerac is able to account for all the barrels from the fallen warehouse. In response, Mitzlaff claims that Goodwood was given misinformation from a barrel broker and has since withdrawn claims of the source of the bourbon used for their new product.
Sourcing bourbon is certainly nothing new, nor is that fact that many providers contractually require their brokers and buyers to not divulge origins and distilleries publicly. Is this a case of mistaken identity, smoke and mirrors marketing, or shady barrel brokering? Only time will ultimately tell; but, maybe this will help to clean up some of the behind the curtain antics that is prevalent in today's scorching hot bourbon climate.
---
There is an old saying that goes: there is no use in crying over spilled milk and fallen bourbon rickhouses. Okay, so I may have taken artistic liberties with the latter half of the saying but you'll see where I am going with this.
You might recall that in July of 2018 there was a tragic incident in Bardstown, Ky. when a certain warehouse collapsed, in two stages, sending thousands of barrels tumbling down several floors to the hard ground; many falling to their demise. Many, but not all.
Then the question became, what do you do with the barrels that survived the plummet? Well, for Ted Mitzlaff - owner of Louisville, Ky. based Goodwood Brewery and Taproom - the answer was obvious… carpe diem! And that is exactly what Ted and his business partners did. Purchasing a dozen of the salvageable barrels the group wanted to experiment with aging the whiskey in used barrels that once housed various styles of Goodwood beers. (note: See editor's note for an update regarding the source of these barrels.)
What has been several long months in the making, Goodwood is ready to release their first sourced expression: Bourbon finished in bourbon stout barrels. Here's the official details from Goodwood:
Goodwood Stout Bourbon is aged in charred white oak American barrels for 12 years, before a three-month cat nap in our Stout barrels, for a special flavor that can only develop by aging for this long.
The beer-barrel aging lends malt sweetness and a cocoa character to the robust whiskey tones of vanilla and sweet caramel. Sophisticated and complex.  A distinctly different bourbon created with precise craftsmanship. Unmistakable spice mingles with sweet caramel, and vanilla to create a bourbon that is incomparably brash and bold, yet smooth and balanced.
This is a unique limited offering from Goodwood Brewing.
GOODWOOD STOUT BARREL FINISH BOURBON
BOTTLE DETAILS
---
DISTILLER: Distilled by Barton 1792 Distillery. Finished in Goodwood Stout Barrels and bottled by Olde Towne Distillery.
MASH BILL: 74% Corn  |  18% Rye  |  8% Malted Barley
AGE:12 year bourbon aged 3-4 months in used Bourbon Stout Barrels
YEAR: 2019
PROOF: 90 (45% ABV)
MSRP: $98.00
BUY ONLINE: Available in limited markets and at Goodwood Brewery
MATT'S NOTES
---
NOSE: Dark fruit | Caramel | Hints of Stout Ale
TASTE: Stout Ale | Chocolate Covered Cherries | Caramel | Rye Spice | Light Oak
FINISH: Very solid, viscous mouth feel that lingers in a deliciously good way. The pleasant spice hangs around on the palate long after the sip is gone. A splash of water brings out the baking spices.
SHARE WITH: Everyone who enjoys a mature bourbon and isn't turned off by barrel finished expressions. This would also be an excellent choice to share with your beer loving friends as the stout characteristics are present but not overly dominant.
WORTH THE PRICE: I was fortunate enough to be asked to try a sample by Goodwood, but when available, I will not hesitate to pay the nearly $100 price tag. In fact, I would buy a second bottle for bunkering purposes.
BOTTLE, BAR OR BUST: BOTTLE! - if you're lucky enough to find it in your market area.
OVERALL: Let me preface this by saying that I normally stay away from stout (and other dark/ heavy) beers. But, when I was invited to try a barrel proof sample of Goodwood Bourbon: Finished in Premium Bourbon Stout Beer Barrels - I jumped all over the opportunity because here at Bourbon & Banter we like to #drinkcurious. From the first nose, sip, and finish I knew that this was, for me, a must have bottle on my bar. It has a unique flavor in today's world of bourbon whiskeys. I think Goodwood is onto something exciting, and I look forward to seeing what they have on deck for their next beer barrel finished bourbon.
---
Disclaimer: Goodwood Brewery provided Bourbon & Banter with a sample of their product for this review. We appreciate their willingness to allow us to review their products with no strings attached. Thank you.