The Great Bourbon Hunt of 2016
It's Bourbon Heritage Month and my favorite time of the year with fall releases right around the corner. Hunting is a little less enjoyable these days since most of the good stuff never reaches the store shelves. But I am pretty stubborn and enjoy the thrill of the hunt.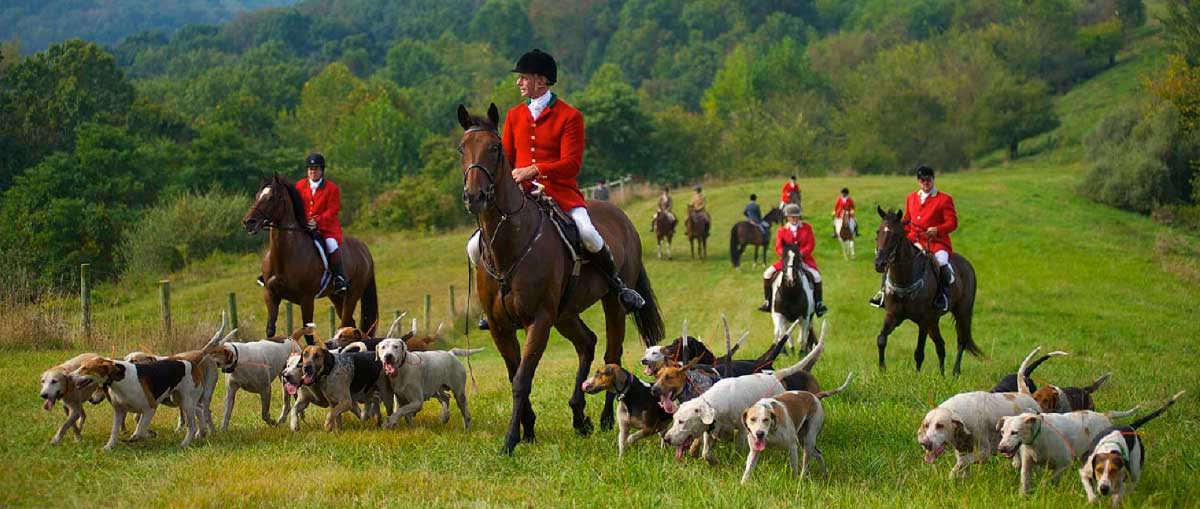 It's Bourbon Heritage Month and my favorite time of the year with fall releases right around the corner. Hunting is a little less enjoyable these days since most of the good stuff never reaches the store shelves. But I am pretty stubborn and enjoy the thrill of the hunt.
My bourbon hunting partner in crime and I recently trekked through half the country on a bourbon hunt in hopes of scientifically cataloging the midsection of America's liquor stores. I aspired to be able to report back to you in painstaking detail the number of retail stores that will shelf the allocated bottles from those that raffle or even sell at secondary pricing. I even have an excel spreadsheet where I logged notes on store picks, pricing, selection, etc. We visited over 150 liquor stores. At about 75 store visits we stopped logging data and quite frankly I stopped caring about the painstaking detail. Rather than bore you all with statistics, I thought you would much prefer to know the top stops along our epic and exhausting journey. If you really want to see the detail, follow me on Instagram or Twitter and DM me (@mattaself).
Several store managers and owners stopped to talk with us about their process for limited release whiskeys. The bigger the store, the more likely there is a raffle, lottery, or promotional distribution. The smaller stores were more likely to have a list or relationship method to distribution. Store picks seem to be all the rage these days and the big boys are definitely more likely to have a good selection of store picks. Most of the smaller shops will only pick one or two barrels per year if they do store picks at all.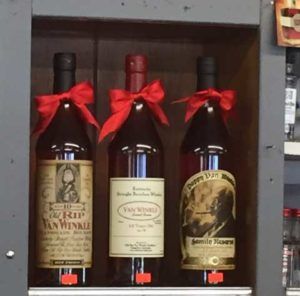 I also thought about shaming some of the ridiculous stores that had bottles in glass cases at secondary pricing in the hope that whiskey karma might doom their stores to economic failure. But rather than give them some free publicity I am excluding them (almost) entirely from this post. If there is a gift-wrapped bottle or three of any form of Van Winkle whiskey on the shelf, you don't even have to look at the price tag or really anything else in their store.
The absolute worst store was the unapologetic secondary pricing on everything from five bottles of Booker's Rye listed at $525/each to the Elijah Craig Barrel Proof at $140. My traveling compadre gets enraged and confrontational which is humorous to me yet completely fruitless. I have yet to see a pissed off customer talk down a dogged store owner. Just don't go back in there. That's the best we can do.
Do you really care to know where you can buy that Ole Rip for $500? I guess that pretty red bow is worth $450.
One of the more interesting finds of the trip wasn't a bottle but a new breed of "liquor store" that I had yet to experience prior to the 2016 summer hunt – I'll call it the "hang out." These were basically bars or indoor tailgate parties that had a liquor store sign out front. I never had to sing "My Little Buttercup" and do a little dance to get out of there a la The Three Amigos but there were several backwoods stores in Kentucky where I kept an eye on the door at all times.
In Howardstown, they were actually grilling some burgers out front at about 10:00 am on a Thursday morning. I'm not really sure what the ten or so gentlemen do for a living that were drinking beer and watching Sportscenter on the inside, but I applaud their bourbon hunting prowess. Already camping out for the fall releases, no doubt.
In another part of the country, I ventured into Jerry's Jug House. Their package liquor whiskey selection was literally three bottles: Jack, Jim, or Makers. Not three different brands; they only had one bottle of each. I can only assume that I spoke to Jerry who was equal parts pissed and surprised to see me walk into the joint.
These place were sprinkled in throughout the trip, but you would have to work hard to find them. They are off the beaten path and despite what you may have heard, there are no dusty bottles of Pappy lingering on the shelf in any of these places. At least not in this part of the country. You can get a grilled burger and a cold beer on a Thursday morning.
In the category of Best Local Store I'd like to nominate Bluegrass Beverages (Twitter: @bluegrassbev) in Hendersonville, Tennessee. This is a little bit of a homer pick for me, but they have a good selection and will routinely put hard to find bottles on the shelf at retail. They have a great selection of beer, wine, and accouterments but the whiskey selection is just good all-around with fair pricing.
Another favorite local store from the trip was Classic Spirits Liquors in Carmel, Indiana. Some purchases at that stop were 10-year age-stated Eagle Rare 1.75L bottles, Buffalo Trace Single Oak, and an attempt at this pre-prohibition bottle in the glass case (see picture). The owner, Rick, wouldn't sell me that bottle, but I am glad he didn't. It's been in his family for a few generations and is a really cool display bottle for the store. Stop by and check it out in the glass case and pick up a nice bottle to take home. There are several hard to find bottles sitting out at good prices.
Another surprising stop was Packages & More Liquors in Elizabethtown, Kentucky. They have a great craft beer selection, but the small size of the building yields a surprisingly large bourbon and whiskey aisle with some high-end offerings in the glass case. As of the last time I stopped at this little place, there was an A.H. Hirsch Humidor for sale. The store owner said they got a case of the Hirsch Humidor. Not exactly what you would expect. I'll keep stopping by on my way through Elizabethtown.
Rounding out the category, head out west to Truckee, CA for a stop at Zanders Spirits. While bourbon may be the red headed step child in the Lake Tahoe region there is a decent selection of bourbon at Zanders in the shadow of a really good selection of Japanese whiskey and Scotch.
In the category of Best BIG BOX Store there are several great competitors. Kentucky has Liquor Barn and The Party Source which is consistently stocked with a great selection and wide variety of store picks.
In Indiana, Crown Liquors and Big Red Liquors both had multiple locations with a good selection and some great store picks. And then there is Binny's in Chicago, Illinois that seems to have more locations than any human could drive to in one single day.
There wasn't one in particular that stood out to me over the others. They all had good daily drinker selection and store picks galore but nothing super rare or particularly interesting was on the shelf or in the cases. If you're driving through any of these states, definitely stop in and if you have time check out a few locations as the inventory did vary from store to store.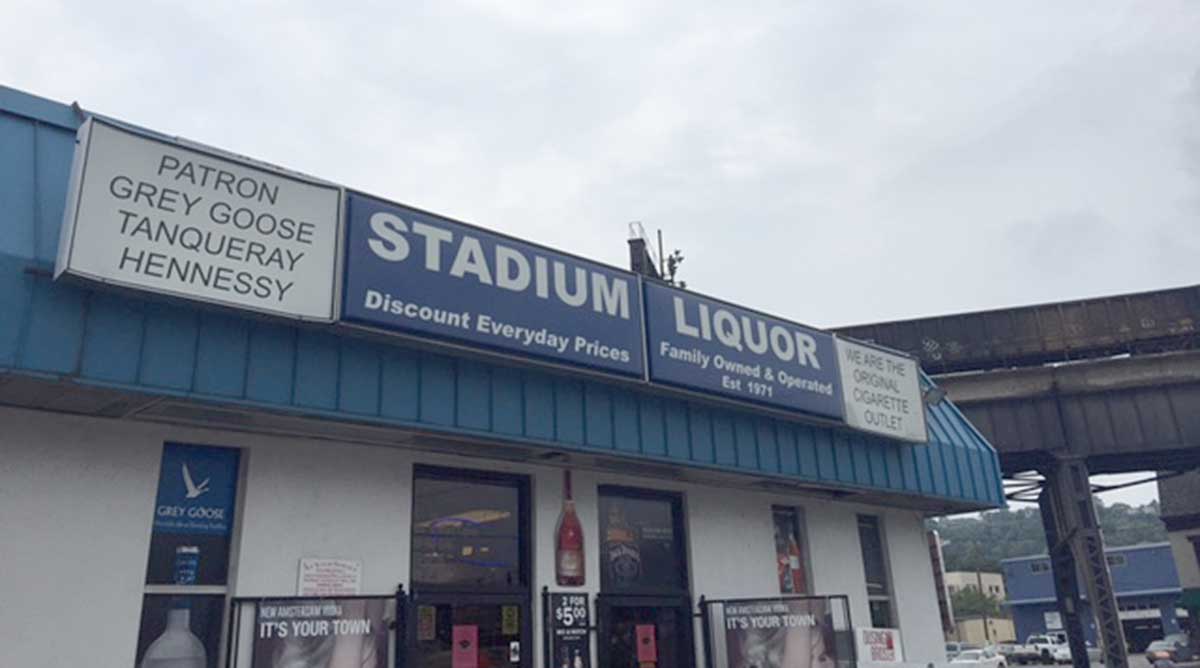 BEST OVERALL HONEY HOLE of the trip was undoubtedly Stadium Liquors. As we learned in Kentucky, the Gallenstein family doesn't mess around. They know the liquor business. This particular store is nestled in around about 15 other liquor stores in a 5 block radius that all cater to the unfortunate souls who live in the control state of Ohio just over the river. I didn't understand the concentration of stores in one area until we crossed the river and tried to find anything in the Buckeye state. At least they have their football team up there.
Stadium happens to be the biggest cognac distributor in the country, but you wouldn't know it from their whiskey section. They average a new store pick barrel per week and had some really great offerings. Who wouldn't want to buy from this guy?
The staff was very knowledgeable and there was some really great stuff on the shelf. They have a promotional approach with their allocated bottles, so follow them on Facebook and check in regularly and you might have a shot at something special for retail pricing. The Gallenstein family reportedly owns multiple stores in the area and rather than borrow to stock their shelves, they pay cash for the inventory which gives them some flexibility in both the timing of when they sell their allocated whiskey and their pricing model. Several of the other Gallenstein stores do a weekly raffle for the allocated stuff. One store had a Very Old Fitzgerald bottle in the raffle at a price under $40. I put my name in the hat for that one. And nope. I didn't win.
There is also rumor of a secret warehouse where the owner stores the cases of hard to find whiskey. On occasion, a bottle that hasn't seen a store shelf in years may pop up at retail pricing on a Gallenstein shelf. If I lived in southern Ohio or northern Kentucky, this would be a routine stop regardless of the distribution calendar. With their approach, there really is the possibility to find a unicorn in the wild at any given time of the year.
Stadium was the honey hole of the trip but another Gallenstein store had the biggest surprise. I am definitely getting older and don't see as well at a distance. I asked one of the store clerks to confirm the price of the Van Winkle Rye in the plastic cube. The clerk got the manager who was quick to inform me that the bottles in the case are not Van Winkle Rye but Van Winkle Family Reserve. The Van Winkle Rye took the label design from these 1960s and 1970s classic bottles. For the small sum of $6,995 you could take one of those bottles home. I do math for a living so I quickly calculated that works out to about $280/ounce before taxes. That's about the equivalent of a pound of silver. I'm not sure what a kidney costs on the black market but I am sure you would have to sell at least one kidney to generate enough cash to buy one of those bottles. Too rich for my blood.
The story is that the store owner was apparently a friend of the Van Winkle family and bought those bottles from them in the 1990s for ~$20/bottle. Not a bad return on investment. I don't know if that story is true but it made for an interesting stop.
Part of the fun of bourbon hunting is turning over rocks to see what is there. While you won't likely find a 20-year A.H. Hirsch on the shelf, there are plenty of interesting bottles showing up on shelves from store picks to craft distilleries. At Bourbon and Banter we encourage you to drink curious. Keep an eye out this Bourbon Hunting Season for something new to try. And if you're driving by one of these stores, you're likely to find something worthwhile. The Old Forester Birthday Bourbon release on September 1st marked the start of Bourbon Heritage Month and the start of Bourbon Hunting Season. Good Luck out there and Happy Hunting.