Heaven Hill's Larceny Bourbon Review
One of the things I love about bourbon is the stories and traditions attached to brands and distilleries.  And even though I've learned that many brand stories told today aren't always 100% "accurate" I have to admit that I was immediately intrigued by the story behind Heaven Hill's Larceny Bourbon.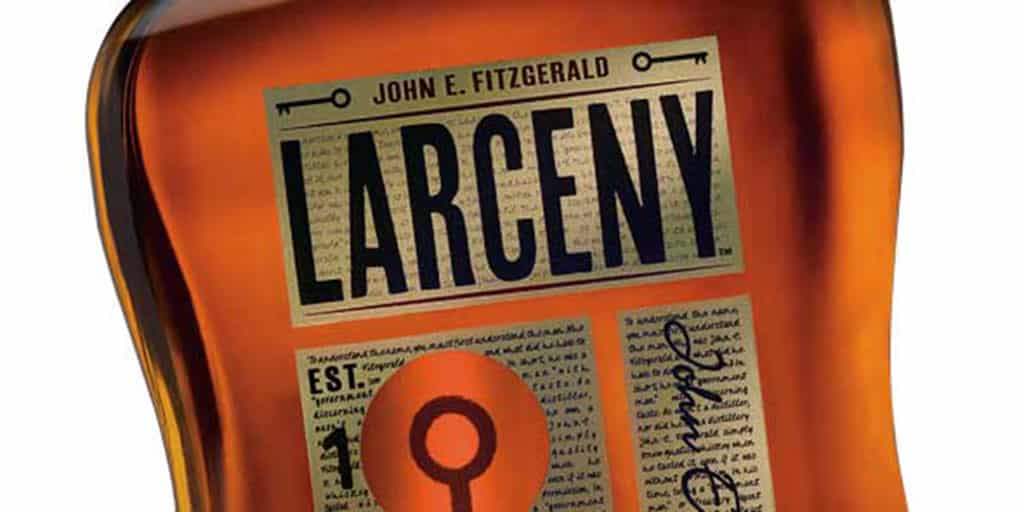 One of the things I love about bourbon is the stories and traditions attached to brands and distilleries.  And even though I've learned that many brand stories told today aren't always 100% "accurate" I have to admit that I was immediately intrigued by the story behind Heaven Hill's Larceny Bourbon that hit the market last week.
Here's a bit of the backstory direct from Heaven Hill:
Larceny Bourbon continues the Old Fitzgerald tradition of using wheat in place of rye as the third or "small" grain in the whiskey's grain recipe, or mashbill as it is commonly known. The use of winter wheat replaces the spicier, fruitier flavor notes that rye provides with a softer, rounder character that is the hallmark of Old Fitzgerald and other "wheated" Bourbons such as Maker's Mark and the Van Winkle line.

It is actually the story of the Old Fitzgerald brand, made famous by the late Julian "Pappy" Van Winkle Sr., that forms the historical basis for Larceny Bourbon. According to industry lore, John E. Fitzgerald had founded his distillery in Frankfort, KY shortly after the Civil War ended, making his Bourbon available only to steamship lines, rail lines and private clubs.

This story was furthered by S.C Herbst, who owned the "Old Fitz" brand from the 1880's through Prohibition, and "Pappy" Van Winkle, who purchased the brand during Prohibition and made it his signature label.

However, it was revealed by Pappy's granddaughter, Sally Van Winkle Campbell, in her 1999 book But Always Fine Bourbon: Pappy Van Winkle and the Story of Old Fitzgerald, that in fact, John E. Fitzgerald was not a famous distiller at all.

He was, in reality, a treasury agent who used his keys to the warehouses to pilfer Bourbon from the finest barrels. His discerning palate led those barrels to which he chose to help himself being referred to as "Fitzgerald barrels".

Now Heaven Hill has launched Larceny, whose tagline—"A taste made famous by an infamous act"—sets history straight.
What's not to like about that story?
I feel that before we dive into the review I need to tell you that I'm a big fan of Heaven Hill. For the money, I think their Elijah Craig 18-Year Single Barrell is one of the best buys on the market. I'm also a huge fan of their Parker's Heritage limited releases. And don't forget about Evan Williams and their easy on the pocket yet fun to drink Evan Williams Black Label. Or as my former neighbor likes to call it – recession proof bourbon. So to say my expectations were high for Larceny bourbon would be an understatement.
Here are a few more details you should know about Larceny bourbon before you read my review:
It should be available in the 1.75 liter, 1 liter, 750ml and 50ml sizes in California, Colorado, Georgia, Illinois, Kentucky, Massachusetts, Missouri, North Carolina, New York, South Carolina, Texas and Virginia
It is is a true small batch Bourbon produced from dumps of 100 or fewer barrels that have been selected from the 4th, 5th and 6th floors of Heaven Hill's open rick warehouses in Nelson County, Kentucky
Larceny is drawn from barrels that have aged from 6 to 12 years at this high storage and is bottled at a full-bodied 92 proof, or 46% alcohol by volume
Now that you've got the backstory, an overview of the company Larceny keeps at Heaven Hill and the facts about Larceny itself let's dive into the specifics of my latest review. And as always let me know in the comments what you think about my Heaven Hill Larceny bourbon review.
Bourbon Name: LARCENY KENTUCKY STRAIGHT BOURBON
Year: 2012
How I Drank It: Neat, in my special bourbon glass (please don't be jealous)
My Nose Noticed:* Cherry | Almond | Oak/Leather
First Sip: Pepper/Spice | Oak/Tannins | Tobacco
The Burn: the First sip came across pretty sharp on my tongue and mouth. In fact, it took a few sips for my mouth to become accustomed to its flavor profile. I can't figure out why this is but after having the same experience 3x now I know I'm not imagining it. Once my mouth became accustomed to the bourbon it has a nice finish. The burn isn't noticed on the way down. Instead, it creeps back up slowly and rounds out through the mouth in a very satisfying maner. And there's a little bit of spice in the middle of that warmth to remind you of your first sip.
Neat, Splash or Rocks: I'll be honest folks. I didn't like this when I drank it neat. For a bourbon that's aged 6-12 years it sure didn't taste like it. I thought it was rough for a wheat bourbon. Especially one that is supposed to compete with Maker's Mark. However, once you add a bit of water (or ice) it starts to shine. A little help from the water helps tone down the oak or tannic taste and allows the sweeter flavors to take center stage. It also gets rid of the sting to the tongue and mouth. I highly suggest that you drink this one with a bit of water or on the rocks if you don't mind them.
Share With: Share it with those that won't give you hell about adding a bit of water or ice to your drink. A good next step bourbon for those that got trained on Maker's Mark.
Worth The Price: At an average retail price of $25 you can't really go wrong with giving it a try and sharing with some friends who are interested in doing the same. The bottle I purchase had an introductory rebate form attached to it offering $10 of the 750ml bottle and $20 off the 1.75L bottle. (I don't know about you but sending in for a rebate on a bottle of bourbon without a handle will be a first for me.)
Bottle, Bar or Bust: Buy a bottle if you have friends who want to try it out as well. Other than that I think buying a glass at your local watering hole is a good idea before investing at home. I'll keep my bottle on the shelf and work my through it but I doubt that I'll be rushing out to replace it once it's gone.
*I like to let my bourbon sit in the glass for at least 5 minutes before I start to smell it or have a drink. I find that it's better to let some of the alcohol waft off before diving in. If I'm drinking bourbon on the rocks I skip the waiting and dive in both feet first.
**Some of you refer to this as the "finish" but let's be honest. Don't we all just want to know if it burns good?
---
Bonus – On the Larceny bourbon website they have a brand overview PDF posted. I've grabbed a copy for everyone and linked it here in case they remove their version in the future.