How To Build A Whiskey Cocktail Bar
I am an admitted hoarder of spirits (though I prefer to say "collector" because it sounds much better) and tend to buy things because "yes, I will absolutely want to experiment with this scorpion wine" later.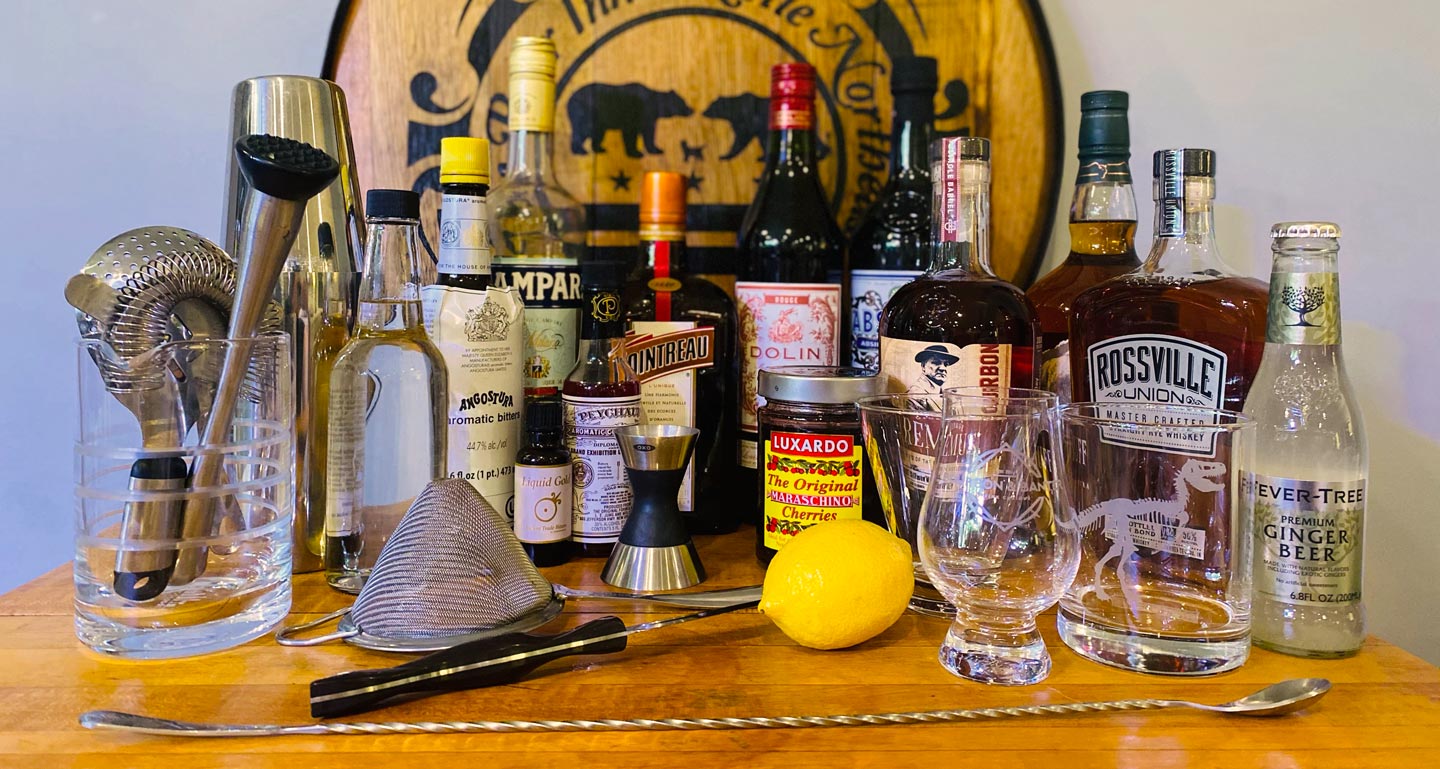 "If I want to build a whiskey cocktail bar at my house, what do I need?"
Despite a market that is full of liqueurs, bitters, spirits, gadgets, and other mixology materials that can be used to craft the most basic to the most sophisticated of libations, this is still one of the most often asked questions I receive as Bourbon & Banter's Cocktail Editor.
I am an admitted hoarder of spirits (though I prefer to say "collector" because it sounds much better) and tend to buy things because "yes, I will absolutely want to experiment with this scorpion wine" later. (NB: I haven't.) However, I think it's a wonderful idea to have an actual game plan and list of the basics to keep around to make all of the classic whiskey cocktails, with the option to get fancy on occasion. So, with the assistance from fellow B&B contributor Thomas Fondano, who sagely suggested a drink-by-drink approach, I have put together a how-to guide on building a bar to make whiskey cocktails, with a focus on covering all of the "Mother Cocktails" (many learned from Michael Madrusan from The Everleigh during a seminar at SACC and Derek Brown of The Columbia Room). Feel free to comment on what you think should be added or ask any questions!
SPIRITS
---
High Proof (90-100) Bourbon: Higher proof whiskey is best for cocktails as it stands up better against other flavors in the mix. I prefer Elijah Craig (94 proof) and Thomas likes Wild Turkey 101.
Single Barrel/Small Batch Bourbon: I don't like to mix with these, but any well-balanced bar has a handful of good options for sipping. Be sure to browse through BourbonBanter.com for great suggestions on which Single Barrel/Small Batch Bourbons are best for your palate.
Rye: You don't need to drop a lot of money for a mixing rye Old Overholt and Rittenhouse are all great options. Rye is easily substituted for Bourbon in most whiskey cocktails for a spicier, less sweet experience.
LIQUEURS
---
Sweet Vermouth: Manhattans, Boulevardiers.
Campari: Use to make Boulevardiers (a Negroni using Bourbon instead of Gin).
Absinthe: For Sazeracs. You only need to spritz/rinse a glass for Sazeracs, so one bottle will go a long way.
Cognac: For Vieux Carres.
Applejack or Apple Brandy (Optional): This can be used to add another level of flavor to a Sidecar or Colonel Collins (Tom Collins with Bourbon).
Cointreau or Orange Liqueur (Optional): For Sidecars. Thomas prefers Pierre Ferrand, a dry curaçao.
ETC.
---
Lemons: Peels for Old Fashioneds, juice for sours.
Sugar: Two approaches can be taken to sugar: simple/rich syrup or cubed sugar. Never ever buy simple syrup, because it is exceedingly simple to make. For Rich Simple Syrup, boil ½ cup water, dissolve in 1 cup sugar. Allow to cool, store in a tightly sealed glass container in the fridge. For simple syrup, the ratio is 1:1. You may also want to experiment with different types of sugar, such as turbinado, coconut sugar, or even agave nectar. Sugar substitutes, such as Stevia or Swerve, can also be used to make simple syrup, but will taste a bit different. As for cubed sugar, I do not prefer this, as the granules do not always dissolve completely, which makes for an unpleasantly crunchy drink.
Angostura bitters: These are your basic bitters perfect for making Manhattans, Old Fashioneds, etc. Any aromatic bitters will do if you want to try craft or local brands.
Other Bitters: Peychaud's Bitters are essential for an authentic Sazerac. Other flavored bitters are a great way to play with cocktail. Recently, I have been using Fee Brothers Peach Bitters for Peach Old Fashioneds. Also check out Fee Brothers Whiskey Barrel Aged Bitters for a smokier, woodsier drink. I also LOVE Embitterment's Liquid Gold bitters, especially for a luxe-tasting Old Fashioned.
Maraschino or Brandied Cherries: I am a big fan of drinks with snacks. I prefer using Luxardo cherries. They are expensive but well worth it - and don't toss the sauce! Stir it into a drink to make it a bit sweeter. Woodford Reserve and other places make their own bourbon cherries - experiment and see what you prefer! But just don't use the bright red stuff: just don't.
Soda Water (Optional): For Colonel Collins, Rickeys.
Ginger Ale/Beer (Optional): For Cablegrams and Highballs. Also for your basic Bourbon Ginger, I recommend Fever Tree Ginger Beer, Vernor's Ginger Ale, Fentiman's Ginger Beer. or Ale-8-One (caffeinated ginger-citrus soda).
TOOLS
---
A good set of bartending tools and glassware are essential to mix a great drink and infuse your own style. Great barware can be found in many places; the internet is obviously a great place, but Total Wine, home stores (TJMaxx, HomeGoods, even Target), and thrift stores all offer a variety of items at affordable prices. I prize my collection of gifted and thrifted glasses, and may have a bit of a collecting problem. If you are seeking unique (or sustainable secondhand!) items online, Etsy and eBay have a vast range of vintage pieces to choose from. However, if you're going for a sleeker aesthetic, many places like restaurant supply stores, World Market, or higher end home stores (Crate & Barrel, West Elm) offer a wide selection of all basic glasses and accessories.
Rocks Glass: Usually for cocktails with ice, a good rocks glass will have a good feel in the hand. Think of this as your go-to glass. You can choose an old-fashioned glass, a stemless martini glass, traditional rocks glasses, or any other ware that is low and stemless. I use these for Old Fashioneds, Sazeracs, and Manhattan up in rocks glasses.
"Up" Glass: This is for your straight-up cocktails. Options include traditional stemmed martini glasses or a coupe (these are fantastic). A coupe glass is the perfect size, easy to hold, and you can pick them up for cheap at thrift stores.  Cocktails served up can also be served in lowball glasses – it just depends on what kind of presentation you want to achieve.
Sipping Glass: These glasses are reserved for drinking your Bourbon neat. I love the Glencairn glass, but snifters and rocks glasses will also work.
Highball (Tall) Glass (optional): Highball - aka: tall glasses - are perfect for, well, Highballs, but also Rickeys.
Julep Cup (optional): If you are a lover and frequent drinker of Mint Juleps, a Julep Cup is not optional. A stainless or pewter one does the trick, but you can also splurge on a sterling silver one if you want to really commit. Monogramming is highly advised if you want to do it right!
And to mix everything up:
Mixing Glass: The Yarai Mixing Glass is particularly gorgeous and extremely functional. If you frequent cocktail bars, you have likely seen bartenders stirring up cocktails in a mixing glass. This item allows you to gently marry all cocktail ingredients, as well as cool with ice. Mixing glasses also come in metal, which is a better conductor (and shatter proof!). In the absence of a mixing glass, a pint glass or any wide mouthed glass (or the bottom of your shaker) will do.
Boston Shaker or Cobbler Shaker: Because sometimes you just have to shake stuff up. Opt for an all metal Boston Shaker (not the pint glass version), as it is easier to break apart. The plus of a Cobbler is the built-in strainer. Or you can be extra safe and have both!
Bar Spoon: For all of your stirring needs. I prefer the longer 17" version, as it allows for smoother, more consistent stirring. Please stir Old Fashioneds, Manhattan, Boulevardiers, and Sazeracs in your mixing glass.
Double Jigger (Pony Jigger): For measuring ponies (1 oz.) and jiggers (1.5 oz.). Be sure to double check the specs of your jigger, as some are 2/1 oz. or 1/.5 oz. instead of a true pony.
Cocktail Strainer: There are merits to each type of strainer – Julep, Hawthorne, and ones that feature a various number of prongs. More seasoned mixologists can, I am sure, extol the virtues of each. I usually just use a Hawthorne. If you will be making sours (or anything with citrus, muddled herbs/fruit, or eggwhites), a fine mesh strainer is advisable. If you want to try them all, A Bar Above has a set of three for sale.
Muddler: I have purchased and lost about three of these, likely because I use them so infrequently. You can choose from wooden, metal, and plastic, but I prefer metal, as it does not retail flavor from ingredients. If you do not have a muddler, a spoon or handle of a spatula will do the trick.
Peeler: A basic vegetable peeler will do. For citrus peels and twists. A good paring knife is also a great option.
Ice Molds (Optional): Some are ice purists and there is something wonderful about those large globes of ice resting in a glass. Various ice molds allow a bit more creativity in presentation, as well as taste: larger cubes melt more slowly and are perfect for cocktails you don't want to be rapidly watered down. Don't bother with whiskey stones, because they don't work.
For exclusive discounts on the barware above, be sure to visit A Bar Above and use code BOURBONBANTER for 10% off! They also offer beautiful bar sets that make an excellent gift or great kickstart to your own home bar.