Hudson Baby Bourbon Review
About 2 months ago I attended a whiskey tasting at The Wine & Cheese Place in St. Louis featuring Tuthilltown Spirits Hudson Whiskey line.  The tasting was led by Tuthilltown's very own Gable Erenzo – the son of the founder and the brand's leading ambassador.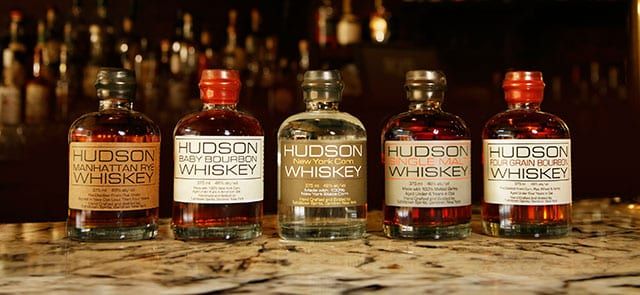 About 2 months ago I attended a whiskey tasting at The Wine & Cheese Place in St. Louis featuring Tuthilltown Spirits Hudson Whiskey line.  The tasting was led by Tuthilltown's very own Gable Erenzo – the son of the founder and the brand's leading ambassador.  Over the course of the evening, we sampled the entire Hudson Whiskey line which consisted of their New York Corn Whiskey, Baby Bourbon, Four Grain Bourbon, Manhattan Rye and Single Malt Whiskey.  I know what your thinking and yes, it was hard work. Very hard work!
I headed into the tasting eager to try the entire Hudson Whiskey line but I also had some reservations. A few months prior I had purchased a bottle of their Hudson Baby Bourbon and didn't really like it.  But since I'm not the type of guy to hold a grudge I thought it would be best if I gave the entire line a chance to win me back.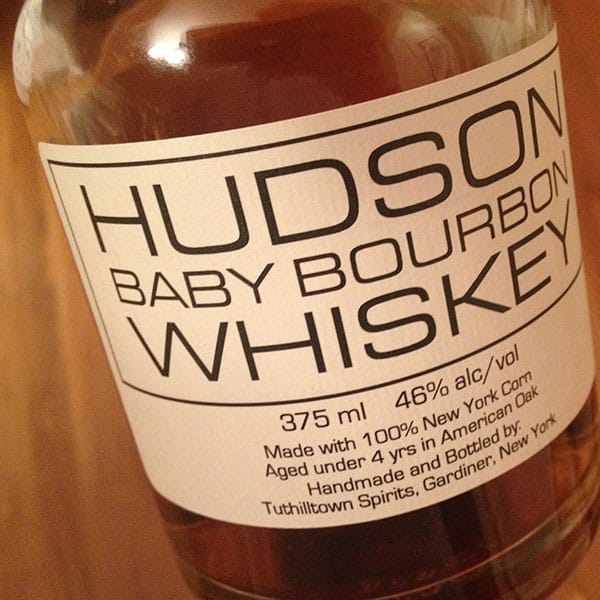 The tasting experience was fantastic! Gable provided the group with an amazing overview of how his family got into the distilling business and against all odds built Tuthilltown Spirits into a thriving distilling business. In fact, they were the first distillery to operate in New York state since Prohibition. (If you want to learn more about Tuthilltown Spirits I highly recommended you check out their website for more details.)
After Gable's overview, we dove right into tasting the whiskey and that's when Hudson Whiskey won me over.  I enjoyed every single whiskey I tried that night – even the Baby Bourbon.  Each whiskey was so distinctly different and unique compared to other bourbons on the market. The flavor profiles were a huge change in pace compared to what I'm used to and they really agreed with me. Knowing that the Hudson Whiskey line consists of very young spirits I've definitely changed how I think about aging when it comes to bourbon.
After the tasting was over I was lucky enough to strike up a conversation with the rep from William Grant & Sons (who now own the Hudson Whiskey line) and mentioned how I'd love to do a review of the entire Hudson Whiskey line. He thought it was a good idea and supplied me a few weeks later with samples of the complete line.  And that brings us to this blog post. It's taken a lot longer than planned but I'm pleased to present you with my first post about the Hudson Whiskey portfolio and more specifically my Hudson Baby Bourbon Review.
Let's kick things off with a quick quote from Tuthilltown Spirit's website about their Hudson Whiskey Baby Bourbon.
"HUDSON BABY BOURBON is the first bourbon whiskey to be distilled in New York. This single grain bourbon is made from 100% New York corn and aged in our special small American Oak barrels. This unique aging process produces a mildly sweet, smooth spirit with hints of vanilla and caramel. The BABY is Tuthilltown's first whiskey and the first legal pot-distilled whiskey made in New York since prohibition. BABY BOURBON is a perfect introduction to aged whiskey spirits. It is mild and friendly, bright to the tongue and warming all the way down. Each bottle is hand waxed and numbered. It is a true American classic. The BABY is our most sought-after spirit. Make sure you alert your fine spirits dealer today to ensure your supply."
Did you catch the important detail in their description above?
Yep, it's made from 100% corn. By definition, bourbon has to be made from at least 51% corn but you don't really find bourbons on the market made from 100% corn. Another interesting detail is that the bourbon is aged in 3-gallon barrels instead of the industry standard 53-gallon barrels.  They're still new charred oak barrels but just smaller so the wood to liquid ratio is higher which adds a good wood component to the whiskey despite it's young age. The bourbon is then aged for about 3 months before it's bottled and sent out for our enjoyment.
When you factor in the 100% corn recipe, use of small barrels and brief aging period it's hard to argue that Hudson Baby Bourbon isn't one of the most unique bourbons on the market today. (And that's before you factor in their use of sonic maturation to age the bourbon instead of moving barrels around in their rack house.)
But as with any bourbon it all comes down to the taste. So how did Hudson's Baby Bourbon fair in my personal review? Let's read on to find out…
---
Bourbon Name: Hudson Whiskey Baby Bourbon
Year: 2012
How I Drank It: Neat, in my special bourbon glass (please don't be jealous)
My Nose Noticed:* Corn | Green Oak | Vanilla
First Sip: Corn | Oak | Ginger
The Burn:** After the first sip I couldn't notice any burn on my lips or tongue. Every sip was silky smooth with a nice hit of oak and mild burn at the finish.
Neat, Splash, or Rocks: I could drink this one neat all night. The flavor is extremely well balanced due to the abundance of corn and it's not too strong at 92 proof.  Adding water doesn't hurt it really but as you would expect it does tone down the peppery notes a bit.  Adding rocks to this one though seems overkill.
Share With: This is definitely a bourbon to share with others who know enough about bourbon to appreciate it's unique production characteristics as well as it's unique taste. If you have bourbon loving friends who haven't tried it yet I suggest you all go in on a bottle and try it at your next tasting event. I also think it makes a great entry level bourbon for those that would benefit from something with a milder and sweeter taste before diving into some of the more traditional bourbons.
Worth The Price: There's no getting around that this is an expensive bourbon. At roughly $40 for 375 ml it's not an impulse purchase. I understand what goes into the production of Hudson Whiskey so I can appreciate why they're charging a premium price but many do not. In the end I think it's a great bourbon but really wish they could lower the price (or increase the bottle size) to be more competitive.
Bottle, Bar, or Bust: Baby Bourbon has a very unique taste profile so I suggest you try it before buying a bottle for your home collection. (Remember that I didn't like it the first time I tried it.) If you like the taste and are serious about your collection I would definitely put a bottle on your shopping list. For those who are merely interested in trying it I would leave the purchase to a glass in a bar when available.
*I like to let my bourbon sit in the glass for at least 5 minutes before I start to smell it or have a drink. I personally find that it's better to let some of the alcohol waft off before diving in. If I'm drinking bourbon on the rocks I skip the waiting and dive in both feet first.
**Some of you refer to this as the "finish" but let's be honest. Don't we all just want to know if it burns good?
---
As I stated earlier I didn't like Hudson Baby Bourbon the first time I tried it. But now I'm a huge fan. I'm not sure if my palette changed over the course of a few months or if I simply learned enough to appreciate what went into its production. Either way, the takeaway is to always give a bourbon a few tries before you put it on your list of things to never drink again. You never know when revisiting a bourbon will result in a lifelong friendship.
Stay tuned as I'll be posting additional reviews on the rest of the Hudson Whiskey line of the next few weeks. And as always let us know what you think of our review in the comments and feel free to share your own experience tasting Hudson Baby Bourbon.