Independent Bottlers 101
Have you ever perused the scotch aisle of your favorite liquor store and seen what looks to be the same label on bottles that purportedly hail from different distilleries? These labels are those of independent bottlers and the juice inside those bottles might be some of the tastiest you've ever had.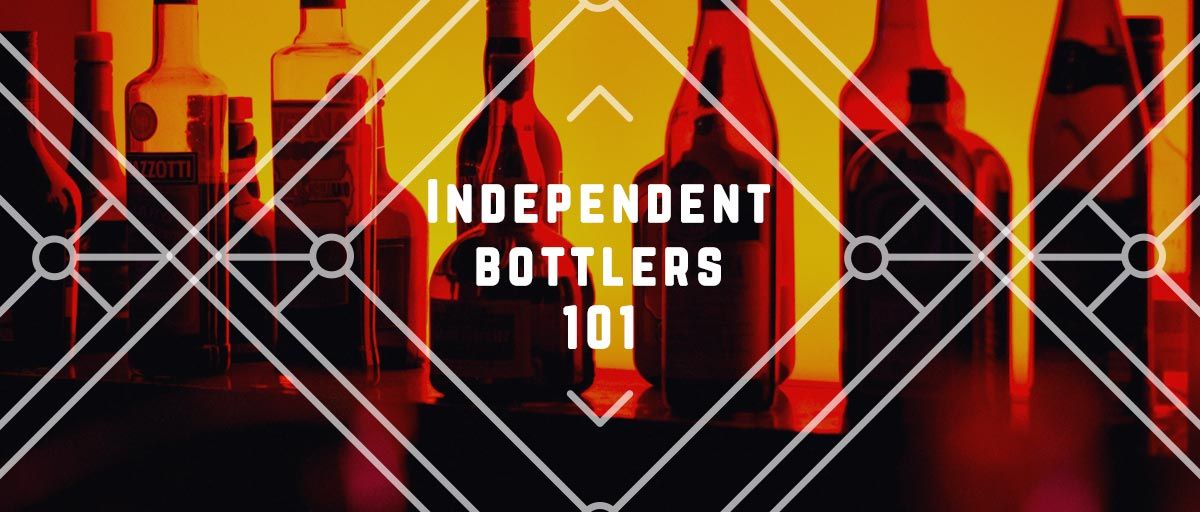 Have you ever perused the scotch aisle of your favorite liquor store and seen what looks to be the same label on bottles that purportedly hail from different distilleries? These labels are those of independent bottlers and the juice inside those bottles might be some of the tastiest you've ever had. If you're curious to learn more, I'd be delighted to be your tour guide into what independent bottlers do, why you should care, and, more importantly, why you should part with some of your own money to taste for yourself!
What are Independent Bottlers?
At 30,000 feet, independent bottlers are folks who buy whiskies directly from distilleries and then bottle and sell it themselves. What happens between the purchase of these whiskies and you getting your hands on a bottle, however, is really where the magic happens. Independent bottlers can blend, age, and otherwise tinker with these whiskies in ways that have never been done before and in ways that often result in world-class spirits that can be purchased nowhere else. Let's answer our next question to see the results of this tinkering.
Why should you shop Independent Bottlers?
For the bourbon-drinker: think of purchasing an offering from an independent bottler like being afforded the opportunity to get a barrel-pick from one of the most knowledgeable bourbon-aficionados out there. This is someone who knows what they're doing and has a 6th sense for finding that barrel that's so much more than the sum of its parts. THEN, give that expert their own rickhouse, laboratory, patience and know-how to age, blend, and bottle these spirits themselves. Imagine the possibilities! That is what independent bottlers do. Some of the more notable benefits of buying from independent bottlers are
Tasting amazing whisky that the original distiller otherwise wouldn't have anything to do with.
Almost all distilleries have a signature flavor profile. When barrels that are otherwise outstanding, but don't match that flavor profile of a given distillery are discovered, Independent Bottlers are quick to snatch them up. This means that an offering from one of your favorite distilleries may not taste like what you're used to, but it doesn't mean you won't love it at first sip!
Tasting juice from distilleries you can't otherwise get.
Many Scotch whisky distilleries sell all or most of their product only to other labels to be included in blends. Single-malt offerings from a distillery like Linkwood, who sells most of their distillate to Johnny Walker, are very difficult to come by. Enter independent bottlers. Through independent bottlers it's possible to truly enjoy products that you've only gotten hints of as small pieces of other brands.
Tasting the highest heights of your favorite types of scotch.
It's possible to find bottles that have been blended from different distilleries from the same region, blended from one distiller but in a different way than they would ever do themselves, or single-malts aged to – what the independent bottler feels like – what is the ideal time in the cask. While many distilleries stick to industry norms of 12, 15, and 18-years, it is not uncommon to find age-statements from Independent Bottlers that disclose 13 years, 19 years, or 22 years, if that's when they feel the juice is perfect. Wood management is also a variable that independent bottlers will experiment with. Ever wonder what a cask from your favorite distillery would taste like if it were finished in a sherry cask? Check out independent bottlers to find out!
In addition to this, Independent Bottlers rarely use artificial coloring or chill filtration and regularly offer their products at a higher proof, or even cask strength for a much different expression than you can otherwise normally obtain.
Who are these Independent Bottlers?
Okay, you're sold, right? You just need to know what to look for. What's great about Independent Bottlers is that you can usually find at least 1-2 different labels in a standard liquor store and there are lines out there to fit most every budget. Many companies offer their products at a wide spectrum of price points so you can see which bottlers make things that you like before investing more money in a 34 or 41-year-old bottle (if that's your thing). Some of the more widely available Independent Bottlers are below, along with some notes so you know what you're looking for.
Even if you didn't know what Independent Bottlers were, you may have still heard of Gordon & Macphail, as they are possibly the most well-known on this list. What started as a grocery store in the Speyside region of Scotland now owns their own warehouses where they age whiskies they've purchased, and the company also owns the Benromach distillery. They have several lines which come in at different price points, and I would suggest starting with the "Discovery" range to dip your toe in the waters.
Another widely available label here in the states is Signatory, which was founded in the late 1980's and now owns the Edradour distillery. They also have a wide range of lines and price points. The silver cannisters lined up together in your local liquor store is a dead giveaway that something tasty and unadulterated resides inside!
If you've had any of Trader Joe's or Kirkland's scotch from Costco, you've likely imbibed something that has made its way through Alexander Murray & Co's warehouses. Since 2004 they have worked with stores to bottle their own brands which are regularly touted as being outstanding values at their price point. In addition to big-box store liquors, however, they also age, blend, and bottle a wide range of products including single malts from distillers that are offered at cask-strength. The 19-year Linkwood pictured here was my birthday present to myself last year and is a really lovely bottle.
What was once one company under the name Douglas Laing, a pair of brothers split the company in 2013 in order to make room for their children at the board-room tables. Over the last few years, both companies have expanded their lines to cover all aspects of independent bottling, but they are still more well known for what they adopted immediately after the split: Douglas Laing focusing more on blended malts and Hunter Laing focusing more on single-casks.
What started as a club between friends over 30 years ago is now an international group of members who own the right to purchase offerings that are not sold by distiller, but by code name. The blenders designate each blend with a coy name designed to give an idea of what can be found in the bottle. The image below, "Float like a butterfly, sting like a bee," is designed to conjure honey and floral notes, reminiscent of a Speyside whisky. If you have the monetary means to join, members are afforded the opportunity to purchase exclusive bottles monthly, while the rest of us can pay a premium to purchase what's left, or seek out drams at partner bars across the country and the world.
If I've missed your favorite Independent Bottler, or you want to share your first experience or some tasting notes, leave it all below so we can continue this conversation together. I'm anxious to hear your thoughts, as this is one of my favorite ways to #drinkcurious!