Is Cooper's Craft Having An Identity Crisis?
The kind people at Brown-Forman recently introduced me to Coopers' Craft. They invited a small number of whiskey writers to Louisville to hear the story of their brand, tour their cooperage (Brown-Forman is the only brand that owns their cooperage and makes their barrels).

The kind people at Brown-Forman recently introduced me to Coopers' Craft. They invited a small number of whiskey writers to Louisville to hear the story of their brand, tour their cooperage (Brown-Forman is the only brand that owns their cooperage and makes their barrels), and enjoy a cooking experience focused on incorporating Coopers' into various cocktails and foods.
Pointing out that the barrel is as essential an ingredient in bourbon as the mash and distillate itself, Brown-Forman aimed to release a whiskey that highlights their control of the entire bourbon distilling process, from barrel to bottle.
A cooperage is about so much more than shaping wood into barrels; it is a massive production that centers on a very old craft, done with such precision to enable distillers to store liquid distillate in a wooden vessel. These barrels must be perfect. Otherwise, the angels will get more than their fair share. The Brown-Forman Cooperage is not open to the public, but it is an amazing place. The coopers are true craftsman and making a barrel is grueling work, but it does lend a hand in making some fine whiskey. Overall, it was a wonderful experience, and I especially enjoyed our cooking workshop, hosted by Cooking at the Cottage (a full-service cooking demo and teaching kitchen in Louisville) where I learned a delicious new cocktail.
But first, let's take a closer into the whiskey itself.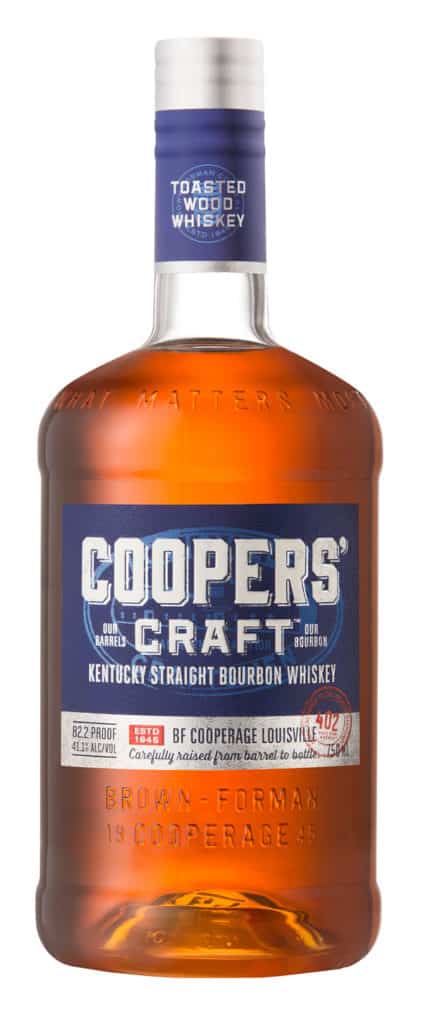 As the newest addition to the Brown-Forman bourbon lineup – one that is dominated by their premium Woodford Reserve and its various iterations – Coopers' Craft has a lot to live up to. Perceiving an opening in the market for lower proof and more "introductory" bourbons, and wanting to raise awareness of and pay homage to their very own cooperage, Brown-Forman created Coopers' Craft. Due to its low proof, it is being positioned as a more "sessionable" bourbon, one that can be enjoyed with mixers, with friends, especially in the summer. While there is nothing wrong with enjoying a batch of bourbon and lemonade, Coopers' price point, in my view, exceeds the means of its target demographic and use, particularly for newer bourbon drinkers just dipping their toes in bourbon-filled waters.
It seems Coopers' finds itself in a bit of an identity crisis: on one hand, it serves to tell the story of and pay respect to the coopers (a craft a many don't know exists or even that they bear this name), which is a compelling narrative for a bourbon, while on the other hand it has a fairly straightforward flavor profile (with your usual notes of vanilla, oak, and char, and with no perceptible burn at 82.2 proof), all for a slightly higher price point. Raising a barrel is hard, labor-intensive work; I would see a barrel proof bourbon being the more appropriate way to represent the work of the coopers, rather than a whiskey with a much lighter touch.
I think Coopers' has a little way to go to find itself truly and where it fits best in the overall bourbon market. At a lower price, I think it could well-resonate as a bourbon to bring to the beach, to the lake, or to mix carefree. However, Coopers' did work well in with one of my favorite cocktails: the Bloody Mary.
The Bourbon Bloody Mary has been introduced to me on a number of occasions, though I never cared for it much, as the strong bourbon flavor, the spice, and the tomato were competing too heavily for attention on the palate. Coopers', however, has a low enough proof and mild flavor that suits a Bloody Mary well.
Chef Whitney Fontaine, the instructor at Cooking at the Cottage, introduced me to a smoky and delicious new take on the Bourbon Bloody Mary, paired with crave-worthy caramelized bacon for garnish. The smoke stems from the utilization of gochujang, a Korean chili paste I grew fond of when I lived abroad there. So make your mornings a little peppier with a bourbon-y take on this brunch drink favorite. Recipes courtesy of Chef Fontaine.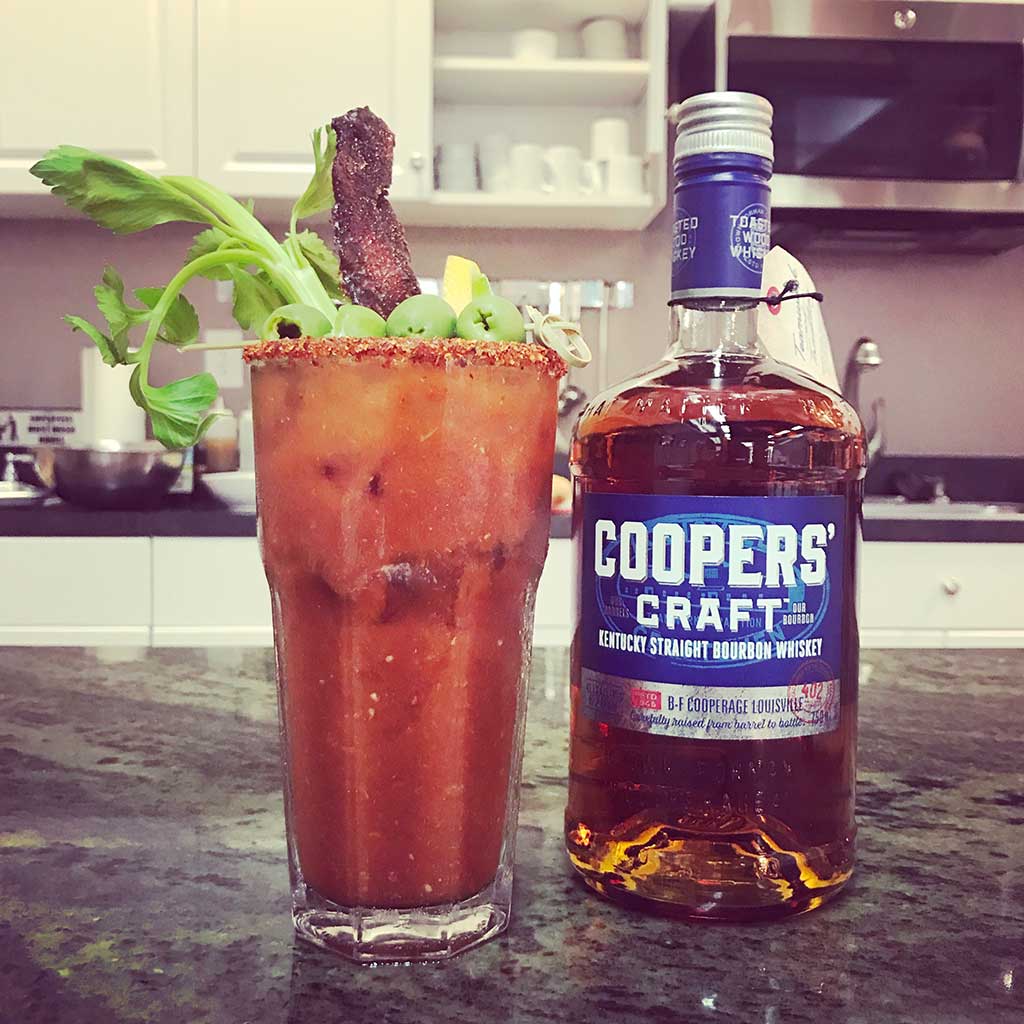 COOPER'S CRAFT BOURBON BLOODY MARY
---
INGREDIENTS:
6 cups tomato juice
¼ cup prepared horseradish
2 Tbs gochujang paste (you can find this at any Asian market, or in some groceries, or order online)
3 Tbs Worcestershire sauce
3 tsp celery salt
1 ½ tsp white pepper
3 cups bourbon (for this, I used Coopers' Craft – if you don't have, I suggest using a lower proof whiskey)
2 Tbs Tajin Seasoning (a chili lime seasoning from Mexico, but you can leave it out if you can't find it)
2 Tbs sugar
2 Tbs pickle brine (This is my addition, I like the punchiness the pickle brine brings to Bloodies. You can also freeze pickle brine and throw in a brine cube or two to slowly add the tang and saltiness to your drink.)
2 oz pasteurized egg whites (optional)
GARNISHES GALORE!
DIRECTIONS:
Mix first 6 ingredients together and chill overnight.
Mix the Tajin and sugar together in a shallow dish. Dip glass rims in egg whites (or water works, too) and the Tajin mixture. Set aside.
When ready to serve, mix bourbon and Bloody Mary mix and pour into glasses.
Garnish and serve. I use caramelized bacon (recipe below), olives, pickle spears, and lime wedges. But this is your drink:
This version of the recipe  makes 6 cups.
---
Disclaimer: Cooper's Craft provided Bourbon & Banter will travel, lodging and access to their cooperage and behind the scenes at Cooper's Craft bourbon. We appreciate their generosity and willingness to allow us to learn more about their operation and their whiskey with no strings attached. Thank you.