Is the Taste of a Bourbon Affected by Your Mood?
My wife, Patti and I traveled to New York City in September 2016 to attend the filming of Tony Bennett's 90th Birthday Special. On this trip, we made a special effort to go to The Flatiron Room. The Flatiron Room has been rated one of the top bourbon bars in the US by The Bourbon Review.

My wife, Patti and I traveled to New York City in September 2016 to attend the filming of Tony Bennett's 90th Birthday Special. On this trip, we made a special effort to go to The Flatiron Room. The Flatiron Room has been rated one of the top bourbon bars in the US by The Bourbon Review.  They call themselves an "upscale parlor," where you can go to enjoy entertainment and whiskey. Their whiskey list is extensive. According to their website, over 1,000. It is not a very big place. It has a nice bar area and a number of small tables in front of the stage. There is other seating upstairs as well.  I made sure we had reservations as we were visiting on a Friday night.
When we took our seats, I felt transformed. It was like one of those old-time clubs you might see in a movie. A three-piece band was playing; guitar, bass fiddle, and singer. Perfect lighting. And cabinets of whisk(e)y everywhere you could see. It took a while to peruse the menu as you might imagine.  It was a warm, magical feeling.
I was looking for the Old Forester Birthday Bourbon, 2016 version and it was on the menu. At least it said Old Forester Birthday Bourbon. I asked the waiter if it was indeed 2016 and he said it was. That was confirmed when he brought the bottle to the table. At The Flatiron Room, the bottle is brought to the table and is poured there.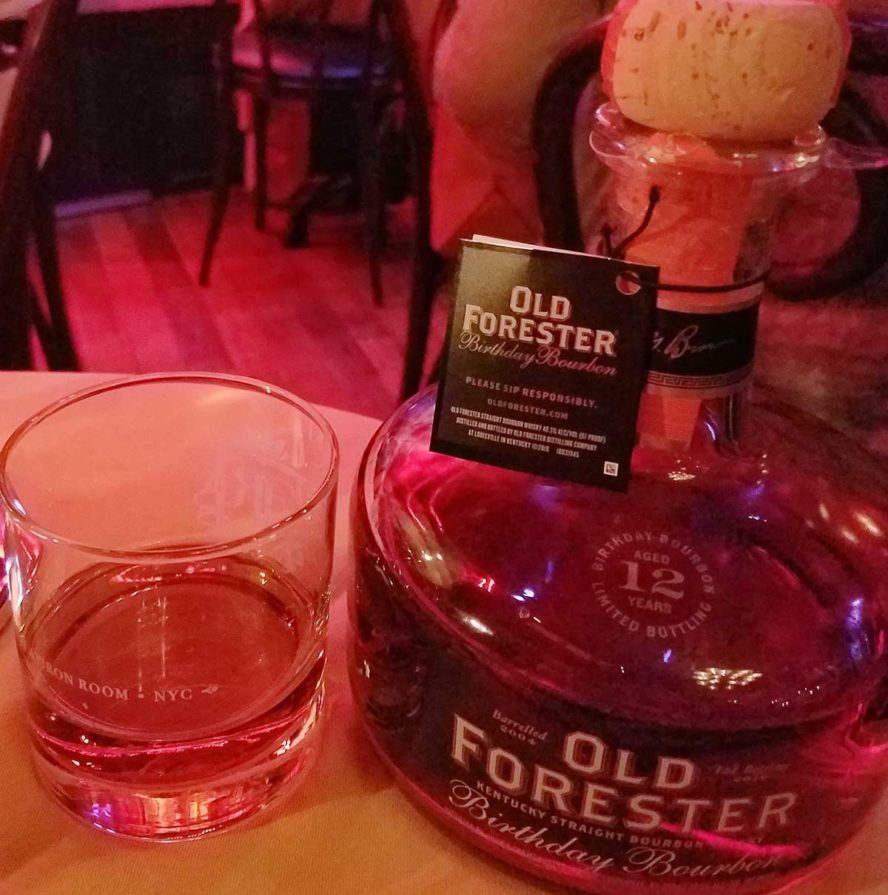 I sipped my bourbon, talked with Patti, listened to the music and took in the atmosphere. I thought the taste was fabulous. Maybe one of the best bourbons I had ever tasted. It was so good that instead of searching for something else on the menu, I had another pour.  Wow did it fit the mood of the place.
When Patti and I left and went back to the room, I told her it would make a great Christmas gift.  And lo and behold, on Christmas morning, I opened up a present containing the OFBB 2016. Pretty exciting. I remembered the magic feeling of The Flatiron Room.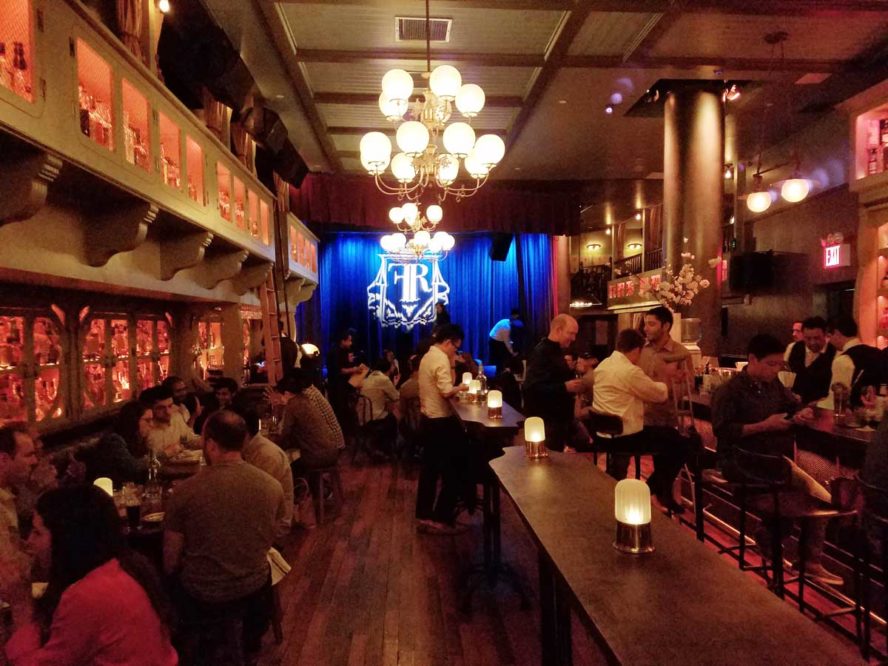 As Christmas dinner approached I thought I should have a pour of the OFBB. I really wasn't in the mood but I went ahead and broke out the bottle. And… it wasn't what I remembered from The Flatiron Room. Really good but not the magic.  Did it need some air? Was it my mood?  Over the next couple months, I had a couple more pours and it tasted even better but still not that magic.  Don't misunderstand, the OFBB 2016 is a really good bourbon as far as I am concerned.
Then, in March of this year, we went to Savannah and found a new spirits bar. It was a great place with a very engaging bartender and a great vibe. They had the OFBB also so I had another pour and again there was that magical taste. In April, we went to Nashville and during a visit to one of our favorite restaurants, I had another pour of OFBB.  During this visit, I had reconnected with the head bartender who I had met a couple years before. We were having a great time and once again I tasted the magic.
So what gives? Why is the bourbon so great in one setting and not quite as good in another?
This has happened to me several times before. I have tasted bourbon at bars sitting with friends and with my wife, at Whiskyfest or other tasting events; pours that I thought were excellent but upon buying a bottle the outcome was not as overwhelming.
These experiences made me remember an article I had read by whisky writer Dave Broom, entitled "The Emotions of Drinking Great Whisky."  His premise was that while there are many different factors that affect the taste of a bourbon, the fact is, not only quality but where you drink your bourbon, who you drink with and the atmosphere around you affects how you perceive the taste.
I have thought about this many, many times in my bourbon journey and find it to be absolutely true. My Old Forester Birthday Bourbon experience certainly proves this to me. You don't have to take my word for it, however, nor Dave Broom's. There was a scientific study done on just this subject.
In 2013, Oxford University conducted a study on whether where you drink your whiskey changes your perception of how it tastes. The study was conducted by Professor and experimental psychologist Charles Spence. His idea for this came from many travelers.  "Go someplace warm and sunny, and the food and drink are breathtaking, explained Dr.Spence.  Bring some home, though, and it never tastes as good."
Three different rooms were created for the study. They were called The Nose, The Taste and The Finish room. Each room had different lighting, color, and smell.
The Nose room featured green grassy turf on the ground, lawn chairs, croquet sets and other outdoorsy items. A green light illuminated the room while a fragrance that was reminiscent of fresh cut grass permeated. The sounds of a summer meadow with birds chirping and the wind softly blowing played in the background.
Round was the theme of the Taste room. Red globes, padded chairs and other rounded-edge items including a bowl of fresh red fruit. The room was illuminated with a red light and there was a fragrance of something sweet. High pitched tinkling bells played in the background.
Wood! That was the Finish room. Exposed wood panels, wooden boxes, wooden chairs and clocks on the walls filled the themes. Dimly lit, the room included woody fragrance and sounds of creaking timbers, a crackling fireplace, and sounds of someone walking through the dry leaves played in the background.
Each participant was poured a glass of whiskey and spent about 5 minutes in each room. In all, there were 441 participants. Each person was asked to rank the nose, taste, and finish of their whiskey after visiting each room.  At the end, the ratings for nose, taste, and finish varied for each of the three rooms. The conclusion: difference in the surrounding environment can, in fact, influence our flavor receptors and enhance or inhibit the taste of whiskey.  If you want to read more and see graphs of the study here is link.
Enough with the science, however. I think we all know that when we are out with friends and having a good time, food and drink tastes better. As Dave Broom said, "… many (whiskies) are memorable because of the resonance of the moment. This is an important thing to underline about whisky, that it is a sociable drink. Whisky is about sharing."
Back in November, a group of Bourbon and Banter writers attended the Whisky in the Winter event in St. Louis, MO. The night before, they got together at the house of Bourbon and Banter's founder, Patrick "Pops" Garrett. The stories and pictures that came out of this gathering made me very sorry I was unable to attend. A good number of bourbons were opened, consumed and many raved about. I reached out to the group and asked them if they thought their experience was enhanced by the banter. The answers varied and some said that a few bourbons they thought would be better were disappointments.
Pops summed up the whole thing perfectly, "If the bourbon is truly [bad}, nothing can make it taste good. But good bourbon is always better with enjoyable banter. Great bourbon is amazing under the same circumstances. I've always preached that bourbon and banter together make the difference hence the blog name. (yes, I'm biased) In Thomas' (Bourbon and Banter contributor Thomas Fondano) case sharing bourbon with Eddie [Russell] in a rickhouse is amazing. Drinking it alone in the rickhouse would be cool, but not the same. The environment matters but the company is king."
Bourbon and Banter.
#drinkcurious.