Isaiah Morgan Small Batch Bourbon Review
Being a West-By-God-Virginian, I wanted my first review for Bourbon and Banter to be for a West Virginia bourbon. Face it Kentuckians, we ain't so different. Time to put the feudin' behind us.

Amy Prunty is our guest blogger today with her Isiah Morgan Small Batch bourbon review. As with our other Help Wanted applicants we ask that you share your thoughts on her post in the comments as well as online where you can find Amy at @mountaineers64 or @Mountaineers64.
---
Being a West-By-God-Virginian, I wanted my first review for Bourbon and Banter to be for a West Virginia bourbon. Face it Kentuckians, we ain't so different. Time to put the feudin' behind us. Both of our homes have fallen on hard times, and while the Bluegrass state is combatting coal declines with bourbon and horse tourism, we in the Mountain State are fighting back with eco-tourism, adventure sports, and the rise of the craft spirits industry.
Smooth Ambler, in Maxwelton, WV, puts out a nice bourbon, reviewed here on Bourbon and Banter. I'm a big Smooth Ambler fan. But I ran across another West Virginia bourbon at my local liquor store. Isaiah Morgan, "West Virginia's only Made and Produced Bourbon Whiskey," according to the distiller's website, www.kirkwood-wine.com .
I called the distillery for more information on Isaiah Morgan, and Matthew told me the bourbon is, indeed, a native West Virginia product, (not sourced!), with the exception of the barrels, which are genuine Kentucky white-oak, (cooperation across the Tug – although the WV Hatfields had the timber business. But I digress…)
The mash bill is 70% corn/15% rye/15% barley. Matthew said there are three barrels remaining from the first batch in 2002, and they have six more that were barreled in 2014. I look forward to visiting Summersville when the weather permits, (this review being written in the thick of winter storm, Jonas).
Isaiah Morgan Small Batch Bourbon Review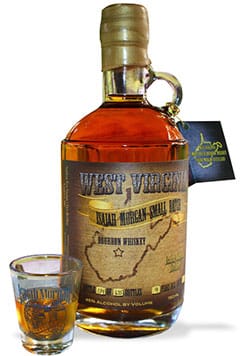 BOTTLE DETAILS
---
Bourbon Name: Isaiah Morgan Small Batch
Proof: 90
Age: 9 years
Year: 2015
AMY'S NOTES
---
How I Drank It: Neat, then rocks, in my favorite highball glass. Yes, my awesome sister got me a Glencairn glass for Christmas, but old habits die hard. Besides, I LOVE this glass!
My Nose Noticed:* Ethyl (big time!) | Tobacco | Clove | Vanilla
First Sip: Ethyl (This is West Virginia, we DO have a storied history in 'Shine!) | Clove
The Burn**: Burn, baby burn! For those who appreciate a good lip-tingle, this is for you. Finish produces significant warmth (i.e., burn). Medium finish – not gone right away, but not super-long. Fantastic viscosity, which does not diminish with the addition of ice.
Neat, Splash or Rocks: Disclaimer – I don't do "splash." I have consumed too much watered-down booze in my life. I add a drop of water, and I'm immediately transported back to Pepe's Pub in Akron, OH, during my college years, where I could get a 7 & 7 for 85 cents. Rocks, however, is my preferred M.O. for all but the highest shelves of bourbon. Mr. Morgan requires rocks. The entire profile changes, (it is a high-proof bourbon). Add a bit of ice and let it sit a few minutes. The ethyl in the nose becomes practically non-existent. Your olfactory senses are treated to clove, tobacco, fresh grass, and brown sugar. With a bit of ice, this bourbon reminds me of a Christmas ham, with some firewater. Which pretty much sums up Christmas at my house, and that makes me happy.
Share With: Bourbonophiles who are looking for something different and adventurous. For heaven's sake, don't serve it to a novice – they'll never drink bourbon again! But it does make an intriguing addition to a gathering of bourbon drinkers who are looking for variety.
Worth The Price: This bottle was a gift for my birthday, back in August. My husband, God bless 'im, buys me a collection each birthday and Christmas – or when I get super-cranky. When I spoke with Mathew at the distillery, he said they sell it on-site for $60, but West Virginia has some crazy liquor laws, and the distillery isn't informed where the product retails, or for how much. Is it a $60 bottle? Probably not. And it seems Hubby paid around $40. But if you want to show off, it's worth the addition to your collection.
Bottle, Bar or Bust: If you can find a pour, try it. If not, the bottle may reside in your collection for a while, but it's worth the novelty. I'm not a fan of burn. I favor smooth, sweet, neat pours. Need some wheat in my bill. Will I buy, or be gifted, (as the case may be,) another bottle? Probably not, but one was fun, and I feel good about "drinking local."
---
*I like to let my whiskey sit in the glass for at least 5 minutes before I start to smell it or have a drink. I find that it's better to let some of the alcohol waft off before diving in. If I'm drinking bourbon on the rocks, I skip the waiting and dive in both feet first. In this case thought, the whiskey required more like 20 minutes to balance out.

**Some of you refer to this as the "finish" but let's be honest. Don't we all just want to know if it burns good?