Islay Storm Single Malt Scotch Whisky Review
Most Single Malt Scotches at this price point are pretty rough. Even my #RespectTheBottomShelf philosophy gives a cautious view of Single Malts from that market. This one will change your mind.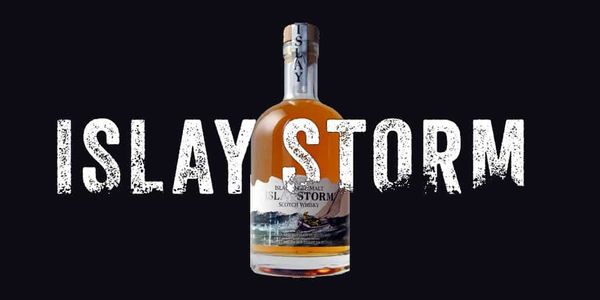 BOTTLE DETAILS
---
JEFF'S NOTES
---
NOSE: Peat | Vanilla | Pear | Salted Caramel
TASTE: Smoke | Vanilla | Pineapple | Black Pepper
FINISH: Long and creamy, with notes of iodine, vanilla, pepper, and peat.
SHARE WITH: Islay whisky fans. I recommend hiding the bottle behind your bar as you pour, let folks get past any preconceived notions they may have.
WORTH THE PRICE: This is a $19.99 Islay Single Malt, and it is more complex than you'd imagine. It is hard to find a palatable Scotch, let alone a Single Malt, at this price. Islay Storm drinks like a much more expensive bottle.
BOTTLE, BAR OR BUST: Most Single Malt Scotches at this price point are pretty rough. Even my #RespectTheBottomShelf philosophy gives a cautious view of Single Malts from that market. This one will change your mind. It won't blow you away, but for an Andrew Jackson, this is a hell of a good whisky and earns a Bottle rating.
OVERALL: : If you've been reading my reviews for awhile, you'll know that my prior experience with Trader Joe's Kentucky Bourbon Straight Whiskey left me with a bad taste in my mouth – a really bad taste. It was a taste so bad that it had me skittish to try any other Trader Joe's exclusives. And, yet, here I am, one year later, embracing the #DrinkCurious lifestyle, ready to risk my palate for the whisky-loving community with Islay Storm Single Malt Scotch Whisky.
I poured this whisky neat in a Glencairn glass. The color was a very enticing golden amber. One thing to keep in mind is distillers can legally add caramel coloring to Scotch, and as such, the color doesn't connote anything. Swirling it around left a very thin rim that produced slow, thick legs.
Lifting the rim of the glass to my chin brought only an aroma of peat. It was difficult to pick up anything beyond that. Raising the rim to lip level toned down the peat and allowed vanilla and a bit of saltiness. Elevating it a little more to just under my nostrils offered a bit of pear. Inhaling through my mouth brought salted caramel that just made my mouth water.
The mouthfeel was extremely thin, enough so that I worried it was proofed down too much. That first sip gives a strong peat flavor, but once your palate gets beyond the shock, you can pick up other flavors. The vanilla from the ex-Bourbon barrels shines through, behind that a slightly sweet fruitiness of pineapple and, finally, peppery spice.
The finish was, despite the thin, watery mouthfeel, quite creamy and lasting. There's some competition between the saltiness and spice. And, while there's plenty of peat, there's no burn to speak of, likely attributed to the lower proof.
I went into this Scotch expecting the worst. I'm pleasantly disappointed. Cheers!
BRAND NOTES
---
Islay Storm captures the essence of the unique and mysterious energy that surrounds the famous island of Islay.
Situated off the west coast of Scotland, Islay is at the mercy of the mighty Atlantic Ocean, whose treacherous storms have been shaping the landscape for thousands of years.
Raging seas, ferocious currents and hidden rocks have sent hundreds of ships to their destiny. Then they give way to calm sunny days, white sandy beaches and lochs full of peaty spring water.
Islay malts are unlike any other malt whiskies – they are  robust, smoky and peaty, with hints of the sea and spicy sweetness – combining the torrents and tranquility of this magical island.
ISLAY STORM WON A "SILVER – OUTSTANDING" AWARD IN THE 2017 IWSC INTERNATIONAL WINES AND SPIRITS COMPETITION. THIS IS AWARDED TO WHISKIES WHICH SCORE BETWEEN 86 AND 89.9 POINTS IN A BLIND TASTING.THE IWSC IS RECOGNISED AS ONE OF THE WORLD'S  MOST PRESTIGIOUS AWARDS IN THE WINES AND SPIRITS INDUSTRY.
TASTING NOTES:
Nose: Pungent peaty smoke. Phenolic with a little coastal breeze.
Palate: Lovely sweet peatiness. Some iodine and sea salt balance with vanilla notes and some spice.
Finish: Waves of smoke. Fantastic length.
---
ADDITIONAL WHISK(E)Y INFO
You'll notice that whisky is spelled without an "e" in this review. That's because, typically, only the Irish and Americans use "e" whereas the rest of the world does not. There's no hard rule on it, and some Irish and American whiskeys skip the "e" while other countries may include it.
Also, there is some debate over Scotch regions. Legally, there are five: Speyside, Highland, Lowland, Campbeltown, and Islay. There is an unofficial sixth region called Islands. However, with the exception of Islay, the Islands are part of the Highland region.
Finally a word about peated whiskies. These are typically something folks grow into. There are a few newbies who can jump in feet first and appreciate how peat contributes to a whisky, but if you're new, I recommend starting off with a very lightly-peated whisky and then working your way to stronger and heavier levels of peat. Cheers!