J.R. Ewing Bourbon Review
Earlier this year fans of the television show, Dallas, were excited to learn about a new bourbon release honoring the show's most memorable character – J.R. Ewing.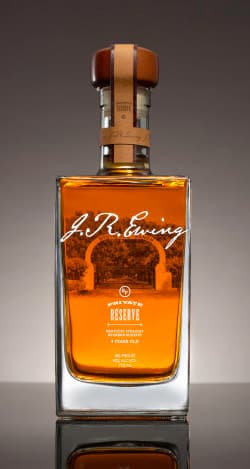 Disclaimer: A sample of J.R. Ewing bourbon was provided to me by Warner Brothers for this review. I appreciate their willingness to allow Bourbon & Banter to review the bourbon with no strings attached. Thank you.
---
Earlier this year fans of the television show, Dallas, were excited to learn about a new bourbon release honoring the show's most memorable character – J.R. Ewing. Having grown up watching Dallas with my family every Friday night, I was pretty curious to learn more about the release once it made it to my part of the country. So when Warner Brothers contacted me a few weeks ago to tell me they were sending me something to check out I was pretty excited.
Here's some information from the original press release announcing the release of J.R. Ewing Bourbon:
To coincide with the season three premiere of Dallas on Monday, February 24, at 9/8c on TNT, Southfork Bottling Company is teaming up with Warner Bros. to launch a new brand of bourbon, J.R. Ewing Bourbon, inspired by the show's infamous character and iconic Texas tycoon. The bourbon can be found on spirit retailers' shelves beginning end of March.
Distilled in the heart of Kentucky's bourbon country, the 4-year-old, 80-proof light amber-colored bourbon will initially launch in 14 states across the South and Midwest, with plans to expand nationally within a few months and internationally by the year's end. The brand will be marketed to distributors around the United States by Prairie Creek Beverages, a national wine and spirits marketing company, and internationally by Melchers Group, a producer and exporter based in The Netherlands.
Packaging for the new bourbon features a wooden stopper and screen-printed image of the legendary Southfork Ranch — home of the Ewings — which can be seen through the front of the elegant, iconic bottle.
J.R. Ewing Bourbon is well balanced and possesses a maturity that adds to its complexity. The nose is classic and slightly fruity, with notes of vanilla, oak sweetness and a touch of orange. The taste profile is surprisingly mild, yet crisp, and exhibits a lightly spicy/honey taste that lingers on the palate.
"Creating a brand of such high quality is reflective of J.R.'s thirst for the best in life, and the new brand really pays tribute to the character with whom everyone around the world is familiar," said Andy Harmon, co-founder of Southfork Bottling Company.
Bourbon was the drink of choice for Dallas' legendary character J.R. Ewing; a ruthless and egotistical Texas oil baron with discerning taste who was particular about his liquor, J.R. would no doubt have been pleased to see his own notorious name signed on the bottle of this well-crafted bourbon whiskey.
"It's exciting to have the show and J.R.'s legacy, represented to the public in a new way," said Dallas executive producer and writer Cynthia Cidre. "Plus, it gives the fans one more reason to celebrate Dallas!"
"My father, Larry Hagman, would have loved the fact that this new bourbon was named after his legendary character, J.R. Ewing — a signature spirit inspired by one of the most beloved, conniving and trailblazing characters in entertainment history," said Preston Hagman.
J.R. Ewing Bourbon is a partnership between Warner Bros. Consumer Products and Warner Bros. Television Group, in collaboration with Southfork Bottling Company.
The release does a good job of building up the bourbon so my expectations were pretty high going into my formal review. After all, I really couldn't see J.R. Ewing settling for anything but the best when it came to bourbon.
UPDATE: Received info from the brand clarifying the mash bill on this one. They tell me it's 81% corn, 13% rye and  6% malted barley. Guess that explains my statement about the corn notes.
Here's my formal tasting notes for those who want a printed record:
J.R. EWING BOURBON REVIEW
BOTTLE DETAILS
---
Bourbon Name:  J.R. Ewing Bourbon
Proof: 80
Age: 4 years
Year: 2014
POP'S NOTES
---
How I Drank It:  Neat, in Glencairn whiskey glass.
My Nose Noticed:* Vanilla | Honey | Tea
First Sip:  Sweet Vanilla | Oak | Corn
The Burn:**  First sip hints at sweet vanilla but quickly gives way to a surprising oakiness that is beyond it's 4 year age statement. It's a very thin bourbon with no complexity or layers of flavor. There's also no burn or lingering finish. Once you swallow all you're left with is an overly tannic taste in your mouth courtesy of unbalanced oak.
Neat, Splash or Rocks:  This one lacks substance. Adding water or ice would only further dilute an already under-proofed bourbon. If you're going to drink this, drink it neat.
Share With: This is a bourbon best shared on the shelf. It's a nice looking bottle with a cool screen print of Southfork Ranch on the back of the bottle. Might make a nice gift for a lover of the television show Dallas to add to their collection.
Worth The Price:  Suggested retail price is $35.00. Not a bad price for a memento of Dallas and J.R. Ewing. Overpriced if paying for the juice in the bottle.
Bottle, Bar or Bust: Try it in a bar before you invest in a bottle for drinking. If you're a fan of J.R. or the show Dallas, it's probably a safe investment to add it to your display shelf.
*I like to let my bourbon sit in the glass for at least 5 minutes before I start to smell it or have a drink. I personally find that it's better to let some of the alcohol waft off before diving in. If I'm drinking bourbon on the rocks I skip the waiting and dive in both feet first.
**Some of you refer to this as the "finish" but let's be honest. Don't we all just want to know if it burns good?
PS – After shooting my review video I came across this website in support of J.R. Ewing Bourbon.  I work in marketing for my day job and I can't even really discern the audience or purpose behind this website. I'm very puzzled by it.