Jefferson's: The Manhattan Barrel Finished Cocktail Review
When I'm in the mood for a bourbon cocktail a Manhattan is always my first choice. A classic drink with only four ingredients, it's easily customized to fit your mood. Want something extra spicy? Swap out bourbon with rye whiskey.

When I'm in the mood for a bourbon cocktail a Manhattan is always my first choice. A classic drink with only four ingredients, it's easily customized to fit your mood.
Want something extra spicy? Swap out bourbon with rye whiskey.
Have a sweet tooth? Put some extra sweet vermouth in with extra Luxardo cherries.
As such my home bar is always stocked with a Manhattan's signature ingredients. But sometimes I find myself wanting to enjoy a Manhattan at a friend's house with no ingredients in sight. It's time like those that a ready-to-drink cocktail would be perfect. With that in mind I was curious to learn more about Jefferson's The Manhattan when they announced it a few months ago.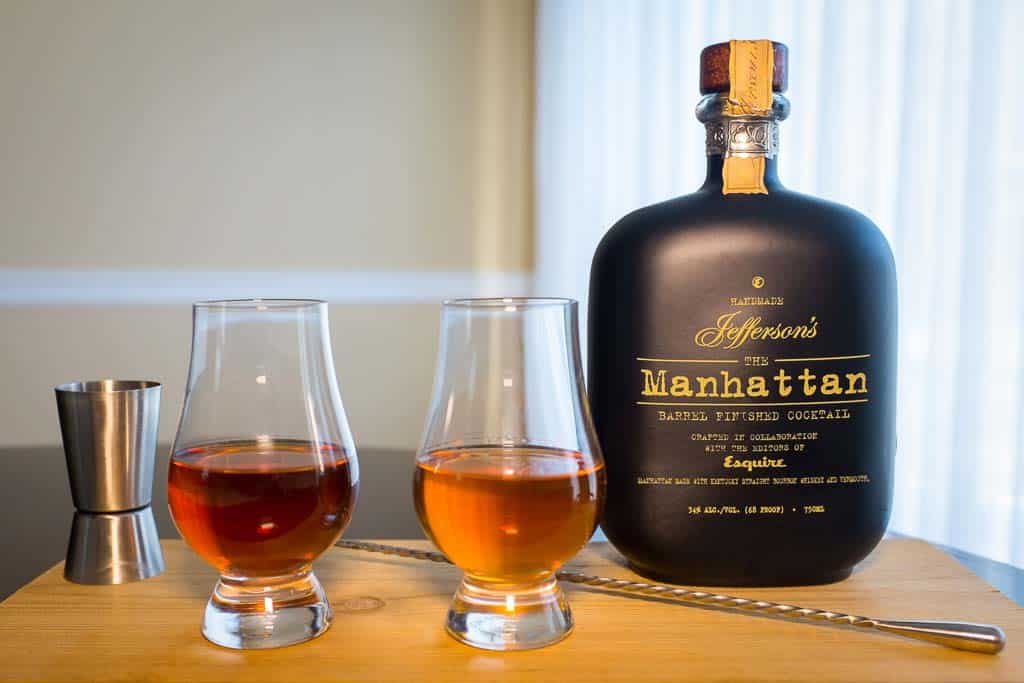 When my sample of The Manhattan arrived I decided that I would review it by comparison. The idea was to put it up against one of my homemade Manhattans. I created my default recipe which includes extra sweet vermouth but without any cherries. I started by tasting them neat so the cherries were not needed.
As I was preparing the drinks I read the ingredients of The Manhattan and noticed "colored with carrot extract" on the label. Odd, right? I contacted Jefferson's to find out more and learned carrot extract was an ingredient in the barrel-aged bitters used in The Manhattan. It was not something added by Jefferson's to change the color of the product.
It also turns out that Jefferson's The Manhattan uses a Perfect Manhattan recipe combining sweet and dry vermouth. My homemade Manhattan contained only sweet vermouth immediately making a fair comparison impossible. Undaunted though I proceeded with my tasting and compiled my notes below.
THE MANHATTAN BARREL FINISHED COCKTAIL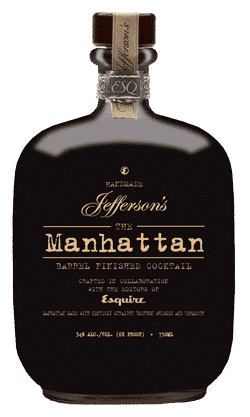 BOTTLE DETAILS
---
Cocktail Name:  Jefferson's: The Manhattan Barrel Finished Cocktail
Proof: 68
Age: 6-year-old bourbon, cocktail is barrel aged for 90 days
Year: 2015
POP'S NOTES
---
How I Drank It:  Neat, in Glencairn whiskey glass.
My Nose Noticed:* Cherries | Candied Fruit | Nutmeg | Raisin
First Sip: Nutmeg | Brown Sugar | Candied Fruit
The Finish:  The Manhattan's finish is subtle and refined. It has just enough depth to get your attention but let's go all too quickly. I couldn't help but want more of the aromas and flavors that were teasing me from my glass. I realize products need to appeal to the masses but I would love to see Jefferson's release a higher proof version with more pronounced vermouth and bitter flavors.
Neat, Splash or Rocks: The Manhattan is best served neat. It's aroma and flavor was more subtle than my homemade Manhattan. While I enjoyed the depth of the Jefferson's aroma, adding ice diluted everything. The resulting drink was lacking in flavor that even extra ingredients couldn't correct. In fact, it tasted like watered down bourbon after adding ice to it.
Share With: I would share this with friends who prefer a Perfect Manhattan neat. It's also a good introduction to bourbon cocktails for those that enjoy their cocktails a little bit on the dry side.
Worth The Price: The Manhattan is in the same range as other barrel-aged cocktails at roughly $40.00. (Although we've seen it as high as $49.99 at Caskers.) Among its competitive set I would say it's worth a try if you've got the disposable income. Compared to making your own Manhattans at home it's an expensive option. The product's selling point is that it's ready to drink–with no mixing or measuring required. If you're looking for a quick cocktail to serve to guests or in need of a unique gift, The Manhattan's price is fair.
Bottle, Bar or Bust: A bottled cocktail has to be extraordinary to find a home on a shelf in my bar. The Manhattan, while solid in many ways, doesn't suit my taste. As I stated before, if you have the money go ahead and pick up a bottle to see if you like it. You can doctor it with extra vermouth, bourbon  and bitters if needed as long as you don't drink it over ice.
Although Jefferson's The Manhattan isn't a perfect fit with my tastes I think it will appeal to a broad audience. It's a good bottle to give as a gift to cocktail loving friends and to those looking to try a barrel-aged cocktail at home. Jefferson's isn't commenting on future releases but I hope they continue to experiment and release other barrel-aged offerings.
Now if you excuse me I need to go make myself a Manhattan…on the rocks.
BRAND NOTES
---
ESQUIRE AND JEFFERSON'S BOURBON TODAY ANNOUNCED THE LAUNCH OF THEIR FIRST EVER COLLABORATION: THE MANHATTAN: BARREL FINISHED COCKTAIL.
CRAFTED WITH THE EDITORS OF ESQUIRE, THIS NEW PRE-BATCHED COCKTAIL WILL BE AVAILABLE AT SELECT RETAILERS NATIONWIDE BEGINNING APRIL 1, 2015.
NEW YORK, April 1, 2015 /PRNewswire/ — Esquire and Jefferson's Bourbon today announced the launch of their first ever collaboration: The Manhattan: Barrel Finished Cocktail. Crafted with the editors of Esquire, this new pre-batched cocktail will be available at select retailers nationwide beginning April 1, 2015.
The new Esquire & Jefferson's Manhattan: Barrel Finished Cocktail was conceptualized in 2013 by Esquire's Editor-in-Chief David Granger and Jefferson's Bourbon founder Trey Zoeller, in an effort to provide bourbon enthusiasts with a barrel-finished bottled cocktail that enhances the experience of enjoying a classic. In search of delicious, oaky notes and a well-balanced flavor profile, Granger and Zoeller (aided by various Esquire staffers) tested dozens of recipes together until they narrowed down the options to just three recipes. Those three options were then aged for 90 days in bourbon barrels until just one stood out as a superior Manhattan. The finished product is comprised of six-year-old bourbon – 125 proof cut down to 82.3 – both sweet and dry vermouth, and barrel-aged, spiced cherry bitters. Enjoy it as you would any Manhattan: on the rocks or stirred and strained over ice.
"Esquire covers the wide-ranging interests of men and one of our primary passion points is drinking and the culture of drinking," saidDavid Granger, editor-in-chief of Esquire. "It's been a joy working with Trey on finally putting our considerable drinking experience to some productive use.  (It was also good to drink lots of his whiskey). And it's particularly gratifying that our distinctive version of the classic cocktail tastes so damn good."
The expertly crafted cocktail in a bottle was created for the modern man who appreciates the experience of a quality drink along with the ease of a pre-bottled cocktail.
"What I enjoyed most about making this Manhattan with Esquire was the collaborative process of creating a well-rounded cocktail that elevated the typical bourbon drinking experience," said Trey Zoeller. "It took us over two years of experimentation and communication to hone in on a drink we've always wanted at our home bar but was never easily available, and we were finally able to create something that is both innovative and accessible."
This is a joint partnership between Esquire, Jefferson's and Hearst Brand Development. The cocktail collection will be available at select venues and retail locations both in-store and online nationwide.
---
Disclaimer: Jefferson's Bourbon provided Bourbon & Banter with a sample of their product for this review. We appreciate their willingness to allow us to review their products with no strings attached. Thank you.