Jim Beam Signature Craft Quarter Cask Finished Bourbon Review
Last year Jim Beam released a new line of bourbons called Jim Beam Signature Craft. The only permanent expression in this line was also the first release – Jim Beam Signature Craft 12-Year Bourbon.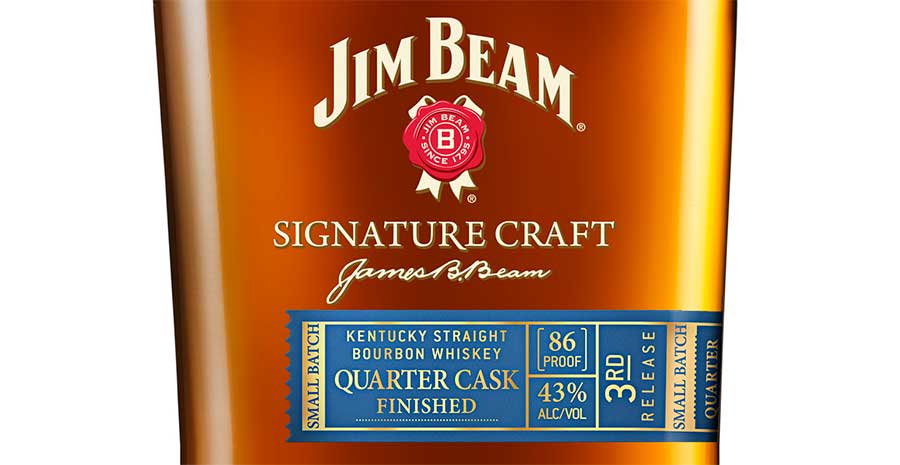 Disclaimer: A sample of Jim Beam Signature Craft Quarter Cask bourbon was provided to me by Jim Beam for this review. I appreciate their willingness to allow Bourbon & Banter to review the bourbon with no strings attached. Thank you.
---
Last year Jim Beam released a new line of bourbons called Jim Beam Signature Craft. The only permanent expression in this line was also the first release – Jim Beam Signature Craft 12-Year Bourbon. At the same time they also released Jim Beam Signature Craft Bourbon Finished with Rare Spanish Brandy which was the first of a limited release series of small batch bourbons in the Signature Craft line that are to be released annually.
This year's limited release, Jim Beam Signature Craft Quarter Cask Finished, is scheduled for release in September and but we're thrilled to have a sample provided to us by Jim Beam for early review.
Here's what they have to say about this year's release:
In 2014, we are proud to release our new Jim Beam Signature Craft Quarter Cask as the third edition of the Signature Craft line and second annual limited release expression. It's a bold man's bourbon – a full-bodied Kentucky Straight Bourbon that starts with premium Jim Beam liquid aged at least five years, and then finished with a variety of unique quarter cask liquids, that are aged between four to eight years in the smaller barrels.
It's wasn't easy, but after we balanced that deep oakiness with the smooth vanilla notes of a more mature bourbon, we loved what we tasted. And now, we're hoping you will, too.
It's important to point out that this is a blend of bourbons – not a bourbon that was finished by placing it into quarter casks for a few months as original described by Fred Noe in this video over on BourbonBlog.com.  We specifically asked Jim Beam for clarification on this issue and they've confirmed "finished = blended after aging in this case".
Based on the success of their Laphroaig Quarter release, it's clear that Beam is hoping that lightning will strike twice with this bourbon quarter cask release. It will be interesting to see how bourbon drinkers react to their use of quarter casks and whether or not it creates a bourbon that is unique enough to demand sustained market attention.
While we weren't blown away by last year's release we're still intrigued by Jim Beam's approach to this line of bourbons and look forward to each new release. Let's go ahead and dive into our Jim Beam Signature Craft Quarter Cask bourbon review and see how it compares to last year's Rare Spanish Brandy expression in terms of uniqueness and value.
JIM BEAM SIGNATURE CRAFT QUARTER CASK FINISHED BOURBON REVIEW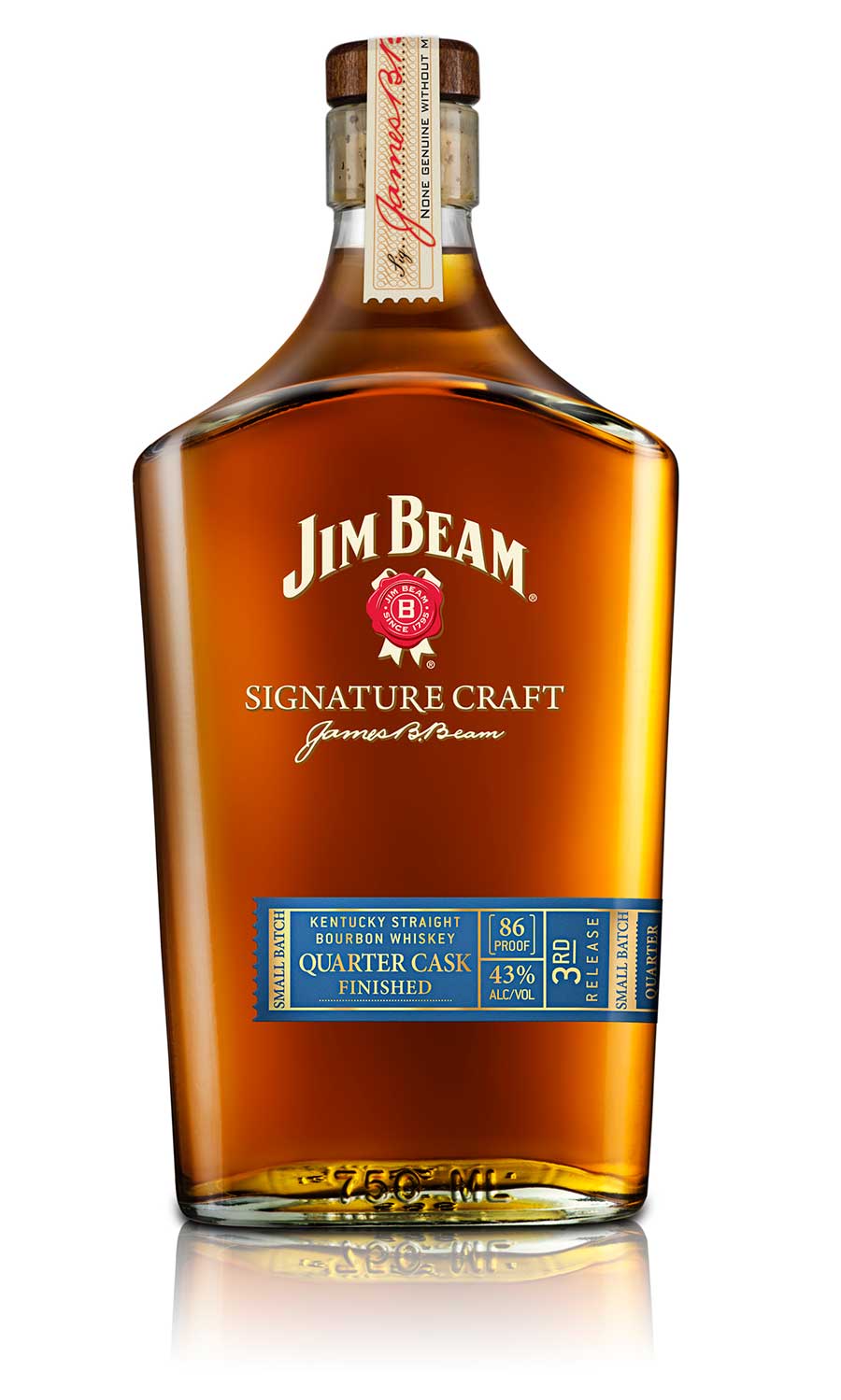 BOTTLE DETAILS
---
Bourbon Name: Jim Beam Signature Craft Quarter Cask Finished Bourbon
Proof: 86
Age: 5-6 years
Year: 2014
POP'S NOTES
---
How I Drank It:  Neat, in Glencairn whiskey glass.
My Nose Noticed:* Oak | Corn | Cinnamon | Caramel
First Sip:  Sweet Corn | Cinnamon | Oak | Coconut
The Burn:**  Starts off nice and sweet with the familiar Beam corn notes but with some cinnamon spice. The oak arrives next which helps to tame the corn notes to a point that I didn't react negatively to them. As you finish the oak gets drier and leaves a bit of coconut on the tongue. It threatens to get overly oaky but never quite gets there. The burn is there in the back of the throat but never really stands up and shouts "Look at me!".
Neat, Splash or Rocks:  I'd stay to drinking this one neat. Adding water threw it out of balance by bringing forward the spice and oak and leaving the sweet corn behind. Actually made it taste hotter than it really is.
Share With: Share this one with folks who like more oak (drier)  than vanilla (sweet) in their bourbon, as well as Jim Beam lovers. It's a good way to experience another expression within the common flavor profile of Jim Beam.
Worth The Price:  Suggested retail price is $39.99. The price is the same as the other releases in this line and my feelings are pretty much the same. It's a bit high for what you get – when compared to other products on the market – but it's not so overpriced for a whiskey that's delivering something new to the bourbon drinker (quarter cask finish).
Bottle, Bar or Bust: Probably a must add to the bar for Jim Beam fans. For most folks thought I'd suggest trying it at a bar before you invest to confirm you like what you get for the price.
*I like to let my bourbon sit in the glass for at least 5 minutes before I start to smell it or have a drink. I personally find that it's better to let some of the alcohol waft off before diving in. If I'm drinking bourbon on the rocks I skip the waiting and dive in both feet first.
**Some of you refer to this as the "finish" but let's be honest. Don't we all just want to know if it burns good?
---
Overall I think Jim Beam Signature Craft Quarter Cask Finish is a solid bourbon in the Jim Beam flavor wheelhouse. However, it doesn't really stand out as something innovative when compared to other recent Jim Beam releases. Sure, it adds more oak to a 5-year old bourbon but as someone who doesn't go crazy over oak and drier bourbons it doesn't do much for me. I applaud Beam's efforts at trying new things and genuinely look forward to each new thing they release. This one just doesn't get me excited. Jim Beam lovers might feel otherwise. I look forward to their feedback and feelings on how this compares to recent releases like Jim Beam Single Barrel.
PS – For those of you outside of the US I'm sorry to report that at this time Beam is only looking to release this one in the United States for now.