Jim Rutledge Announces Plans for New Distillery
Rutledge retired from Four Roses Distillery in September 2015, and after nearly 8 months of retirement he said: "I realize it is time for me to get back to work!"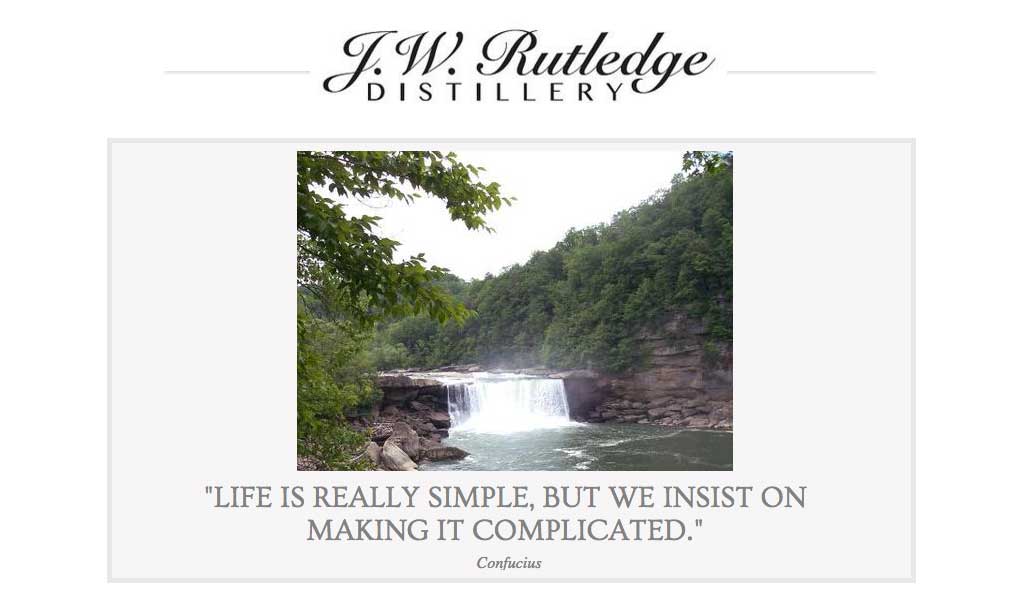 JIM RUTLEDGE, FORMER MASTER DISTILLER OF FOUR ROSES BOURBONS, ANNOUNCED TODAY HIS PLANS TO COME OUT OF RETIREMENT TO BUILD HIS OWN DISTILLERY.

Jim Rutledge, former Master Distiller of Four Roses Bourbons, announced today his plans to come out of retirement to build his own distillery.
Rutledge retired from Four Roses Distillery in September 2015, and after nearly 8 months of retirement he said: "I realize it is time for me to get back to work!" He announced today "I have partnered with two close friends and business associates, Stephen Camisa and Jon Mowry, to commence efforts to build a modern, highly efficient, environmentally friendly and sustainable distillery near Louisville, KY. The distillery will be named: 'J. W. Rutledge Distillery, LLC.' Stephen, Jon and I have more than 120 years of varying experience and expertise in the distilled spirits industry." Rutledge said he plans to use two, or more, yeast strains in combination with several high rye Bourbon mashbills to produce very high quality Kentucky Straight Bourbons. He is also excited about producing a "wheated" Bourbon, which uses wheat as the small flavoring grain. Rutledge indicated he has had a long-time desire to produce a straight rye whiskey, and he went on to say: "I promise, a straight rye whiskey will be distilled, barrels filled and aging in our warehouse within the first year of operation."
Rutledge advised that: "to get the ball rolling, a 30-day crowd funding campaign will commence Monday May 2 using Indiegogo as the platform." In this manner Bourbon and rye whiskey enthusiasts and aficionados may join his team to bring the J. W. Rutledge Distillery to fruition. A link to Indiegogo may be found on the JWRD website – www.jwrutledgedistilleryllc.com, or simply Google on Indiegogo and join up. There is also a link to the JWRD Facebook page on the website.
Rutledge is in his 50th year in the distilled spirits business. He began his career working in Seagram Distillery's Research and Development which was headquartered at the company's Calvert Distillery in Louisville, KY. He later worked in nearly every area of production management at the distillery, including 2 assignments in distillery operations. He also worked 15 years in Seagram's New York Corporate Headquarters, prior to being transferred back to his Kentucky home and Seagram's Four Roses Distillery operations in 1992. He became the Kentucky Area Manager and Four Roses Master Distiller in January 1995. Rutledge is probably best known for his efforts to return Four Roses Bourbon to the U.S. – after 4 decades of being sold only in international markets – and for the renowned high quality Bourbons he produced as Four Roses' Master Distiller.
Rutledge was inducted into the inaugural class of the Kentucky Bourbon Hall of Fame in 2001. He received a "Lifetime Achievement" award from Malt Advocate Magazine in 2007. In 2008 he was named Global Ambassador of the Year – American Whiskeys – by Whisky Magazine, and in 2013 he became the 13th person inducted into the magazine's Global Whisky Hall of Fame. During his long career with Seagram and Four Roses Distillery he received numerous other awards and accolades. He served 13 years on the Board of Directors of the Kentucky Distillers Association including 2 years as Treasure and 2 years as Chairman. He was also on the Board of Directors of the Kentucky Bourbon Festival for 9 years – the last 7 as Chairman.
---
Make sure to watch the video message from Jim below and then head over to the project's website and learn more about how you can help bring his plans to life.