Join Us for the 2018 #30DaysOfBourbon Challenge
Four years ago I started a little something to celebrate Bourbon Heritage Month. You see, I wanted to go to the Kentucky Bourbon Festival. The problem was that life happens, and I couldn't make it work out.

Four years ago I started a little something to celebrate Bourbon Heritage Month. You see, I wanted to go to the Kentucky Bourbon Festival. The problem was that life happens, and I couldn't make it work out.
What I wanted to do was start a challenge for myself that would let me feel like I was truly celebrating America's Native Spirit. It couldn't be easy, and it couldn't be something that required little effort. What I did is come up with a 30 Days of Bourbon challenge.
This was something initially just for me. In Year Two, I had a few friends and some of the Bourbon & Banter crew join me. In Year Three it went viral as we put together a calendar and invited all of our readers to join us. What it boiled down to was folks taking part put up over 1800 tweets and 3800 Instagram posts that reached more than 8.5 million people!
What's the challenge all about?
For 30 days, starting September 1st, you're going to enjoy 30 different Bourbons, one for each day of the month. There is no repeat during the month. In fact, these have to be 30 distinctly different Bourbons. As an example, a Bourbon that comes in both an 80-proof and 86-proof version, those aren't considered different Bourbons. But, if you run into something like Four Roses, which has ten different mash bills, those ten mash bills are distinctly different.
No Rye, no Scotch, no American Malt, just good, old-fashioned Bourbon. Speaking of Old-Fashioned, cocktails do count, so long as you're able to nail down the Bourbon used.
Each day of the challenge, post on social media your Bourbon of the Day with the hashtags #30DaysofBourbon, #BourbonHeritageMonth and tag @BourbonBanter and any of us. Some folks like me post their bottles, some post their updated calendars. Either way is just fine.
TRACKING CALENDAR
---
Download and print the #30DaysofBourbon calendar to keep track of your progress.  Each day write down your bourbon and share a photo on Twitter/Instagram using #30DaysofBourbon and tag @BourbonBanter.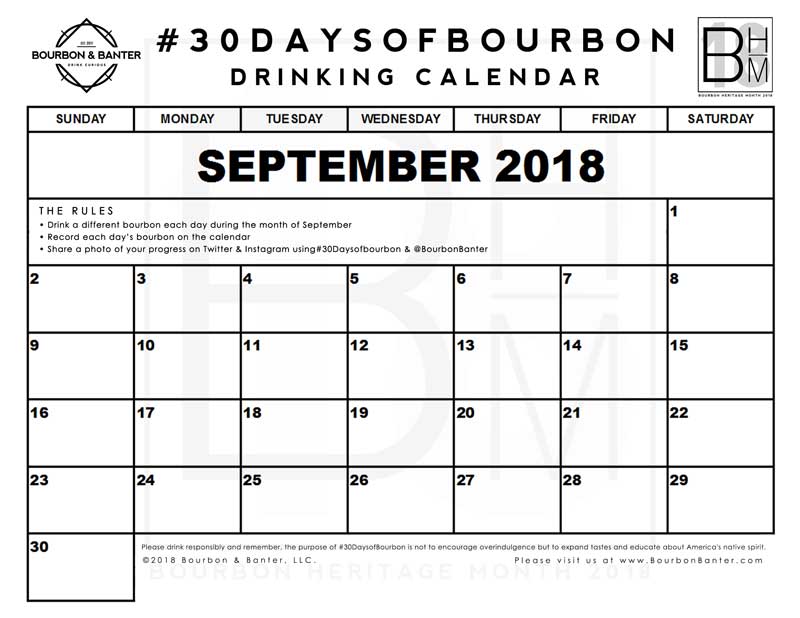 LOGO OVERLAYS
---
Download and use our BHM18 logo overlays when sharing your progress online. Each file is a .png file which allows it to be used as an overlay on top of your photo. For those of you that have an iPhone we recommend using the Over app to create your final image with overlays.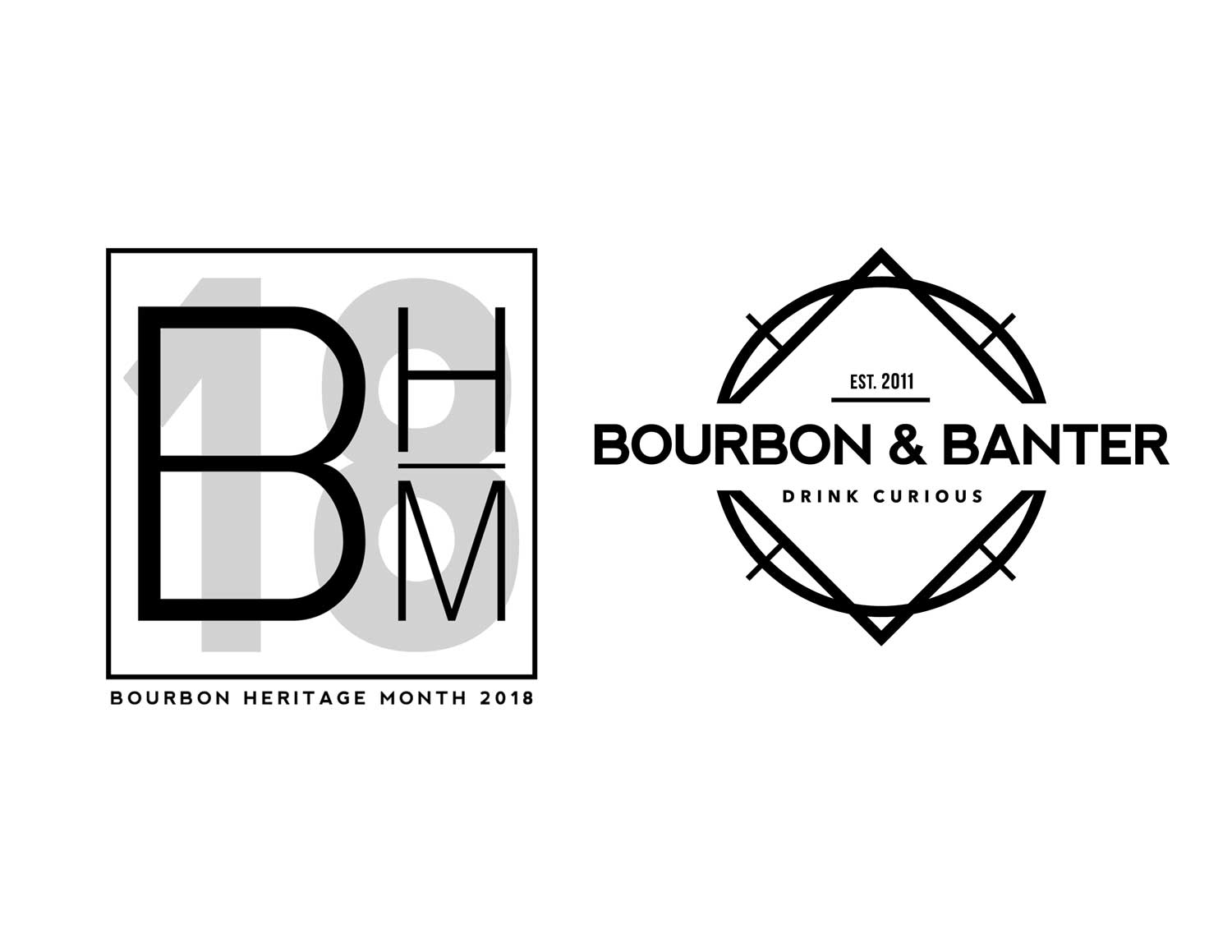 Overlay Instructions: Click on one of these links: BHM Logo  |  B&B Logo. The image will open in a new browser tab/window. Then right-click on the image in the new tab/window and save image to your computer or phone. Please note that the images are shown in black on a white background for illustration purposes only. When downloaded, they will be in white with a transparent background allowing you to overlay them on a photo.
If you've already convinced yourself that this is not a real challenge, be prepared to be surprised. We had several folks drop out. As stated above, life happens. This challenge requires planning and being aware of upcoming events, particularly aware of events that may call for a special Bourbon. For instance, every September 28th I pour the same Bourbon year after year. I have at least two Bourbon Heritage Month events I'm hosting. I have to take those Bourbons and set them aside so I don't drink them prematurely in the month.
If you're worried that you don't have 30 different Bourbons, never fear. Get together with friends. Visit a good whiskey bar. Support your favorite neighborhood liquor store. A little effort goes a long way and helps overcome that hurdle.
Finally, our goal is to make this challenge bigger and better. Rather than this just being a drinking challenge, we're asking folks to make a donation of $30 or more to benefit the charity of your choice. In this way, we'll do some good for the world while having some fun. Feel free to give a shout-out to your favorite charity.
For what it is worth, I've still never made it to the Kentucky Bourbon Festival. But, I've really enjoyed participating in this challenge. Will you join us and help spread the Bourbon Gospel (and the wealth)?