Leiper's Fork Distillery
Leiper's Fork has long been a tourist destination for residents and visitors to Nashville with its laid back country vibe, idyllic setting, and celebrity draw.


Leiper's Fork has long been a tourist destination for residents and visitors to Nashville with its laid back country vibe, idyllic setting, and celebrity draw. If you're heading to Leiper's Fork to check out Puckett's Grocery's open mic night or for breakfast at the Country Boy restaurant, you need to drive a little further down the road to check out Leiper's Fork Distillery. Brought back to life by proprietor and master distiller Lee Kennedy, Leiper's Fork Distillery is a sight to behold and is worth the trip to see the buildings and grounds even if you are not into whiskey.
But their whiskey is pretty good too. Their distillate is currently available as Old Natchez Trace Tennessee white whiskey and Tennessee white rye. They are filling 8-10 barrels per week of their bourbon and Tennessee whiskey that they expect to release in 5-7 years. I have tried quite a few white whiskies and most of them find their way to the sink fairly quickly, but I finished my sample of both the white rye and white whiskey. The unofficial crowd favorite has been the white whiskey but I preferred the rye. Regardless of your preference, the young juice bodes well for the future of this place.
In the meantime, the sourced 9-year old Hunter's Select Barrel Tennessee Bourbon Whiskey with a mash bill of 72% corn, 20% rye and 8% malted barley has great flavor and a namesake with a nod to Tennessee whiskey heritage. For more on Colonel Henry Hunter and additional information on their history and products, check out their website. Their sourcing agreement has a strict NDA, so your guess is as good as mine on the barrel origin, but at $65/bottle in their retail shop with no bottle limit, this whiskey will likely fly off the shelves.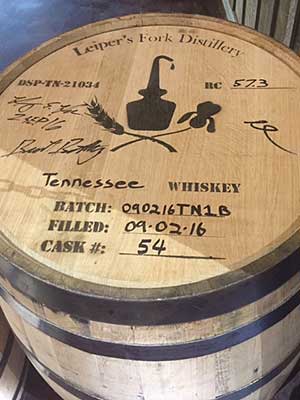 When I spoke to Lee Kennedy, I asked him why he decided to start a distillery especially considering the ridiculously high start-up costs and the long runway to profitability. He told me he loves good whiskey, he loves the heritage and history of Williamson County, and most importantly he wanted to build something for his children and generations to follow. When passion is the pursuit, money typically follows.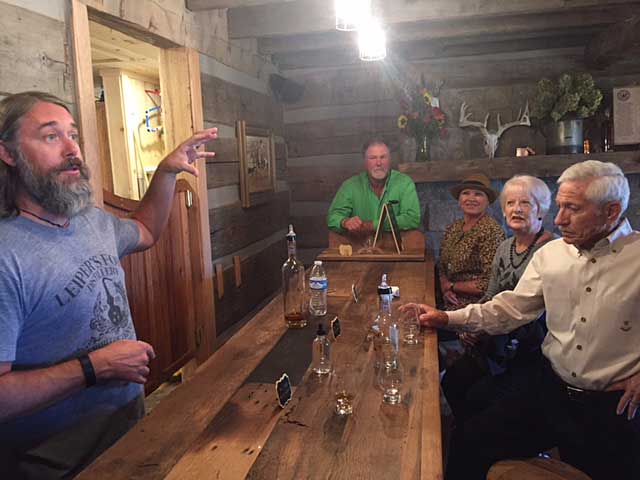 Lee is pretty easy to identify in the distillery. He looks like he hopped off the Old Rip Van Winkle label with a long gray beard and a beaming smile. If I went to work making whiskey every day in a place like Leiper's Fork, I might grow a long beard and smile from ear to ear like Lee. With High West and Smooth Ambler selling to the highest bidder, it is refreshing to learn of a well-funded distillery that appears to be doing the right stuff for the right reasons.
This place reminds me of Willett Distillery several years ago before the bourbon craze turned the Willett gift shop into a mad house at open every morning. You can roll into Leiper's Fork with a coffee in hand well after open, tour the magnificent distillery and reconstructed log cabin retail shop, then step into the tasting room for a few tastings before walking across the hall to pick up some bottles and merchandise to take home with you. It won't cost you $200/bottle, and no one is camping outside to clean out their shelves. And if you happen to meet Lee, he'd be happy to stand in for a picture or sign a bottle for you.
Tours and tastings are available Tuesday through Saturday and tours are on the hour, every hour beginning at 10 am with the last tour leaving at 4 pm. Tours are $10 per person and the last time I checked the tasting includes pours of all three offerings currently available at the distillery located at 3381 Southall Rd, Franklin, TN 37064.