Meet Your New Daily Drinker – Jim Beam Black
I wish I could say it was an endeavor into an odd type of social experiment. Sadly, it was merely the result of a long, tumultuous relationship with gravity and a front porch that my landlord needs to do some serious brickwork on.

I wish I could say it was an endeavor into an odd type of social experiment. Sadly, it was merely the result of a long, tumultuous relationship with gravity and a front porch that my landlord needs to do some serious brickwork on. My loyalty to this universal force would, it seem, continue to go unrequited and landed me on crutches during my most recent trip to the Jim Beam Distillery in Clermont, Kentucky to learn more about the brand's recently accoladed juice: Jim Beam Black.
The gracious folks at Jim Beam invited a handful of writers to Kentucky to tour the Clermont distillery and the Independent Stave Cooperage in Lebanon, where all of the wonderful, corn-heavy distillate goes to become what we know and love as bourbon. Never one to turn down an adventure, I decided to soldier on and cure my injuries in true Kentucky fashion: with ample amount of bourbon.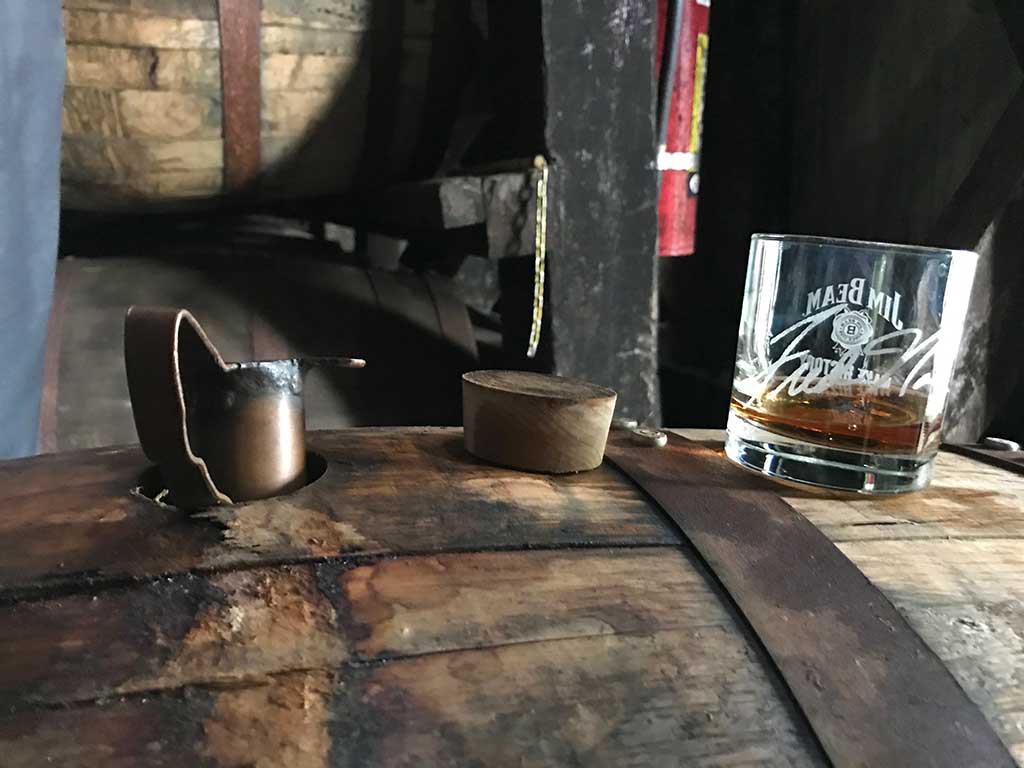 For me, a great bourbon is one that is accessible in taste, availability, and price. Sure I enjoy the occasional rare bottle or special release if nothing for its novelty in taste or approach. But I like to drink bourbon often, which means that I need a good stand-by, a go-to that makes me feel warm, comfortable, but still, scratches that bourbon itch. Also, I need a bourbon that I'm not hesitant to pour into a cocktail or splash a bit of ginger ale into.
Since its release, the Jim Beam distillery has received significant praise and press on its long-awaited Booker's Rye. I've heard it's an amazing bottle that commemorates the legacy of a legendary man, former Beam Master Distiller, Booker Noe. (Though, sadly, I have not yet had the pleasure of sampling it, as it is frankly too rich for my blood.) But beyond the heart eye emojis surrounding this unicorn release, there's a lot more going on at Jim Beam than once-in-a-lifetime batches. At Jim Beam, they're focused on making what has kept them running every day for the past 200 years: the bottles that bear the name of the legendary Jim Beam himself.
At Bourbon Banter, we always insist that folks respect the bottom shelf. This is a maxim that every bourbon lover should hold true as price does not always correspond to taste (and, quite frankly, is usually doesn't). However, you don't need to look much higher to find a bottle that meets my criteria for a great bourbon. Jim Beam Black – at around $20-25/bottle – fits the bill: it's tasty, it's widely available, and it won't break your budget.
Sitting at 86 proof, it's an easy drinker that isn't too hot but still has a backbone. I had the pleasure of trying it straight from the barrel (unfiltered and uncut, true to the Noe legacy) where it sits at around 123 proof. As Fred thieved the first sip of Black from the barrel, gave it a good "chew" (his secret to tasting bourbon), and declared it "a good one," I finally had my first medicine of the day. It definitely made me forget about my bruises and crutches and the barrel proof Black is definitely remarkable; it is, after all, the best-selling mash bill in the world. If Jim Beam White is the lifeblood of the core Beam brand – what keeps them ticking day to day, then Jim Beam Black is the soul with a bit more edge, flavor, and age. More complex, more seasoned, and aged twice as long. Jim Beam Black allows the flavors of the original Jim Beam mash to mature, soak in more of the oaky and caramel notes of the barrel, and endure more cycles of that crazy Kentucky weather that makes Kentucky bourbon the best.
Black sits firmly in the daily drinker side of my bar due to its approachability. I love a good pour of Booker's but this lady's palate can only take so much barrel proof per week. I can taste why it was recently awarded the "Best Bourbon Trophy" at the 2016 International Wine & Spirits Competition (though I am still trying to put my finger on what "coffee on the Highline overlooking the Hudson, as winter rolls in" tastes like but hey, I'm not an IWSC judge). Beyond this oddly Manhattan-specific tasting note, I get nut brittle on the front that rolls into deeper caramel, warm spice, and just enough oak. Aged roughly 8 years (it dropped the age statement a few years ago), Black sits in a sweet spot for Fred Noe: anything beyond 6-12 years is usually like "throwing a chunk of wood in your mouth."
We can rely upon Beam continuing to produce Jim Beam Black as a great daily pour, but also keep an eye out for what's next out of the distillery. When Booker passed, he told Fred to "take care of his Booker's" and Fred has been doing a fine job of honoring his father's last wish. Now Fred is working on something that will commemorate his own legacy as Master Distiller, just as Booker's did that for his father. Though he doesn't know exactly what it will taste like, he does have a flavor target in mind. A friend brought over a bottle of Jim Beam from the 1960s and shared it with Fred. The bottle was ahead of its time, he said, was an early and impressive juice that landed "before this bourbon rocket ship took off." It was a whiskey that really stuck to the glass and he has the "guys in the white coats" trying to match it exactly. Fred just hopes that this goal doesn't turn out like Booker's attempt at matching his favorite salt-rising bread (a Kentucky favorite). Booker spent decades trying to match that bread but never could reproduce it. For all of our sakes, I hope Fred gets it just right.