Milk Room – A Chicago Micro Speakeasy
"Hmmm, where is this place?" My wife, Patti and I are standing in the lobby of the Chicago Athletic Association Hotel looking for the Milk Room, the bar which we have reservations at 5PM. We are a little early but the only directions we have is it is on the second floor.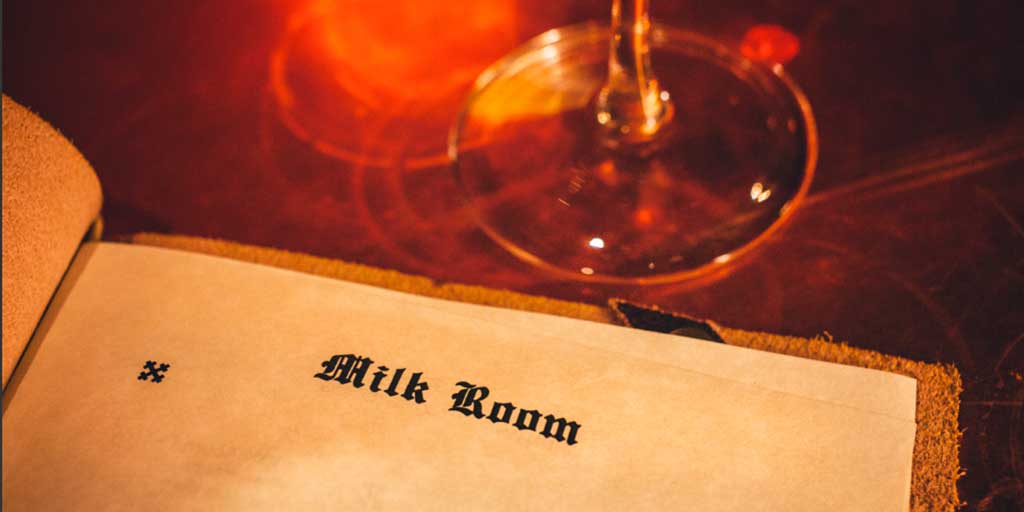 "Hmmm, where is this place?"  My wife, Patti and I are standing in the lobby of the Chicago Athletic Association Hotel looking for the Milk Room, the bar which we have reservations at 5PM. We are a little early but the only directions we have is it is on the second floor. I don't see anything and have walked back and forth between the lobby and The Game Room a couple of times. Both of these rooms have bars but neither is the Milk Room. Finally, I inquire at the front desk and am told that it is right behind the front desk. We are told to wait at the podium around 5 and someone will come out and seat us.
When we travel, I always research popular or unique bars where we might want to have a drink. This trip is no different and so far on this trip we have visited a number of nice places including the Signature Lounge at the top of the Hancock Building (I don't believe it is called that anymore), The Berkshire Room, Raised Roof Bar in our hotel which was labeled as one of the best roof top bars in Chicago plus a few others. We are closing out our last night on this trip with a couple drinks at The Milk Room before we go to dinner. You have to make reservations to get into this bar. The reservations require a deposit of $50 per person. The deposit is subtracted from the bill at the end.
The Chicago Athletic Association Hotel was built as a men's club in the early 1890's. The building is located on Michigan Avenue across from Millennium Park. Some of the most prestigious men of Chicago were members including Marshall Fields, A. J. Spalding and William Wrigley Jr. The club closed in 2007 and the building was purchased and renovated into the hotel which opened in 2015. A lot of history is in this building and that includes the Milk Room.

Once a Chicago speakeasy used by members during Prohibition, Milk Room's hidden eight-seat microbar perfects a spirit-forward cocktail menu crafted from only the rarest vintage spirits and elixirs—including a vast selection of well-curated whiskies. You'll not only be "drinking a little bit of history," but creating some epic stories of your own.
-Chicago Athletic Hotel

The Milk Room is an 8 seat speakeasy that specializes in rare and vintage spirits. As part of the men's club it was the room where you went during prohibition to get your liquor. One story is that drinks were served in a milk glass which is an opaque or translucent glass thus the name Milk Room, where you go to get your "milk." Now it is a speakeasy. As I said before you have to make reservations to get in and they are good for two hours. It is open from 5PM to midnight daily. Two of the 8 seats are held aside for walk ins.
We were ushered inside by our waiter and directed to our seats. The first thing that hits you when you enter the room is how small and dark it is. It is small and dark. Don't worry; your eyes will adjust. Our bartender for the evening was Stephen Andrew who has been at the Milk Room since it opened (re-opened?) in 2015. We were presented with the menu and served a miniature champagne cocktail to sip on while we perused the menu. The menu is several pages long and consists of a small number of cocktails and many pages of rare and vintage spirits. Several of the spirits were marked with a stamp, "Gone but not forgotten."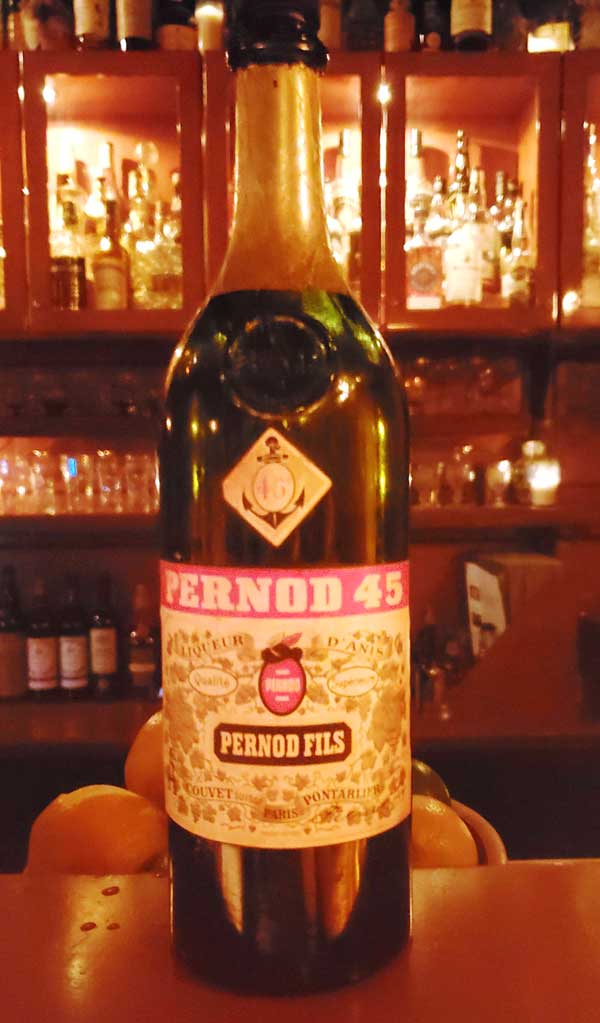 The cocktail menu changes periodically and for our visit there were seven on the list. I decided on a Sazerac for my first drink.  I really enjoy a well made Sazerac but have not been able to perfect the cocktail myself. This particular cocktail was made with Kentucky Owl Rye, bourbon barrel aged Demerara sugar, Pechaud bitters and Absinthe. Not any Absinthe; however, but a Pernod 45 Absinthe from the 1930's. Stephen makes the drinks right in front of you, so I was able to watch the creation. Instead of an Absinthe rinse however, Stephen poured about an ounce of it into a rocks glass with ice and stirred. He then poured the Absinthe into a cordial glass and made the Sazerac in the same rocks glass and served both. Not only did I have an excellently made Sazerac but a cordial of 1930's Absinthe. I had never tasted straight Absinthe before and after the first sip I wasn't sure I would like this. However, sitting in this atmosphere and sipping both turned out to be an incredible experience.
Patti started with the Old Fashioned. Another great creation that included a private barrel Four Roses selected for the bars in this hotel. The cocktail also included a Samaroli Fijian Rum, Tempus Fugit Crème de Banana and a 1970's Fernet Branca. Another unique recipe which produced an excellent cocktail.
Because of the intimate setting, we were able to discuss with Stephen the selection of their Four Roses private barrels, some of the other unique bottles on the shelf and the history of the room itself. Stephen told us that the floor and structure under the bar top dated back to the original building in the 1890's. The red tiles on the wall dated back to the 1920's and included some that were carved with various designs.
Obviously with just 8 seats, it is not going to be crowded. Patti and I were the only people there for the first 30 minutes and two other couples arrived after that. I was somewhat surprised that except for ordering, the other two couples really did not enter much conversation with Stephen which provided us the opportunity to talk to him more.
Patti went with the Hop Toad cocktail for her second drink. Made with Appleton 21-Year-Old Rum, 8 Year Old Barrell Hampden Rum and a 1950's Apricot Brandy. Although somewhat tart for me it was another unique experience. From the menu, I asked for a Willett 12-year-old single barrel, but Stephen said they were out of that and it was difficult for them to keep Willett on the menu, "…it disappears quickly."  He recommended the Evan Williams 23-Year-old Bourbon and it did not disappoint in the least.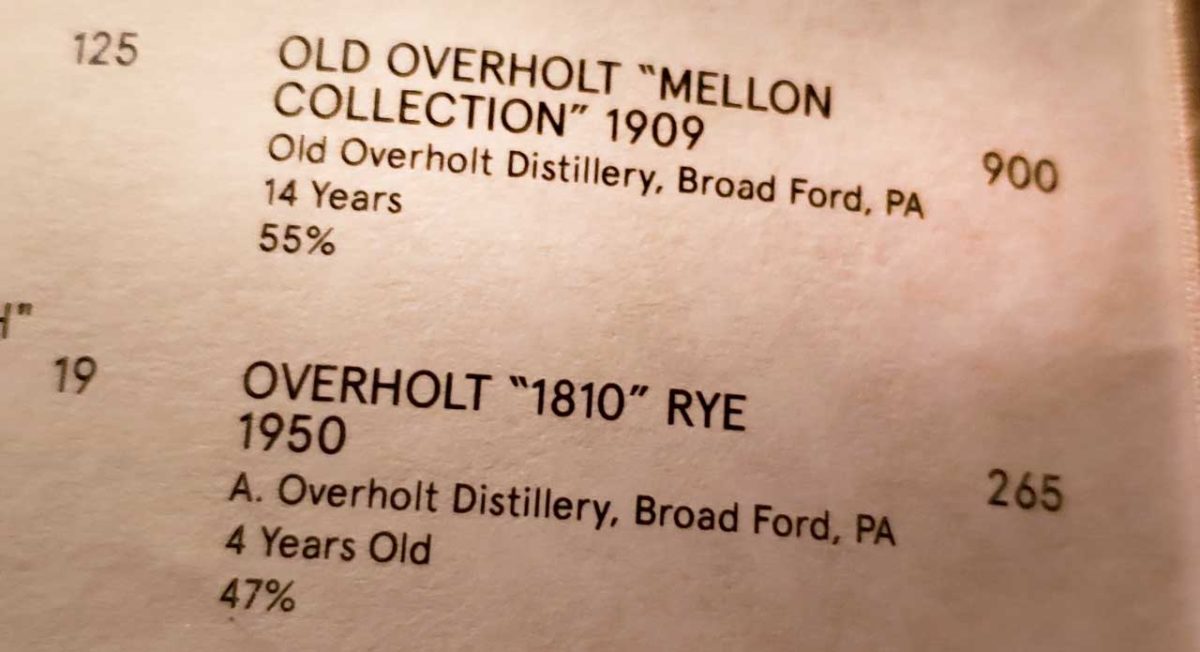 One item on the menu really caught my attention, an Old Overholt Rye from the Mellon Collection, 1909. When you see a pour that goes for $900 it catches your attention. We asked Stephen about the bottle. He told us it was from the Mellon private collection. Andrew Mellon at one time owned the Old Overholt Distillery and had bottles made for his private collection. Stephen said that he had sold four pours while he was working and while he would not pay that much himself, one of the perks of working at The Milk Room was the opportunity to taste spirits like this. He didn't think it would be very good but said it was excellent.
Our waiter let us know we had about twenty minutes left in our reservation and presented us with the check. Yes, The Milk Room can be pricy, but the cocktails are meticulously made, the majority of the spirits are dusties, the bartender is engaging and knowledgeable, the setting is not only historic, it's intimacy allows for a fun and unique experience. If you find yourself in Chicago it is worth checking out.