My Mount Rushmore of Reliable Bourbons
I present to you my Mount Rushmore of Reliable Bourbons. These are the bottles that I could buy at any time and be perfectly content. These are not the best Bourbons I've ever had, but they are ones that I keep backed up at all times.


If there's one question that always frustrates me, it's "What is the best Bourbon?" If a panel of expert tasters declares a bottle Whiskey of the Year, then I suppose that settles it, right? There are people whose opinions I value, and it's fun to get a preview of an upcoming release, but that's where it stops for me. I've been burned more times than I care to admit by relying on anyone else to tell me what I will like. An amazing limited release bottle is always coming soon, and the overcrowded hype train flies off the rails. Rare is the premium bottle that outperforms a well-selected private barrel pick, and even rarer is the one that is loved universally.
I've been fortunate to taste many exceptional Bourbons, and I've been fortunate to taste many limited releases as well. They aren't always the same thing. I don't have a 'Best Bourbon' for the same reason I don't have a 'Best Child'- They're unique in many different ways. For every whiskey I think is incredible, there are plenty of people who hate it. Likewise, renowned experts have emptied their thesauruses bestowing praise upon many whiskeys that I found mediocre (or worse).
Whiskey bloggers are no different than many of you. We are passionate, we always continue learning, and we often say things that are valuable to some people and worthless to others. Even as I write these articles, I know people will likely have one of the following reactions: (1) They're going to think I'm an idiot, (2) They're going to agree with me to some degree, or (3) They're going to have some new ideas to explore. If one (or more!) of those apply to you, then I've succeeded in furthering the discussion.
With that in mind, I present to you my Mount Rushmore of Reliable Bourbons. These are the bottles that I could buy at any time and be perfectly content. These are not the best Bourbons I've ever had, but they are ones that I keep backed up at all times. These bottles should all be relatively available, or otherwise, carry a manageable premium if you have to buy them in the Gray Market. This obviously and intentionally excludes limited releases, dusties and discontinued bottles like Smooth Ambler Old Scout private picks. In short, these are the go-to bottles I always recommend when a friend calls me from a liquor store:
ELIJAH CRAIG BARREL PROOF (ECBP)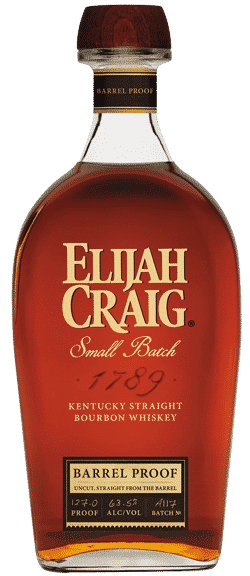 The beautiful thing about a barrel proof whiskey is that it checks all the right boxes. Your expert friends can drink it neat while those newer to whiskey can water it down to their comfort level. While I can't argue with either the Colonel EH Taylor Barrel Proof or the Stagg Jr., for me the ECBP is the clear winner. Each batch is slightly different, but 12 years in the barrel helps make this one drinkable neat even at its lofty proof. Adding a touch of water opens up the complex blend of maple and caramel sweetness, dry oak and a little spice. It's a fantastic balance of flavors leading to a finish that hugs your throat and releases its grip ever so slowly. It's sporadically on shelves for $50-80, but should never be over $90 in the Gray Market. Yes, I'd buy a William Larue Weller or a George T. Stagg for their $80 retail prices instead. But this bottle is released year-round and doesn't carry a 7-8x markup. It's also not as huge a drop-off in experience as you think.
ELMER T. LEE SINGLE BARREL BOURBON (ETL)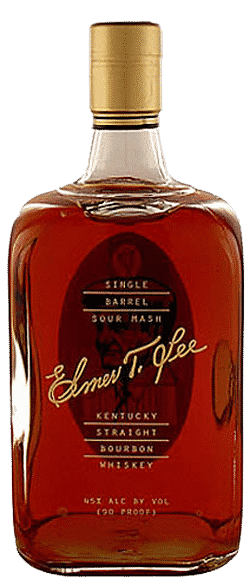 If you were stocking your bar or buying a gift for someone, you could never go wrong with Elmer T. Lee. In today's climate of inflated pricing, it's almost laughable that Elmer's retail price is still under $40. That is precisely why you'll rarely find it on store shelves anymore, though you shouldn't have trouble finding them for over $70. Made from Buffalo Trace's higher-rye Mashbill #2 (the same as Blanton's), the 90-proof ETL always delivers. In fact, at our Blind Bourbon Tasting, ETL not only demolished Blanton's, but it took first place overall. A sweet and floral nose leads into a warm and rich flavor swirl of honey, nuts, caramel and some of that rye spice. Even at just 90-proof, it has a solid finish.
EAGLE RARE SINGLE BARREL BOURBON

Eagle Rare is another 90-proof bottle –this one from Buffalo Trace's low-rye Mashbill #1- that seems like a ridiculous value today. The standard release is incredibly consistent from barrel to barrel, still age-stated at ten years old, and is often sitting on the shelf around $30. There is a good reason people have been collecting private picks of Eagle Rare as well. Some of them are extraordinary, and a few spent another year or longer in the barrel. The nose has cherry, a little orange, and some of that oak on it. The taste carries through with an excellent balance of oak, sweetness, a little spice and some of that cherry flavor. The finish isn't mind-blowing, but it never bothers me. That oak presence from the extra age is why I would always pick this bottle over its little brother (standard Buffalo Trace) because Eagle Rare is rarely more than a few dollars more. Also, I honestly prefer this Bourbon over the limited Eagle Rare 17 Year that will set you back over $500 if you can't get one at retail. I'll almost always grab an Eagle Rare private pick if I see one in a store, but the standard release is always a reliable option.
FOUR ROSES SINGLE BARREL

Four Roses uses two different mash bills (a "high-rye" and a "higher-rye") and five different yeast strains to produce ten unique recipes for their Bourbons. Each one of these recipes is a candidate for a private pick barrel, which sets up a seemingly endless and enjoyable tasting journey. The standard release is always the OBSV recipe, pairing the higher rye (35%) mash bill with the "delicate, fruit, spicy and creamy" yeast. It's an excellent recipe that showcases the floral and fruity character that people love about Four Roses. Bottled at 100 proof, it's available nearly everywhere you go. I'd certainly recommend you embark on a lengthy exploration of all the different recipes, as well as the variations among the various picks of those same recipes. In the meantime, the standard Single Barrel is a bottle that handily delivers every time.
There are only four spots on the mountain, so a handful of Bourbons did not make the cut. Perhaps they will find their way onto yours instead. Let me know in the comments what's on your Mount Rushmore of Reliable Bourbons, using the same criteria I did. After all, it's your palate alone that matters.