National Scotch Day 2017
What do you know… it's National Scotch Day again!! Yaaay! Mention the word "scotch" to a random group of people, and the reactions you get will vary as widely as the characteristics of the whisky itself.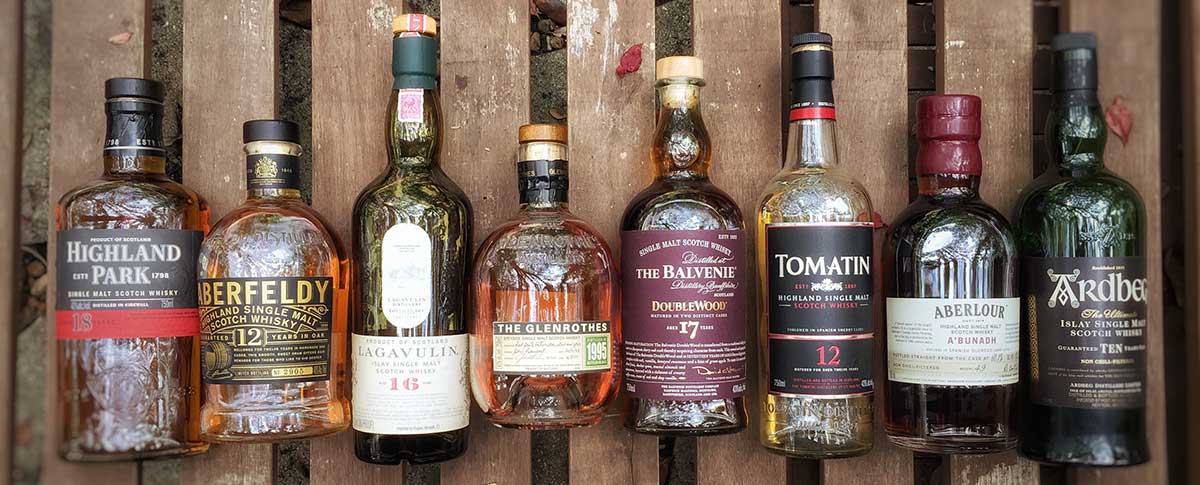 What do you know… it's National Scotch Day again!! Yaaay! Mention the word "scotch" to a random group of people, and the reactions you get will vary as widely as the characteristics of the whisky itself. I'd be willing to bet at least one person in that group will say something to the effect of "Ewww, I hate scotch! I don't know how people drink that stuff. I hate the smell, I hate the pretentious people who drink it, and it tastes like dirt." (OOOH-kay then, cross THEM off the guest list.) But on the other hand, you're just as likely to have someone else say how much they love it. "It's so sweet and creamy. I love the way the subtle oak dances in the background behind a beautiful floral bouquet of lavender and fresh grass clippings." Now, I understand that personal tastes can vary quite a bit, but how can these two people be talking about the same whisky? Well, in a word, they're not. Ok, that was two words, but let me explain.
Scotland consists of several different whisky producing regions, and each of these regions imparts a particular flavor profile on the whisky it creates. This can be due to the water source, or to a distillery's proximity to the sea or the treatment of the barrels used to age the whisky. Even the different methods used to dry and malt the barley can have a dramatic impact on what you will taste (and smell) when you pour a few fingers worth from your chosen bottle. To make things slightly more confusing, even within a specific region, the profiles of the end product will vary to a degree, but by and large, generalities can be made and certain characteristics can be rightly expected when choosing which scotch whisky to try.
As we take a quick trip around the different regions, I will make a few suggestions as to which whiskies I would personally recommend you try. One will be a lower priced, entry level scotch for you to test the waters with, and in the event, you find a particular category to your liking, I'll make suggestions as to where to go from there. Keep in mind; there are far more whiskies produced in each region than I will ever have the opportunity, or liver strength, to try. As such, this list will by no means be exhaustive, so if you, the reader have any favorites you'd like to recommend, please leave your suggestions in the comments section at the end of this post. My focus here will be on single malt scotch whiskies, as opposed to blended or grain whiskies, and for the sake of objectivity, we'll start at the northernmost region and head southward. Alrighty then, let's put on our drinkin' caps and go for a spin.
THE ISLANDS OF ORKNEY
Lying just outside the five major whisky producing regions of Scotland, you will find the Islands of Orkney. This group of 70-some remote islands (only 20 of which are inhabitable) is home to only two whisky distilleries – Highland Park and Scapa. This is rough and rugged terrain here! There are no trees, and the islands are pounded relentlessly by gale force winds. But on these islands, you will find a unique type of heathery peat that produces a distinctive floral, smoky sweetness unique to the area. While I am frankly not all that familiar with Scapa (so many whiskies, so little time) I have long been a huge fan of Highland Park. The Highland Park 10 year is the entry level whisky in their line, and while the 12 year is truly one of my favorite, go-to whiskies, they also have a 15 year and an 18 year that, while quite similar in taste, do differ enough to warrant further exploration after you fall in love with the brand. There are probably close to a dozen more labels in their portfolio, but they can become quite expensive, and most are not available in your average liquor store.
THE HIGHLAND REGION
From here, we move south to what's known as the Highland region. This is by far the largest geographical region and contains a great number of distilleries, and therefore the greatest variation in profiles. Generally speaking, whiskies from this region tend to be heavier and drier than other regions and typically display notes of nuts, heather, honey, and peat. Distilleries closer to the sea may see a salty, maritime influence to their whisky. Some of the more popular distilleries here include Aberfeldy, Dalmore, Glenmorangie, The Macallan, Oban, and Tomatin, to name a few. There really is quite a wide variety of options in this area, but for entry level selections that will give you a good idea of the region's characteristics, I would go with the Aberfeldy 12 or the Glenmorangie 10. For something with a nice sherry cask finish, maybe try something from Tomatin or Glendronach. Your Dalmores and Macallans, as well as the older expressions of, the earlier mentioned whiskies would be a reasonable next step to explore the region further.
THE SPEYSIDE REGION
Somewhat tucked away within the Highlands lies the Speyside Region. Despite its relatively smaller size, more than half of all Scottish distilleries can be found in this region. Speyside whiskies tend to be lighter, more elegant whiskies with fruitier, grassier profiles and two of the best selling single malt whiskies in the world, Glenlivet and Glenfiddich come from Speyside. Both of these distilleries put out reasonably priced 12-year-old malts that would make for an excellent jumping off point for exploring this region. The Speyburn 10 is another great, economical, entry level option. Other notables from this area include Aberlour, The Balvenie, Dalwhinnie, and Glenrothes, and when you're ready to take it to the next level, these are the distilleries I like most. (The Aberlour A'Bunadh is to die for!)
THE LOWLANDS
The southernmost region is known as the Lowlands, and most of the malts from this region end up in blends. However, there are still a few distilleries releasing single malts, most notably Auchentoshan, Bladnoch, and Glenkinchie. The area is known for producing lighter, mellower malts that tend to be unpeated, and that mellowness lends to a broader appeal for those newer to scotch whiskies. It's also why the whiskies tend to be used for blends. I don't have much experience with Lowland single malts, and therefore can't really make an honest recommendation, but if you've tried any blended whiskies, it is likely that some, or all of it came from this region.
THE CAMPBELTOWN REGION
Once home to upwards of thirty distilleries, the Campbeltown region has seen a marked decline in production and currently only three distilleries are in operation… Glen Scotia, Glengyle, and Springbank. And with that, the Springbank distillery produces three distinct whiskies; Springbank, Hazelburn, and Longrow. Despite the decline in production from this area, it is still considered by many to be a distinct region of its own and is marked by their briny character and peaty notes. Of these distilleries, I have only had the opportunity to try the Springbank 15 and have to say it was fantastic!
THE ISLAY REGION
Rounding out the most popularly recognized regions is the one that seems to be what most people think of when they think of scotch whisky… The Islay region. This is probably because it tends to produce the most distinct, complex and flavorful whiskies. Due to its location, the region is covered in peat and is exposed to rain and sea spray. The peat from this area is harvested and used to malt the barley for distilling, and it is this peat that largely contributes to its smoky characteristics, in addition to the salty, seaweed notes synonymous with the area. Distilleries like Ardbeg, Bruichladdich, Lagavulin, and Laphroaig characterize this region, and while peats play a large role in all of their productions, each maintains their own individual style through other methods in their distilling and barreling processes. There is no mistaking when you are about to drink an Islay whisky. From the moment you pop the cork, long before it finds its way into your glass, the distinctive peaty aroma makes its presence known and hints at what your mouth is about to experience. It is this region that that person from the beginning of the post was referring to. It's a very divisive category of whisky and people tend to either love it, or hate it. To me, the classic Lagavulin 16 year is the epitome of a full, rich, all encompassing Islay whisky. It has the peat, it has the sweet, and they just meld together perfectly. A good starting point in this region would be the Ardbeg 10. It's a light colored, but potently peaty expression that boasts one of the higher parts per million of the phenols found in peat that lead to its distinctive flavor.
So that's scotch whisky in a nut shell. Let us know what some of your favorites are, or even some of your least favorites for that matter. And if you have been hesitant to wade into the world of scotch whisky, or had a bad experience with it at some point, I hope this post will encourage you to get out there on this National Scotch Day and give it another shot. All scotch is NOT the same, it's as varied as the people who make up the whisky/whiskey community, and as always, don't forget to #drinkcurious. Cheers!!