Old Baldy Batch 1 Review
Dave Perkins from High West once told me that whiskey drinkers want two things: (1) Something they've never had, and (2) Something they can't get.


Dave Perkins from High West once told me that whiskey drinkers want two things: (1) Something they've never had, and (2) Something they can't get. You probably haven't tried the first batch of Old Baldy yet, and if you want one of the 320 bottles, you'll have to travel to one store in Northern Kentucky to get it.
Old Baldy is the brainchild of Cork N' Bottle's Ed Bley, who has picked more private barrels than most of us own bottles. Teaming up with Jeff Mattingly, who sourced the whiskey, Ed tasted his way through 35 different barrels until he had the five he wanted. From those five barrels, he concocted nine different blends to arrive at the final result and married the whiskeys together for nearly three weeks.
Old Baldy is technically a 4-year old blended straight whiskey, but that's more than a little deceiving. Of the 63 gallons of the blend, only three of them were aged four years. The majority of it (by a lot) is 11-year old, and the rest is 8-years old. The barrels were sourced from two distilleries in Kentucky and one in Indiana. There is no rye whiskey in the blend.
BOTTLE DETAILS
---
DISTILLER: Undisclosed – A sourced blend of Kentucky and Indiana whiskeys
MASH BILL: Undisclosed. There's no rye whisky in the blend.
AGE: A 5-barrel blend of 11, 8 and 4 year old whiskeys
YEAR: 2016
PROOF: 126 (63% ABV)
MSRP: $109.99
BRETT'S NOTES
---
APPEARANCE: Very dark amber
NOSE: Caramel | Butterscotch (reminiscent of a good dusty)
TASTE: Caramel | Corn Sweetness | Spice | A bit of Spearmint – Drinks well below its proof. So much going on, it's a flavor bomb in harmony
FINISH: The proof shows up | Oak shines through | Goes on and on and on
SHARE WITH: Anyone who enjoys a freak show of flavor. It's a true one-of-a-kind batch that is meant to be shared.
WORTH THE PRICE: Judging by the taste alone, it's a quality pour that more than justifies the $110 price tag. Knowing the work that went into this blend and who was behind it, it's a downright bargain.
BOTTLE, BAR OR BUST: You won't be able to find this at a bar, and the 320 bottles produced from this batch may be nearly gone by the time this gets posted. I would recommend you quickly grab a bottle if you still can.
OVERALL: Clearly a lot of love went into the first batch of Old Baldy and you can taste it with every sip. When a guy who spends his life hunting for gold in rickhouses puts his name on something, you can bet it's going to be special. If you miss out on getting a bottle, keep your eyes out for Batch #2. I'm not sure if Ed can top this release, but there's no way I would bet against him. Highly recommended.
BRAND NOTES
---
NOSE: Rich with baking spices. Sweet and oaky with hints of leather and pipe tobacco. A hint of cherry as the bottle opens up.
TASTE: Evolves with each new sip. From leather, tobacco and cracked black pepper to butter and oil with hints of brown sugar and caramel- but not overly sweet.
MOUTHFEEL: From the second sip on, the velvet mouthfeel really shines.
FINISH: Lasts for what feels like an eternity with the oils and flavor residing in your mouth. Slightly drying, yet sweet at the same time. A little heat on the finish but it drinks as a much lower proof. Dominant flavors coming through on the finish are pepper, leather and oak, but hints of apricot and citrus as well.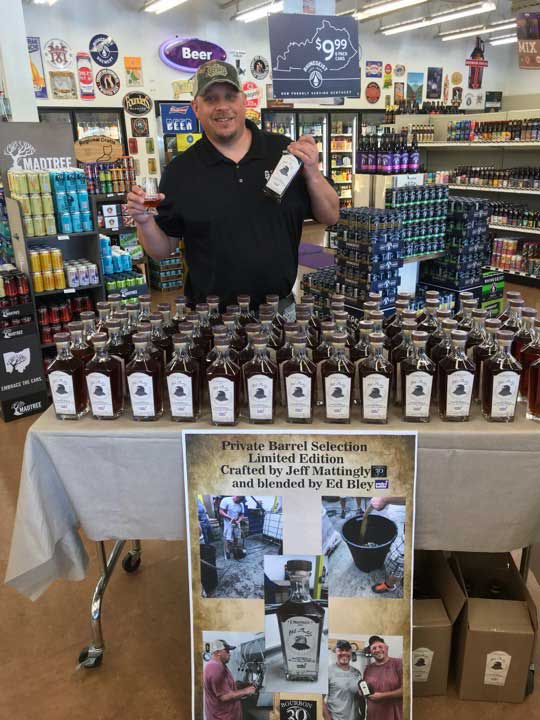 "To have the ability and freedom to blend a fantastic product the way I wanted to was an experience I will never forget. I absolutely loved the challenge and have a lot of respect for the guys that do this for a living."
Ed Bley