Old Blowhard Bourbon Review
Today we're sharing our review of their second release, Old Blowhard Bourbon, which is a 26-year-old whiskey distilled at the Old Bernheim Distillery and eventually stored at Stitzel-Weller.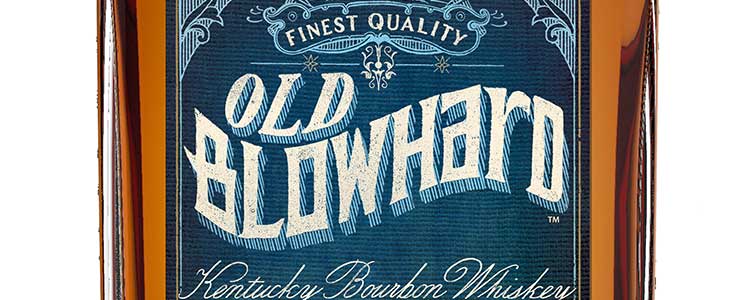 Earlier this week we posted our review of the first Orphan Barrel Whiskey Distilling Company release – Barterhouse Bourbon. (I suggest you check it out to get more background information on the program and our tasting notes.)
Today we're sharing our review of their second release, Old Blowhard Bourbon, which is a 26-year-old whiskey distilled at the Old Bernheim Distillery and eventually stored at Stitzel-Weller until Diageo decided to bring it to market as part of strategy to release unique and rare bourbons to the market.
Here's what Diageo had to say about Old Blowhard Bourbon in their official press release:
Old Blowhard Whiskey was also found at Stitzel-Weller and is hand bottled in Tullahoma. At 26-years old, the whiskey contains exuberant, rich flavors with undertones of smoke and honey followed by a gentle finish – dry and spicy with a hint of orange peel. Carrying a suggested retail price of $150, Old Blowhard Whiskey is meant to be sipped slowly and best enjoyed among gregarious friends and unyielding debates.
"The whiskey warehouses and rickhouses these spirits come from are special places filled with the incredible smells of seasoned oak, rough textures of weathered wood and amazing tastes of precious liquid," said Ewan Morgan, Master of Whiskey for DIAGEO. "It's every worker's dream of finding that forgotten barrel of delicious whiskey and sharing it with their friends. That's exactly what we're doing." Like the rickhouse and warehouse workers who uncover them and the consumers who drink them, Orphan Barrel Whiskies have distinctive personalities in taste and packaging.
Based in a beautiful nautical blue, the Old Blowhard Whiskey label features a powerful whale exhaling through its blowhole before launching into another opinionated debate. Powerful fonts rooted in swagger proclaim the spirit's impressive age statement and status as a Kentucky Bourbon.
I was pretty excited heading into my tasting of Barterhouse and Old Blowhard but based on my experience with Barterhouse I'm not real optimistic about this one. After all, it's six years older and 2x the price at $150. But before I condemn it death let's jump into our Old Blowhard Bourbon review and see if it can restore my faith in the Orphan Barrel Whiskey Distilling Company concept.
OLD BLOWHARD BOURBON REVIEW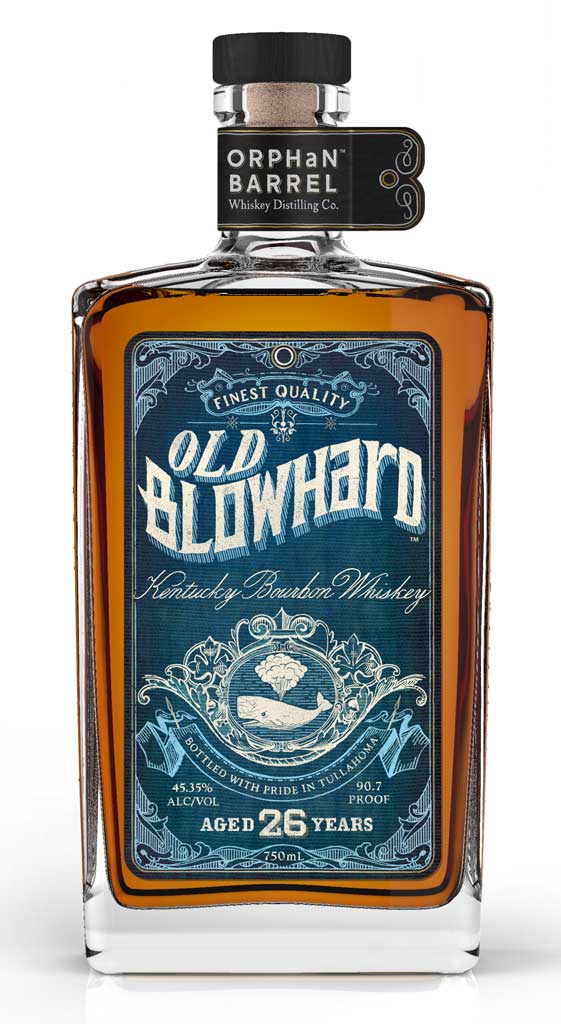 BOTTLE DETAILS
---
Bourbon Name:  Old Blowhard Bourbon
Proof: 90.7
Age: 26 years
Year: 2014
POP'S NOTES
---
How I Drank It:  Neat, in a Glencairn whiskey glass.
My Nose Noticed:*  Sandalwood | Bananas mixed with Varnish | Dark Fruits
First Sip:  Big Dusty Oak | Pepper | Soap
The Burn:**  This one brings a lot of hot spice on the tongue up front but there's no lingering finish or surging warmth to console you once you realize this one tastes nothing but "OLD". It's super dry as a result of all that time spent in oak and not in a good way.
Neat, Splash or Rocks:  I added some water to this one hoping to bring out some of the dark fruit flavors I picked up on the nose, but only wound up conjuring up a smell and taste of what I can only describe as soap. I even tried it 3x to make sure I wasn't imagining it. If you're going to drink this one, drink it neat.
Share With:  As with my feedback on Barterhouse bourbon, share this one with a bourbon drinker who appreciates new releases and wants to check this one of their list. Giving it a go is worth a small investment of a glass but I wouldn't share this with someone who you need to impress.
Worth The Price:  Suggested retail price is $150. Are you kidding me? Sure, $150 for a 26-year-old bourbon doesn't seem crazy compared to similar releases by other brands but the juice doesn't live up to the investment required. I'm all about drinking bourbon. The only bourbons I have multiples of in my collection are ones that have been discontinued (and I knew about it early enough to stock up) or are hard to get and I've gotten lucky to grab a few when the opportunity presented itself. You can be damn sure each of those are also a solid pour in my book. Old Blowhard sadly does not warrant any such effort to add it to my collection.
Bottle, Bar or Bust:  Try it at a bar or a liquor store tasting if their kind enough to sell samples. As with Barterhouse bourbon, the only reason to add a bottle to your collection is if you want to check it off your collector list. In fact, I've heard from quite a few people who ordered multiples that they're already looking to offload a few.
*I like to let my bourbon sit in the glass for at least 5 minutes before I start to smell it or have a drink. I personally find that it's better to let some of the alcohol waft off before diving in. If I'm drinking bourbon on the rocks I skip the waiting and dive in both feet first.
**Some of you refer to this as the "finish" but let's be honest. Don't we all just want to know if it burns good?
---
After reviewing both of the Orphan Barrel releases I'm really disappointed and frustrated. I was really looking forward to something special from the collection. I'd like to believe that it's just my personal taste and that I'm realizing that perhaps longer aged bourbons aren't my thing but I've heard others suggest that these releases were probably only a matter of inches from being sold off to rectifiers for unknown blending purposes. I'm not suggesting that's the case, especially as there's no evidence of that fact, but I think it says a lot about the quality of what's in the bottle. I hope future releases from the collection are of better quality and not just an exercise in taking advantage of the high demand for rare bourbon. After all, the only thing worse than bad bourbon is bad bourbon being sold as rare and expensive bourbon.
So, have you tried it yet? Sound off in the comments and let me know what you think. Folks have already weighed in on both sides of the aisle to me directly so I'm curious to hear from others.
---
Disclaimer: A sample of Old Blowhard bourbon was provided to me by Diageo, just as the Barterhouse bourbon was for my earlier review. I appreciate their willingness to allow Bourbon & Banter to review the bourbon with no strings attached. Thank you.