Old Weller Antique Private Barrel Pick Trip
A barrel pick experience is without a doubt one the best things you can be a part of if you are a bourbon fan. Each one is different. Every distillery does it a bit differently and the people you are with all help to make each one unique.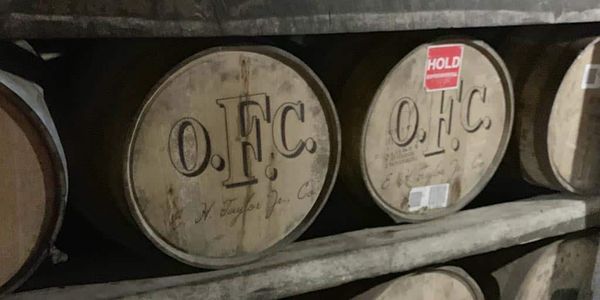 This past Spring I was invited by a personal friend to join him and his private barrel picking group on a trip to Buffalo Trace to select a barrel of Old Weller Antique. Since I live within a 2 hour drive to Louisville, KY and I like bourbon, this was a no brainer. I've been extremely fortunate to be a part of multiple barrel picks in the past and even picked two barrels at Buffalo Trace (an Eagle Rare as well as a barrel of Blanton's), I've never been a part of an OWA selection.
A barrel pick experience is without a doubt one the best things you can be a part of if you are a bourbon fan. Each one is different. Every distillery does it a bit differently and the people you are with all help to make each one unique. As I stated above, I've been EXTREMELY fortunate to have been able to participate in more than my fair share of these once in a lifetime experiences. Most bourbon fans can only dream of being a part of one of these picks. I decided to write about this experience for all of my fellow bourbon fans that either live way too far away from bourbon country, don't have the access to do a private pick, or just don't have the time in their busy schedule to put their work and home obligations on hold to travel to KY to drink bourbon. If you're reading this you're obviously a bourbon fan, these barrel pick trips are bucket list stuff.
So my buddy has a "Private Barrel Pick Group" that he is a part of. They have done multiple picks at many different distilleries. Apparently this one came about because one of the members of the group won a charity auction for the opportunity to select a barrel of Old Weller Antique at Buffalo Trace. Please don't ask me for names and contact info of this group. It's not my information to share, I was lucky enough to be invited along for the ride and able to share my experience of the day with you.
The actual barrel pick took place at Buffalo Trace on a Wednesday in mid-April. I arrived the afternoon prior so that I could get to spend some extra time with my friend who now lives out of town as well as meet a few of the group that were nice enough to include me. My friend had informed me that there would be a private bottle share the night before and I had no intention of missing out on the opportunity to hang out, talk and sip bourbon, and possibly make some new friends. One of the guys from the group lives in Louisville so he was hosting the bottle share at his home. By the time I got there my buddy had already arrived from the airport and two other guys from the group were already pouring their second samples. I ring the bell and the homeowner greets me at the door. He welcomes me to his home and leads me to the kitchen table where the group is comfortably gathered around 20 plus bottles.
This is where all of our passion for bourbon really shines through. You can all it a hobby, a problem, an obsession, an addiction, whatever you want. But most of the people that you meet through bourbon in general all seem to have the same friendly and welcoming demeanor. These aren't guys that have a bunch of shelf queens that just want to show off to their neighbors or brag about on their social media accounts. I had never met this guy and now I'm sitting in his home at his kitchen table sharing rare and hard to find bourbons while discussing our likes, dislikes, jobs, families, etc. There's not a lot of things that can bring strangers together to bond over a common thing like a good bourbon. Among some of the unique bottles shared were:
A 2000 BTAC Sazerac 18, distilled in the Fall of 1981
A 14 yr. old Barrel Proof (109.98) Traverse City Private Pick labeled "Gold is Best" that was distilled on 2-21-2005 and bottled on 3-15-2019.
A Blanton's Gold #136
A OWA Private Pick labeled "Grandpa's Wallet"
A 2012 BTAC Eagle Rare 17
A Van Winkle "Lot B" 12 yr. from 2008
A 2010 BTAC Stagg
A Willett Family Estate 9 yr. Bourbon Barrel 5323 (118.8 proof)
A Very Old St. Nick 12 yr. at 114.3 proof
A Knob Creek Single Barrel and a Single Barrel Rye that this group had previously picked
I was also introduced to a FANTASTIC craft brewery in Virginia named Aslin Beer Company. If you can find any, I highly suggest you try it.
Again, all of this was the night before the actual barrel pick.
BUFFALO TRACE HARD HAT TOUR
We all arrived at Buffalo Trace and met in the Visitors Center/Gift Shop. Once our entire group was together (there were about 9 of us), we were introduced to Suzannah. She would be our guide for the day. I know everyone always talks about Freddie and how he's the best guide at Buffalo Trace and I know that nobody has the tenure and family legacy that Freddie Johnson has, but let me tell you that this girl is a star. This was my seventh trip to Buffalo Trace and this was by far and away the best guided tour and experience that I've ever had there.
When you buy a barrel at Buffalo Trace they usually now give you the "Hard Hat Tour" which you can still do if you are not purchasing a barrel, you just have to make a reservation and book it in advance. It costs a bit more and the times are limited but if you can, I highly suggest it. You get to see a lot more behind the scenes of the distillery operations and some additional history that you don't get on the standard tour and you get to go more places.
The tour started at Grain Dump and then continued to the Mash House where the pressure cookers are located. This is where the Mash, Yeast, and Rye cookers are housed. The Fermentation Tanks hold 93,000 Gallons each. If all of the fermenters are running at once, Buffalo Trace is cooking over 1,000,000 gallons of mash at one time!
From there Suzannah led us to "Bourbon Pompeii." This is the area of the distillery that was uncovered while being prepared for renovations/distillery expansion in the spring of 2016. They discovered remnants and some of the foundations for the O.F.C Distillery from 1873. It's really an amazing bit of bourbon history. There is plenty of detailed information about it online but I've included a few pics.
After that we were led to the infamous Warehouse C. This is the Bonded Warehouse that was hit by a tornado in 2010 that destroyed and took off the roof. The barrels survived and the barrels that were exposed to the elements were then bottled and sold as Col. Taylor Warehouse C Tornado Surviving bottles that are so highly sought after on the secondary market today. Fun fact, all barrels that have green stamps on them contain the Wheated Mash Bill.
Our final stop on the tour was at the Albert Blanton's Bottling Hall, which is my absolute favorite stop on the tour. The standard tour also stops here so if you can't get on a Hard Hat Tour, you still get to stop here. This is where they do the bottle filling and sealing. If you are a fan of Blanton's, this is where they add the cool pewter bottle stoppers and add the epoxy around the top to seal it. If you come at the right time, you can see bottles being filled and sealed before being boxed up for shipping. It's amazing to me that all of those bottles produced are still hand sealed individually in this small building. I've included some pictures for you to see. They were also bottling Elmer T. Lee that day as well.
At this point the tour was pretty much complete and it was time to get down to business. This was my third barrel pick at Buffalo Trace. Every barrel pick is a bit different but the distillery follows pretty much the same format (at least from my experience). All of the barrel selections are done in Warehouse H. When you enter the rick house there is a room finished off with wood paneling. This room basically sits in the corner of the rick house. There is a large sliding door at the far end of the room. Behind that door is your typical rick house, except this is the warehouse that all of the barrels that become Blanton's are stored and aged. There are a few tables along the left wall as you enter and there are a set of railroad type tracks that run down the back half of the room that disappear behind the sliding door. This is how they roll the barrels selected for tasting are brought in. A good portion of the group had never been to Buffalo Trace, let alone picked a barrel there. As a bourbon fan, it's always fun to see the faces and reactions of people as they get to experience something like this for the first time.
When we walked in, there were four barrels of Weller lined up on the tracks waiting for us to try. Every distillery does it their own way. At Jim Beam they had the barrels lined up and let us actually hammer the bungs out of each barrel, which was really fun and provided some cool photo ops. At Wild Turkey we wandered around the rick house with Eddie Russel and he let us choose what barrels we wanted to try and opened them up for us right there. Four Roses and Heaven Hill does their picks in a private room and not in a rick house. They provide the barrel samples from bottles that have been filled and labeled with the corresponding barrel numbers and locations. Buffalo Trace had already removed the bungs so that our host (or guests) didn't have to bang them out. Another thing that is part of the experience is that you get to sample directly from the barrel via a whiskey thief, this is also a special treat. There is just something magical about dipping the copper thief into a barrel, extracting the bourbon, emptying the sample into your glass, and tasting it right from the barrel.
There is one major thing that I feel negatively impacts the barrel pick process at Buffalo Trace, that's the tasting glasses. At EVERY other barrel pick that I've been a part of, the host distillery has provided each guest a tasting glass. Usually it's a Glencarin glass, sometimes it's a rocks glass. Lots of the distilleries even provide you separate glasses for each barrel you are tasting. Not Buffalo Trace. They put one tulip shaped glass on the barrel stave that rests on top of the barrel you are tasting out of. This glass has a few lines drawn on it to act as a guide to add water to taste what your barrel will actually taste like once it has been proofed down. ONE GLASS! For an entire group. When I was at Buffalo Trace for an Eagle Rare pick, we had a very large group of almost 20 people. They still provided just one glass! I asked why we were all sharing the same glass at the time and our host told us that "the alcohol would kill all of the germs." While that point can be debated, and I'm not touching that here, if you're a germaphobe, you're automatically out. Luckily I am not but that's not the point. These groups come in and spend literally thousands if not tens of thousands of dollars at Buffalo Trace to buy barrels of their bourbon and the distillery can't be bothered to get some clean tasting glassware for the individual guests? I'm not even asking to provide souvenir glasses. Just a glass for each individual taster. Is it really that hard or do they just not care enough because of their reputation and they know that at the end of the day you're going to buy their barrel anyway? Whatever the reason, it's a bad look for a company that should know how to treat their best customers better. Buffalo Trace needs to do better when it comes to this.
That being said, I had warned our group about this very issue and one of the group members came prepared with three cases of brand new Glencairn tasting glasses tucked in his backpack for each of us to use during the tasting. Pro move.
As Suzannah was giving the group a few final directions, she mentioned that while we were here to pick a barrel of Old Weller Antique, we also had the option to instead make it a barrel of Full Proof Weller! Whut!?! We didn't know that they were even doing Full Proof picks yet! Immediately everyone in the group got really excited and decided that we were going to choose a barrel for Full Proof bottling rather than an OWA bottling. We were told that since the Full Proof Weller product had been officially announced, we could choose to go that route but since the distillery still didn't even have the labels for bottling, it would be that much longer that we would have to wait to actually get our bottles. This didn't seem to matter for the group. We were all excited. Once our glasses had been distributed, the group dove right in. We started at barrel one which was located the closest to the sliding door to the rick house and worked our way back to the barrels closer to the entrance. Buffalo Trace did provide some tasting notepads and golf pencils to take notes as well as water. We were advised to keep opinions to ourselves until everyone had gone through all four barrels. After some agreements, discussion, and some disagreements, we were able to get one additional barrel rolled out since nobody seemed to be in love with any of the first four we sampled. I'm not sure this is normal procedure but it happened.
I'm not going to get into the tasting notes of each individual barrel because if you're reading this, you will probably never get to sample it anyways. That's not meant in an arrogant way or a taunt, it's just simple math. There won't be that many bottles and they have all already been spoken for. Since I was just a guest and not even an official member of this barrel pick group, I'll be lucky if I ever get to see a bottle or a sample of it.
I'm not sure how long our actual tasting went on for but we were eventually pushed along to make a final decision so that we could get to the lunch that Buffalo Trace had prepared for us as well as get our host to her next group for the day. In the end, the group decided on the fifth barrel that they rolled out for us. It was close to an unanimous decision.
I hope this gives you a bit more insight and detail as to what the experience of picking a barrel at Buffalo Trace is like. Thanks for reading.