Once, Twice, THREE times the whisky…Ardbeg Whisky Review
Just in time for the cooler weather, this month's post features a trio of award winning scotch whiskies from the Ardbeg distillery. Over the years, Ardbeg has put out many special limited release bottlings, but the ones we will be looking at today make up their core range.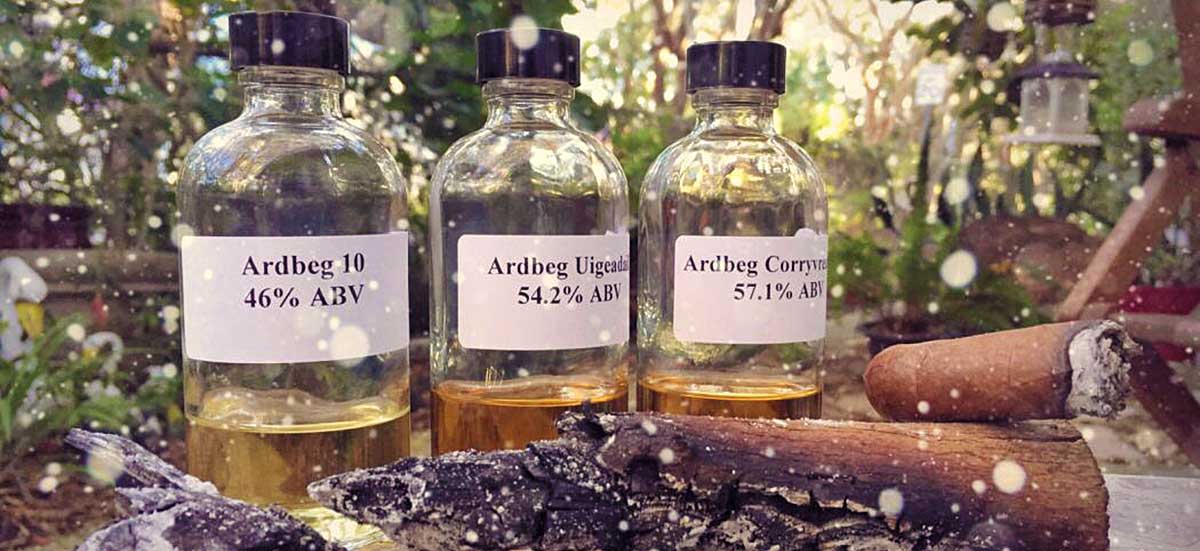 Just in time for the cooler weather, this month's post features a trio of award winning scotch whiskies from the Ardbeg distillery. Over the years, Ardbeg has put out many special limited release bottlings, but the ones we will be looking at today make up their core range and are considered to be the three most popular in the line-up. While they wouldn't necessarily be my first choice on a hot summer day, these smoky, peated whiskies lend themselves beautifully to winter imbibing. Upon opening any one of these bottles, my mind inherently drifts outdoors to a cozy campfire scene… I can smell the smoke and hear the wood crackling. I feel the warmth of the flames as golden embers leap from the fire pit, dancing upwards into the night. A few friends huddle around and raise their glasses in a toast while sharing stories and roasting marshmallows under the crisp moonlit sky.
But which of the three expressions would you choose to compliment the evening?? Each of them has something in common yet each is uniquely different, so how could you pick just one? Well, the night is young, we have nothing but time, so I say we give them each a try!
At the heart of them all (and a stunner on its own) is the 2008 World Whisky of the Year, the classic Ardbeg TEN. As the name suggests, this is a 10 year old single malt scotch whisky that has a reputation of being among the smokiest, peatiest single malts around. It is matured exclusively in ex-bourbon oak barrels, is non chill-filtered, and bottled at 46% ABV. This slightly higher base ABV helps add depth and complexity to the whisky while still maintaining a remarkable balance.
Next up is another award winner and the favorite Ardbeg of more than a few friends of mine… the Uigeadail. (Pronounced 'Oog-a-dal') It was also voted by the 120,000+ member "Ardbeg Committee" as its favorite Ardbeg and happens to be my favorite as well. With a hefty bump in ABV to 54.2%, and also non chill-filtered, it is a special vatting that blends some young and some rather old whiskies aged in ex-Sherry casks with, you guessed it, Ardbeg TEN. I've mentioned in previous posts that when it comes to Islay whiskies, those that are finished in sherry casks, or in this case blended with sherried whiskies, are a sweet spot for me… and this one serves up that combination in the most pleasing way.
Rounding out this trio is the Corryvreckan. Yet another award winner, this one, aptly named after the world's 2nd largest naturally occurring whirlpool situated off the west coast of Scotland, is a real tongue tingler. To quote Ardbeg's own web site, "Swirling aromas and torrents of deep, peaty, peppery taste lurk beneath the surface of this beautifully balanced dram. Like the whirlpool itself, Corryvreckan is not for the faint-hearted!" Bottled at a respectable 57.1% ABV, this non chill-filtered offering once again starts with a base of Ardbeg TEN but this time around, it has been married with whiskies that have spent their time exclusively in French Limousin Casks, which are not only the most expensive wood for barrels in the world, but are also known for the rich vanilla-like flavor they impart.
I was a little intimidated going into this review. These are all real powerhouses on their own, each delivering a complex palate worthy of considerable contemplation. So how would I be able to make heads from tails of them together in one sitting? Well, I thought about doing one whisky per day and treating each one as a completely unique dram, but due to the fact that they all share some of the same juice, I decided to line them up in a single sitting and focus on the differences. As expected, they do all contain some similar attributes… strong peat, seaside brine, smoky ash, and that unmistakable rubbery, band-aid backdrop. But despite the similarities, each has its own specific characteristics that really allow them to chart a path of their own. Chances are that if you don't like one, you won't like the others. But on the other hand, if you are a fan of Islay whiskies in general, and Ardbeg specifically, it shouldn't be too difficult to find the one that's fits your palate best and pick a favorite out of these three.
ARDBEG WHISKY REVIEW – THE CORE RANGE

WHISKY NAME, PROOF AND AGE
Ardbeg TEN / 92 Proof / 10 years
Ardbeg Uigeadail / 108.4 Proof / NAS
Ardbeg Corryvreckan / 114.2 Proof / NAS
… all are non-chill filtered
HOW I DRANK IT
Neat. I poured each sample into a separate Glencairn glass and promptly covered them with a lid to help contain the aromas and avoid cross contamination. Each has a powerful nose and can be detected from great distances… just ask my wife who was sitting in the other room as I conducted my research.
COLOR
The TEN is rather pale, almost like a white wine with just a twinge of gold. The other two are nearly identical in color to my eyes, but Ardbeg refers to the Uigeadail as "Deepest Gold" and the Corryvreckan as "Rich Amber". However you look at it, they both have a nice rich golden color.
NOSE
With the TEN, the first thing that hits me is the peaty medicinal / band-aid smell. Being so heavily peated (at 55 ppm) it comes as no surprise. This is immediately followed by a rush of smoke and ash with a sweetness woven into the whisky in the form of a citrus and/or pineapple note which nicely complements its saltiness.
The nose on the Uigeadail builds on this further… from the sherry casks we get some red fruits, spice and raisins as well as some additional woodiness. This is not an overpowering sherry influence but makes my mouth water in anticipation none the less.
The nose on the Corryvreckan is similar but not as sweet. Pepper and pine replace the red fruits, while the clove spice and brine continue to be present. I don't quite get the same intensity of peat and smoke, but I think it is somewhat masked by the higher ABV.
TASTE
The TEN started off with a big dose of peat, ash, and iodine, and for a moment or two, that's all it seems to be. But as it settled on the palate, there were definitely some sweet undertones there as well. Sugar cookies and marshmallows, cinnamon and citrus, brine and licorice could all be found.
Take that and put it into some sherry casks for a while and you have something like the Uigeadail. Now it's not quite that simple I'm sure, but it gives you the general idea. While I wouldn't call this a sherry bomb, it did have a pleasant dose of sherry goodness. Raisins, dates, and fig intermingle in perfect balance with the peat and ash. Honey and clove help keep everything held together in a rich, chewy pour that's almost too good to swallow. As expected, this was my favorite of the bunch.
Following that with the Corryvreckan almost seemed unfair. In hindsight, I think I would have been better served saving the Uigeadail for last because in comparison, the Corryvreckan, at least initially, fell a little flat for me. While the high ABV packed a nice punch, I felt it concealed some of the more subtle flavors of the whisky. While not nearly as sweet as the prior sample, the peat was there. The smoke was there. The alcohol fumes were there… but after several small sips, I couldn't get past that. The best thing to do at this point was to take a quick break, have some water, get some fresh air and try again later. A good 30 minutes passed before I made my way back to the glass and that's apparently just what it needed.
Wow! Where did all this pepper come from? Black pepper, red pepper. Bell peppers? Peter Piper would have picked a peck of this one! Beyond the spice, I got some seaside fare (salt, seaweed, and a cardboard box that must have washed ashore) and a stronger wood note than any of the others. It wasn't a traditional vanilla / oaky wood, but more of an overused toothpick wood. (I wasn't crazy about it) Last but not least, an unsweetened, or even bitter, dark chocolate bark came about. And did I mention the pepper?
Unfortunately, this was my least favorite of the three.
FINISH
All three whiskies had rather long finishes that largely replicated the palate. With whiskies as flavor packed as these, several of the respective palate notes carried over to the finish. The more I looked, the more I found.
NEAT, SPLASH, OR ROCKS
I'm not known to add water to my whisky and while I will on occasion add ice to certain pours, I usually prefer to drink neat. I do feel the Corryvreckan could have benefitted from a splash or two to tone down the pepper spice and reveal a little more sweetness.
SHARE WITH
Islay fans! These probably wouldn't be the first whiskies someone new to scotch should try. I would never discourage anyone from trying them, and if you're looking for something new and adventurous, I would suggest the TEN as a starting point, mostly because it's the least expensive of the bunch, and if you enjoy it, move on up the ladder from there.
BOTTLE, BAR, OR BUST
These are all flavor powerhouses and tend to be rather divisive. You'll either love them, or hate them, and for that reason, your best bet is to find a friend or a bar where you can get a sample before you drop the coin on a bottle.
---
Disclaimer: Ardbeg provided Bourbon & Banter with samples of their products for this review.
We appreciate their willingness to allow us to review their products with no strings attached. Thank you.