People's Choice Beef Jerky Review: Extra Protein Edition
When Brian Bianchetti from People's Choice Beef Jerky reached out to us a few weeks ago, it didn't take long for us to agree to try his family's jerky a possible review.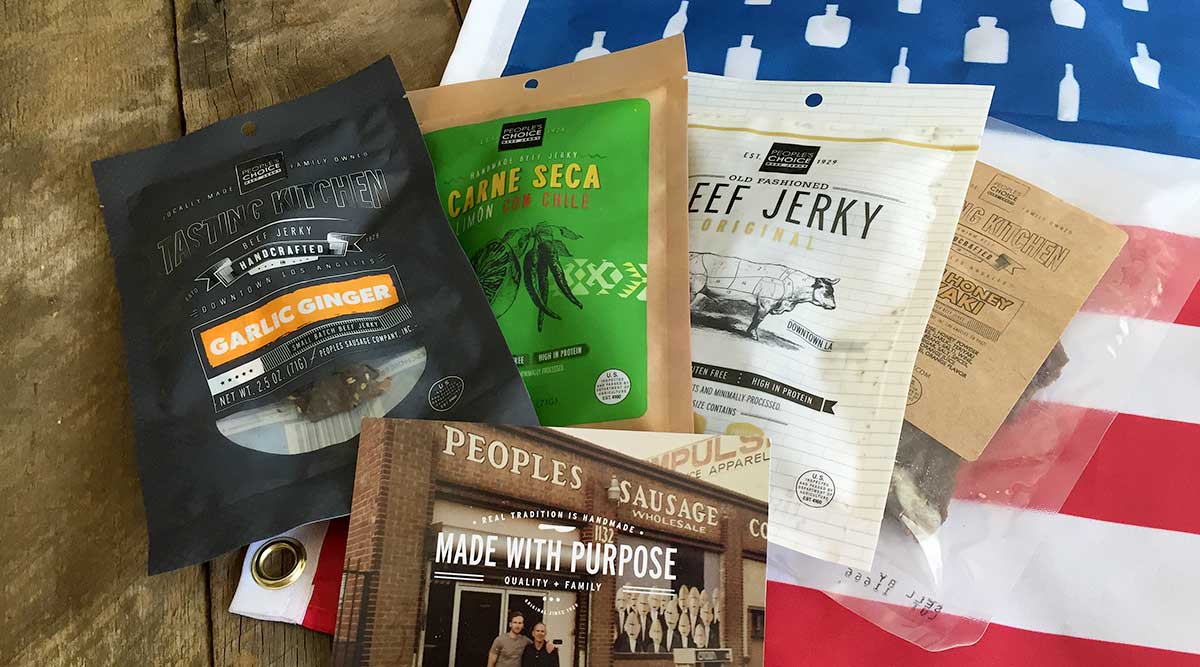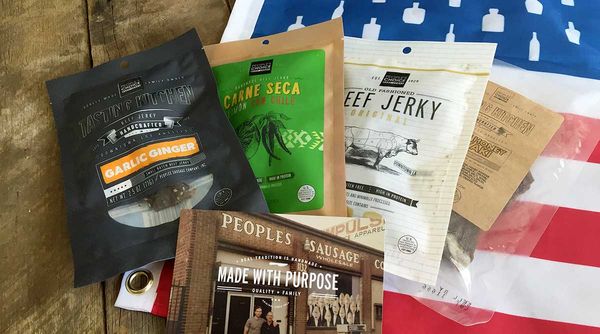 When Brian Bianchetti from People's Choice Beef Jerky reached out to us a few weeks ago, it didn't take long for us to agree to try his family's jerky a possible review. It wasn't just because we're fans of beef jerky but because we're fans of folks who still take the time to create things by hand and with passion. Brian's father calls this "made with purpose."
Representing the fourth generation of the Bianchetti family, Brian works alongside with his family proving that if you focus on making a quality product and build healthy relationships a business can survive and thrive, ultimately becoming something more than just a way to make money. It's that focus on values which are all too often absent in today's business world that sold us on featuring them on Bourbon & Banter.
There's a lot more we could say about their business, but we think the video below that they created does a much better job. Take a few minutes and learn more about the values and philosophy behind People's Choice Beef Jerky.
t's a great story, right? But what about the product?
Brian had promised us a sampling of their products, but we weren't expecting what showed up on our doorstep a few days later. The jerky box that People's Choice sent us was their One-of-Everything box minus their Classic line of jerky. In other words, a crapload of beef jerky. More specifically,  the sample box included the following product lines:
OLD FASHIONED
The Old Fashioned line hasn't changed much in the past 85 years. An old family recipe, dating back to the 1920s, has been updated with all natural ingredients and a simplified process to create a product that celebrates the BEEF in beef jerky. It's what real beef jerky is all about!
TASTING KITCHEN
One of the more delicious parts of our job is the recipe testing that goes on in the People's Choice Tasting Kitchen. We are always searching for new flavors from around the world and we want to bring those special flavors directly to you. So every few months, we will offer one of our limited-edition, small batch flavors. Our goal is to deliver a sophisticated snacking experience that celebrates new ingredients while remaining true to our handmade tradition.
CARNE SECA
The Carne Seca line is inspired by the diverse culinary tradition of Downtown Los Angeles. Focused on bold flavors, fresh ingredients, and simple techniques, our Carne Seca products feature all natural ingredients and a simplified process to showcase the deliciousness of traditional Carne Seca.
Let's go ahead and dive into our tasting notes for each of the jerky products we sampled.
BEEF JERKY TASTING NOTES
---
OLD FASHIONED BEEF JERKY – ORIGINAL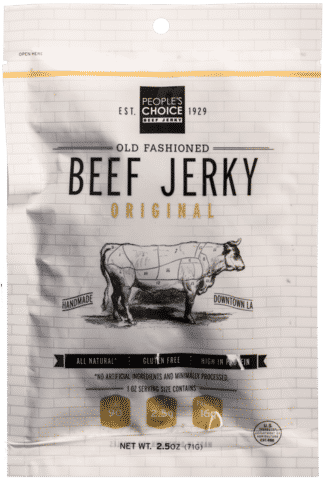 Aroma: Big, bold and meaty – like a big bowl of beef stock. Perfect.
Flavor: Rich beef, pepper spices and a salty finish that was addictive. Very little sweetness to get in the way of all that meaty flavor.
Texture: A bit drier and tougher than expected, but once you start chewing, the toughness breaks down release amazing beef flavor infused with salt and umami. I was addicted within seconds and the bag was gone in minutes.
OLD FASHIONED BEEF JERKY – HOT & SPICY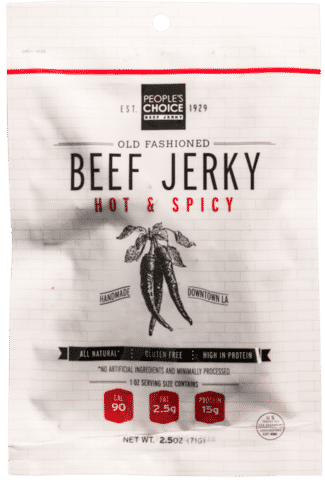 Aroma: Strong and meaty beef broth aroma. A whiff of sweetness but nothing to support its hot and spicy name.
Flavor: First taste is bland. A little beef but not much else. Only after chewing it for a while do the spices rear their head. Evidently the spices need to be set free in order to get noticed.
Texture: Really, really tough. Hard to bite through without exerting lots of pressure. Once you get it loosened up it's okay but the toughness never really goes away. I was surprised by this considering how some of their other products were easier to chew.
TASTING KITCHEN SWEET CHILI HABANERO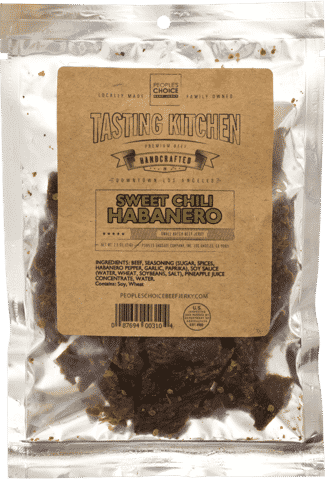 Aroma: Medium-body beef aroma with sugar-infused spices and a hint of smoke.
Flavor: Candied meat with an immediate burst of spice heat that quickly resolves into a well-balanced flavor that dances on the tongue. The sweet and spicy combination make this one addictive as hell.
Texture: Thicker cuts of beef that are moist and tender without losing their meaty texture. Instead of getting its firmness as a result of being overly dry, the jerky's sugar content gives it body and a strong tooth feel.
TASTING KITCHEN ORANGE HONEY TERIYAKI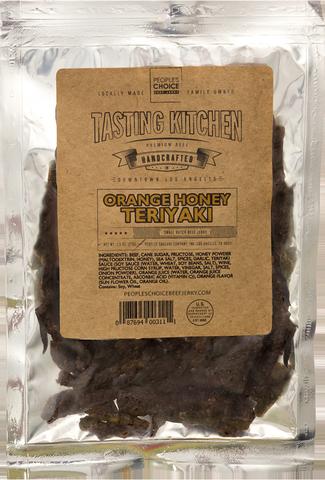 Aroma: Sweet meaty aroma like you'd expect from a moist jerky. Soy notes with just a hint of orange. A sugar sweetness is a key aroma as evidenced by the ingredient list. Overall a very pleasant aroma but nothing jumps out to make it memorable.
Flavor: Soy and sugar sweetness with a distinct and clear orange citrus edge that fades all too quickly. Wanted more orange flavor to lead the charge on this one. The sugar ingredients are just are too overpowering compared to the orange. Not much beef flavor either.
Texture: Firm at first but then falls into an easy, yet satisfying, to eat texture. A bit oily on the fingers but appears to be mostly surface whereas chew is moist yet well structured.
TASTING KITCHEN GARLIC GINGER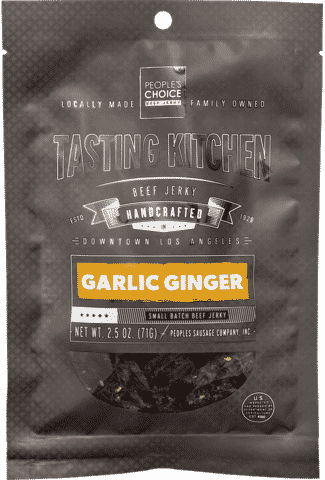 Aroma: Ginger beef stirfry with a well-placed hit of garlic.
Flavor: I expected to be overwhelmed by garlic and ginger, but the beef flavor is front and center. The garlic ginger notes support the beef with a resulting flavor profile that is slightly muted compared to its aroma. It tastes great but I wouldn't mind having the garlic ginger dialed up a few notches for good measure.
Texture: A bit firmer than others in the Tasting Kitchen line with a touch of oil that reminds me of meat finished in a wok. The firmer texture holds up nicely to the mix of garlic and ginger allowing you to enjoy this one long enough to get as much flavor out of it as possible.
TASTING KITCHEN SRIRACHA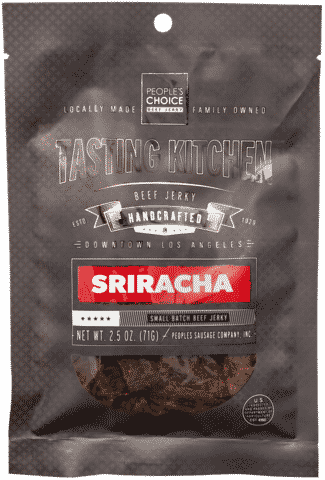 Aroma: Strong beef aroma with a hint of sweet heat. No overpowering Sriracha notes at all. The beef was really the main component in the overall aroma on this one.
Flavor: Up front, the beef was very present as forecasted by the aroma. Sweetness on the tongue was quickly replaced with a slow building heating from the Sriracha which never got overpowering. Spices stayed on the tip of my tongue with a lingering finish kept in check by the upfront sweet beef flavor.
Texture: Drier than expected based on its physical texture. Jerky gave way upon chewing which allowed its flavors to quickly expand and take center stage.
CARNE SECA LIMON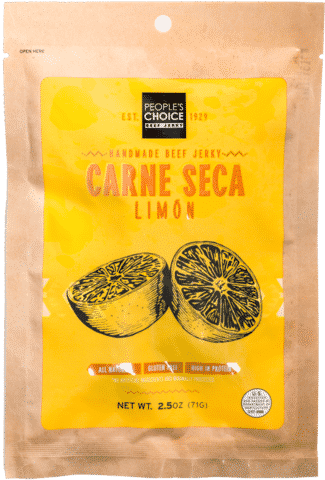 Aroma: Strong beef broth smells similar to their traditional beef jerky. While I couldn't distinguish any lemon notes, it did smell a bit sweeter than their regular jerky.
Flavor: Rich and meaty with just a hint of sweetness that only comes out after you've chewed it for a while. Not as salty as the traditional jerky giving the beef a drier flavor that speaks to the Carne Seca's traditional Northern Mexican style where the jerky is dried a little bit more than what you would find in most American-style jerkies.
Texture: Drier and tougher as a result of the way it is made. Stringy comes to mind as I chew and pull through this one. I found myself pulling this one apart as I ate it to make it easier to bite it into manageable pieces. While different than the other selections, the texture on this one is still very enjoyable. Eating it may require more work, but it tastes pretty awesome.
CARNE SECA LIMON CON CHILE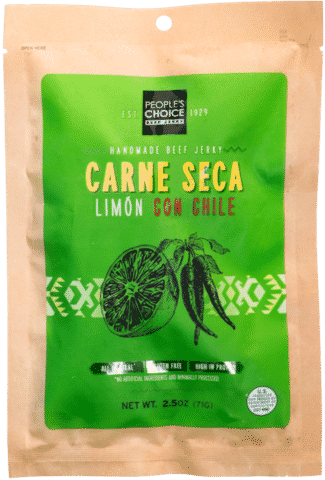 Aroma: Oddly off-center beef aroma that results from the lemon and chili spice combination. Not an aroma that would keep from eating it, but then again, it wasn't beckoning me to dive in headfirst either.
Flavor: Like the aroma, the taste is a bit odd on this one. The combination of chile and lemon takes a lot of the beef flavor away and neuters the overall flavor profile. In other words, everything is a bit jumbled up without adding any taste value. I'm left with something that doesn't taste like anything specific but has an oddly lingering heat. To clarify, it has flavor, but it's neutral – hard to describe –  leaving saltiness and spicy as the best descriptors.
Texture: Texture is same as the Carne Seca Limon, but I found this version to have a bit more moisture making for easier chewing resulting in less jaw fatigue.
AFTER THE JERKY DUST HAS SETTLED
---
Before I share my final thoughts on People's Choice Beef Jerky, I'd like to share a few things I've learned while tasting my way through eight packages of jerky.
Pacing Is Important – I dove head first into the samples and found myself regretting not taking a more measured approach. After trying four samples in a row my taste buds were roasted and my jaws started to hurt.
Sodium Intake – You must watch your sodium intake levels. As someone who never adds salt to their food it wasn't something I was thinking about when I started tasting the jerky. But after four rounds I quickly learned that consuming a lot of salt is no fun. I had to take a week break just to flush my system and get back to normal.
Mood Matters – When I finally got back to tasting the remaining jerky I found that if I wasn't in the right mood to eat jerky I wasn't able to be objective in recording my tasting notes. Luckily I realized this on the first package of my second tasting round so i was able to adjust quickly without having to deal with the jerky getting dried out.
All that being said I had a blast tasting my way through the amazing collection of beef jerky that People's Choice provided Bourbon & Banter. All of the jerky was of the highest quality and it's clear that a lot of passion went into their creation. And while there were some variations that I didn't care for I'm certain there are folks out there that would love them.
Passion. Quality. Craftmanship. People's Choice Beef Jerky is the real deal folks and if you're a beef jerky fan I highly recommend taking a closer look and trying some for yourself.
You can learn more and order some product for yourself online here. Use discount code BOURBONBANTER29 and save 15% off your order.