Quiet Man Irish Whiskey Review
St. Patrick's Day may be several months away but Luxco isn't letting that get in the way of bringing their first-ever Irish whiskey to American shores.

Disclaimer: Samples of Quiet Man Irish Whiskey were provided by Luxco for this review. We appreciate their willingness to allow Bourbon & Banter to review the whiskey with no strings attached. Thank you.
---
St. Patrick's Day may be several months away but Luxco isn't letting that get in the way of bringing their first-ever Irish whiskey to American shores. Born from a long-standing partnership with Niche Drinks, who produces their Saint Brendan's Irish Cream, Luxco continues to add to their whiskey portfolio along with their investment in Limestone Branch Distillery last year and recent announcement of their plans to build a distillery in Kentucky.
2016 is looking like it's going to be one hell of a year for Luxco and I'm pretty excited to see where things take them since we're both based in St. Louis. For now let's take a quick look at the formal release announcing the arrival of Quiet Man Irish Whiskey.
Luxco Introduces New Handcrafted Irish Whiskey
The Quiet Man Irish Whiskey Launching in U.S. in January 2016
(St. Louis) January 5, 2016 — Luxco is proud to introduce its first-ever Irish whiskey, The Quiet Man, set to launch two varieties in the U.S. this month. The handcrafted Quiet Man is produced through Luxco's partnership with Niche Drinks in Derry, Ireland, and is the first Irish whiskey bottled in Derry in more than 100 years.
The Quiet Man brand was born when Ciaran Mulgrew, managing director and co-owner of Niche Drinks, and founder of The Quiet Man, decided to create a whiskey to honor his father, John Mulgrew.
"The Quiet Man is a completely unique combination of hand selected whiskies, finished in first-fill bourbon barrels, creating sweet and spicy notes," Ciaran Mulgrew said. "In more than 50 years behind the bar, my father saw and heard it all, but like all good bartenders, John Mulgrew was true to the code and told no tales. He was 'The Quiet Man,' or as they say in the pubs of Ireland, 'An Fear Ciuin.'"
Distilled in traditional Irish whiskey pot stills matured in oak barrels and recasked in first-fill bourbon casks, The Quiet Man will be available in two varieties: The Quiet Man Traditional Blended Irish Whiskey and The Quiet Man 8-Year Single Malt Irish Whiskey, both bottled at 80 proof and sold in 750ML bottles. The Traditional Blended Irish Whiskey is aged four years and has a high malt percentage, compared to most blends, offering a mellow and ultra-smooth finish. The Single Malt offers a smooth taste and floral notes for a premium experience.
"The difference between a good whiskey and a great whiskey lies not just in picking the best ingredients and having the most skilled distiller," Mulgrew added. "It lies in selecting the finest barrels to let the whiskey mature in. Our unique process of finishing the aging in barrels that previously held bourbon but never whiskey allows The Quiet Man to soak up those wonderfully sweet yet spicy oak flavors, and the result is two great Irish whiskies."
The Quiet Man is currently available in Germany, South Africa, Canada and Ireland, and was first bottled in June 2015. It will be available in the U.S. in January, through a joint venture between Luxco and Niche Drinks, whose partnership dates back to 1986.
Suggested retail price is $39.99 for the blended variety and $49.99 for the single malt variety.
The biggest surprise of this press release was the story behind the whiskey. Like most Americans I immediately thought the whiskey was named after the John Wayne movie of the same name. I'm sure the name association won't hurt it one bit in the US market but I'm glad to know that it wasn't some marketing team driven name created purely to capitalize on the US market's nostalgia for John Wayne. (Oh wait, someone already did that.)
Here's a few other details about Quiet Man Irish Whiskey that I found interesting:
As a result of Niche Drinks' strong relationship with Luxco they've been able to secure a strong supply of used bourbon barrels that have allowed them to use 1st fill barrels to age the whiskey. While some of the whiskey was previously matured elsewhere, much of it is new make and both will benefit greatly from the strong flavors a 1st fill bourbon barrel offers.
Just like Luxco, it's been reported that Niche Drinks is planning to open their own distillery in Derry making them the city's first new distillery in 150 years. News of the distillery has been circulating for a few years now but our sources say it's still to early to tell when everything will come together and become a reality.
Although the whiskey's source isn't disclosed it's rumored that it's from the Cooley Distillery and very similar to their brand, Greenore, which is corn-based and also aged in used bourbon barrels.
Quiet Man Traditional Irish Whiskey Review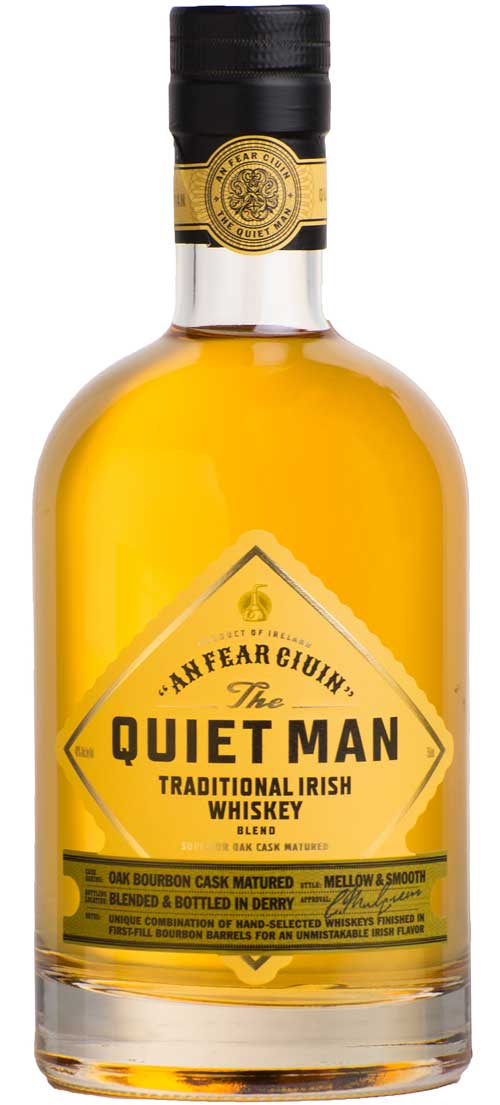 BOTTLE DETAILS
---
Bourbon Name:  Quiet Man Irish Whiskey – Traditional Blend
Proof: 80
Age: NAS
Year: 2016
POP'S NOTES
---
How I Drank It:  Neat, in Glencairn whiskey glass.
My Nose Noticed:* Floral Vanilla | Cereal | Fresh Fruit | Honey
First Sip: Brown Sugar | Vanilla | Cereal
The Burn:** The finish has a very light spice and oak combination that's quite nice. There's no lingering burn which is disappointing for me but many will appreciate how approachable it makes this whiskey.
Neat, Splash or Rocks: The whiskey's flavors are extremely light. A bit too light for my palate but one needs to remember that I spend most of my time drinking bourbon. But adding a drop or two of water helped to open the flavors up adding another later of sweetness and integrated spices helping to round out the whiskey nicely. I would definitely suggest drinking this with just a splash of water to really open it up.
Share With: Anyone into Irish whiskey at this time will be up for giving it a try since it's new to the market. A round of drinks at the bar makes perfect sense for this one if you do it early in the night. It's not a bad dram at all but not something that you'll find yourself talking about over the course of an evening.
Worth The Price: I think $39.99 is a bit steep for this one. It's a decent enough whiskey but there's nothing special to warrant the premium price point. I'd be more inclined say it's worth the price if it was just below $30 a bottle.
Bottle, Bar or Bust: For most people $39.99 won't break the bank but considering that the 8-year-old single malt is only $10 more I recommend trying this one at a bar before purchasing an entire bottle. If you really want to part with the money find the extra $10 and upgrade to the single grain. Otherwise head out and track it down at a bar near you.
Quiet Man 8 Year Old Single Malt Irish Whiskey
BOTTLE DETAILS
---
Bourbon Name: Quiet Man Irish Whiskey –  8 Year Old Single Malt
Proof: 80
Age: 8 years
Year: 2016
POP'S NOTES
---
How I Drank It:  Neat, in Glencairn whiskey glass.
My Nose Noticed:* Tropical Fruit | Flowery Vanilla | Creamy Grains
First Sip: Malt Forward | Spicy Oak | Vanilla | Juicy Fruit gum
The Burn:** This whiskey finishes with a lovely sweet and spicy medium burn mixed with what I can only describe as a touch of citrus fruit rind. Sounds a bit odd perhaps but it was delicious.
Neat, Splash or Rocks: The 8 year single malt opened up quite nicely with a splash of water as well. The tropical fruit flavors were intensified and I started to notice aromas of nectarines and bananas individually. The aroma and flavors of the single malt are more pronounced compared to that of the NAS blended whiskey of the same name. In the end, drinking it neat or with a splash of water is acceptable but I would tend to add a bit of water for good measure.
Share With: This is a bottle best shared with others who enjoy Irish whiskey on a regular basis and can compare it against other similar brands. If you know folks that enjoy Redbreast, Green Spot or Teeling Irish whiskey they will surely enjoy learning more about Quiet Man.
Worth The Price: Suggested retail for the 8-year-old single malt is $49.99. At that price you can also step into a bottle of Redbreast 12-year-old. While I would buy the Redbreast over Quiet Man based on personal preference I think the price point is fair based on how the market is trending.
Bottle, Bar or Bust: If you're already a big fan of Irish whiskey I don't think you can go wrong buying a bottle and trying it out with your friends. It's not Yellow Spot, but it's a solid Irish Whiskey that won't get you uninvited from a party should you be generous enough to arrive with a bottle. However, if you're still learning your way around Irish whiskey I suggest tracking it down at your favorite bar and trying a glass before you go all in on a bottle.
Niche Drinks and Luxco have done a fine job with Quiet Man Irish Whiskey. It's a solid whiskey that should provide Irish whiskey lovers something new to keep them interested in the category while also drawing in drinkers looking to explore something different and new to the US market. There's plenty of room in the Irish Whiskey category so I don't see this changing the category dynamics in any fashion but I'm keen to see where things go with Niche Drinks' plans to build a distillery and start making their own whiskey. I'll be one of the first in line to give it a taste once it makes it across the pond.
---
*I like to let my whiskey sit in the glass for at least 5 minutes before I start to smell it or have a drink. I personally find that it's better to let some of the alcohol waft off before diving in. If I'm drinking bourbon on the rocks I skip the waiting and dive in both feet first. In this case thought, the whiskey really required more like 20 minutes to balance out.

**Some of you refer to this as the "finish" but let's be honest. Don't we all just want to know if it burns good?