Ragged Branch Distillery 4 Year Bourbon Release & Review
Ragged Branch Distillery started Bourbon Heritage Month off with a bang by releasing their first Non Age Stated Bourbon. Over eight years in the making this is an exciting time for a new distillery.
Ragged Branch Distillery started this past Bourbon Heritage Month off with a bang by releasing their first Non Age Stated Bourbon. Over eight years in the making this is an exciting time for a new distillery.
I admit that I was excited to be back at Ragged Branch and had hoped that I would be invited back for this occasion. We had visited last year when the distillery started releasing their two year old bourbon (read about that visit here, Part 1 and Part 2).  When they reached out to Bourbon and Banter again, back in June, and asked if I would be interested to come back to Charlottesville, VA for their four year old wheated bourbon release, I couldn't wait.
My wife Patti and I were met at the door by owner/distiller Alex Toomy, Michelle Hunt, Alex's fiancé, Ellie Barber, Marketing Director, Chef Josh Rossiter and Jess Miles, the Tasting Room Manager.  I don't think you can find a nicer looking tasting room in a distillery and the views of the Blue Ridge Mountains from the patio are incredible. We all settled at one corner of the tasting room bar.
Alex looked tired and admitted to being so, and rightfully so. The four-year bourbon bottling had started the night before, and had to be stopped because of a severe thunderstorm. The bottling had finished that very morning. Alex said, "I'm not sure I can drink anymore bourbon."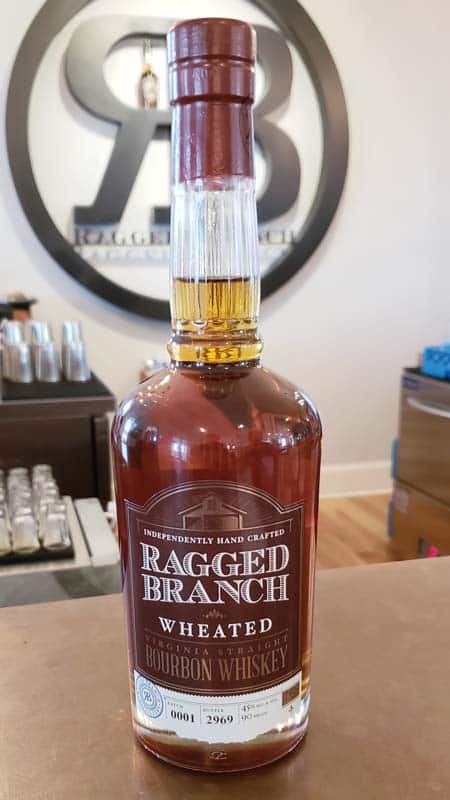 A bottle of the new bourbon was set out on the bar. The bottle, with the new label and filled with bourbon is visually stunning. The reddish-brown label with the gold lettering contrasts with the bourbon and is very pleasing. Ellie told us that the Peter Mayer firm who handles PR related items for Ragged Branch, created several different labels for the bottle and everyone had settled on the one that was now displayed on the bottle.
Jess poured all of us a taste and we sat and talked bourbon for a couple hours. During this time Chef Josh served us a fabulous three course lunch. Not only does Ragged Branch produce bourbon, but they raise beef fed by the spent mash. They sell about one steer a week through their tasting room.
I was very interested in how Alex had picked the barrels that went into this batch release. Dave Pickerell had helped Ragged Branch since they started the distillery and I wondered if he was the one who had picked and blended the batch or not. Alex noted that Pickerell had visited earlier and told Alex what he should look for in the various barrels to be blended.  Alex though, picked the barrels himself.
Ragged Branch put up their first 53 gallon barrel on July 1, 2014. The distillery produces one barrel a day. This first batch consisted of 11 barrels. Alex said about half were barrels that were somewhat sweet and half that were spicy. As he put it, "they had a good burn." The first batch of barrels, once blended and proofed down to 90 proof, yielded just less then 3,000 bottles. Alex was pleased with the yield.
As noted before, the bottling had just finished up that morning. Ragged Branch uses a bottling truck as their production line. I had never heard of this prior to our visit last year but later found out that it is a common practice especially for wineries. The truck has the capacity to turn out 1500 bottles an hour. Two weeks prior to bottling the truck owner had called and said he was selling the truck and the bottling was off. Alex ended up buying the truck and the bottling went on. Now with their own bottling line Ragged Branch has more flexibility as more of their bourbon reaches the four-year-old mark.
I asked Alex what was next? What about an older bourbon?  Right now Ragged Branch is concentrating on getting their four year old plus bourbon on the market. It is available in Virginia, Washington, D.C, Maryland and Louisiana. A trip to Tales of the Cocktail recently yielded deals to distribute in California, Nevada and Arizona. There have been inquiries about private barrels. Alex talked about one honey barrel that he came across in the warehouse that had an incredible butterscotch taste. He thought the private barrel program could come together. In addition, some investors have come forward as well, broaching the possibility of doubling the distillery capacity and also putting another distillery nearby. The future looks bright.
In the near future, the four-year-old bourbon with the rye mash bill will be released as soon as those barrels reach the four-year mark. In addition, Alex said he got tired of the 25-gallon barrels they had been using to get some two- and three-year product to market. He dumped his remaining 25-gallon barrels of wheated bourbon into 53-gallon barrels with a deeper char. The plan is to release a double oaked bourbon. Also Ragged Branch has barrels of straight rye whiskey aging which will reach the four year mark soon. There are also plans to release a barrel proof bourbon, which tentatively is planned to be called the "Cowboy Cut."  As for something beyond 4 years old, Alex kind of shrugged and said right now they are getting what is coming of age on the market. He didn't rule it out.
The Bourbon House in New Orleans recently hosted a Ragged Branch 4 Year Wheat Bourbon launch party. The event featured beef from Ragged Branch and used the staves from the Ragged Branch barrels to smoke the beef on. In addition, the wheated bourbon was the Bourbon House Bourbon of the Month in November. If you are a member of the New Orleans Bourbon Society, as I am, you know what I am talking about.
The release of the four-year bourbon is a major milestone in the history of Ragged Branch. It has been eight years in the making. The distillery started out to make their own bourbon, they did not source from other distilleries. They just wanted the bourbon to be their own. The future looks bright.
So how does the bourbon taste? …
Ragged Branch Wheated Virginia Straight Bourbon Whiskey
BOTTLE DETAILS
---
DISTILLER: Ragged Branch Distillery
MASH BILL: 66% Corn  |  17% Wheat  | 17% Barley
AGE: 4 Years
YEAR: 2018
PROOF: 90 Proof (45% ABV)
MSRP: $49.99
LEE'S NOTES
---
NOSE: Toasted Oak | Caramel | Vanilla | Hints of Cherries and Cinnamon 
TASTE: Sweet Grains | Caramel | Vanilla | Hints of Tea and Pepper
FINISH: A short kick of spice on the tongue gives way to a coating of caramel on the tongue with a return of tickling pepper.
SHARE WITH: I would share this with anyone who enjoys bourbon especially a wheated bourbon.  
WORTH THE PRICE: I purchased this bottle myself so obviously I believe it is worth the price.
BOTTLE, BAR OR BUST: Presently this bourbon is only available in Virginia, Maryland, Washington, D.C. and Louisiana. Distribution to California, Arizona and Nevada is in the near future. Look for it in a bar in these areas. Or stop in the tasting room if you are in Charlottesville, VA. I purchased two bottles while at the distillery and very much enjoy it.
OVERALL: As I mentioned before, Ragged Branch invited me back to their distillery through Bourbon & Banter for their four-year release. It is no secret, if you read my earlier posts, that I am impressed by what they are doing here. During my latest visit, I had several pours of their four-year bourbon and we also were served a tasty three-course lunch. I purchased two bottles to bring home with me and have had several additional pours.
I really like this bourbon. Yes, it is young at just over four years, but I like the taste and overall richness of it. I find that with air in the bottle it improves more. It has a sweet nose and taste, almost like buttered croissants. A nice spice on the finish. I would really like to see a 6-year version of this bourbon but that's at least a couple years out.
A couple notes that many may find surprising. This is a non-chill filtered bourbon. In my mind, it adds to the rich color and flavor. In addition, Ragged Branch does not use the sour mash process. They use two types of yeast, one for their wheated bourbon and one for the rye mash bill bourbon. They use a certain source for the yeast because it is always consistent, and they believe, as I do, that the yeast has more to do with flavor than what is usually discussed.