Retail Store Memberships: Good or Evil?
Liquor distribution in the United States is not right. Control states aside, the rest of the U.S. is subjected to monopolized and a bastardized remnant from Prohibition that is a pay-to-play system.


THE GOLDILOCKS CONUNDRUM
Liquor distribution in the United States is not right. Control states aside, the rest of the U.S. is subjected to monopolized and a bastardized remnant from Prohibition that is a pay-to-play system. I live in Tennessee, and the distributors here are no different – buy a bunch of cases of prescribed bottles, and you get a higher allocation of the stuff people want to buy.
The system is flawed for retailers in Tennessee already, but then in July 2016, the Tennessee State Legislature dealt a significant blow to retail liquor stores by allowing wine to be sold in grocery stores. Yes, you could only purchase wine in a licensed liquor retailer before July 2016. This legislative change critically impacted every liquor store in the state. Most of the store owners that I polled lost anywhere from 30-50% of their year-over-year revenue within a short period and never recovered.
The fixed expenses didn't change, but they took a haircut in revenue. Many stores cut staff and scrambled to adjust to the new reality. At the same time, more and more customers were looking for allocated spirits – whiskey and bourbon specifically. The distributors offer discounts on bulk purchases, but they expect their accounts to be paid, in cash, within ten days.
The large stores were more insulated due to volume. The small stores were located for the convenience of their customers who might be willing to pay more for a shorter drive. The mid-sized stores were just wrong. Big enough to create an expectation in pricing and access to allocated spirits for their customers, small enough that they can't buy in sufficient bulk to compete broadly on price with the big retail distributors and grocery stores.
These stores are the guys we love. They fight for a barrel pick and bring customers along to the distillery to select the perfect flavor profile. They know your name when you walk in and what you're looking for before you reach the brown liquor aisle. These are the small businesses trying to make it in America selling America's native spirit. In Tennessee, the Buffalo Trace Antique Collection, Weller 12, Four Roses Small Batch Limited Edition and Pappy Van Winkle bottles will all be released in the next few weeks. The big stores won't see a dip in revenue with a pissed off customer or two. The small stores don't get enough allocation to create any expectation. So what should the mid-sized "Goldilocks" store do with the allocated bottles?
WOULD YOU PAY FOR THE CHANCE TO BUY ALLOCATED WHISKEY?
A mid-sized retail store in the Nashville area debuted a bourbon and spirits club membership on social media this summer to address their allocated bottle distribution to customers. I was shocked but not surprised. The terms of the membership that I read on Instagram were shocking, however. Review and responses were mixed. Here is the advertisement: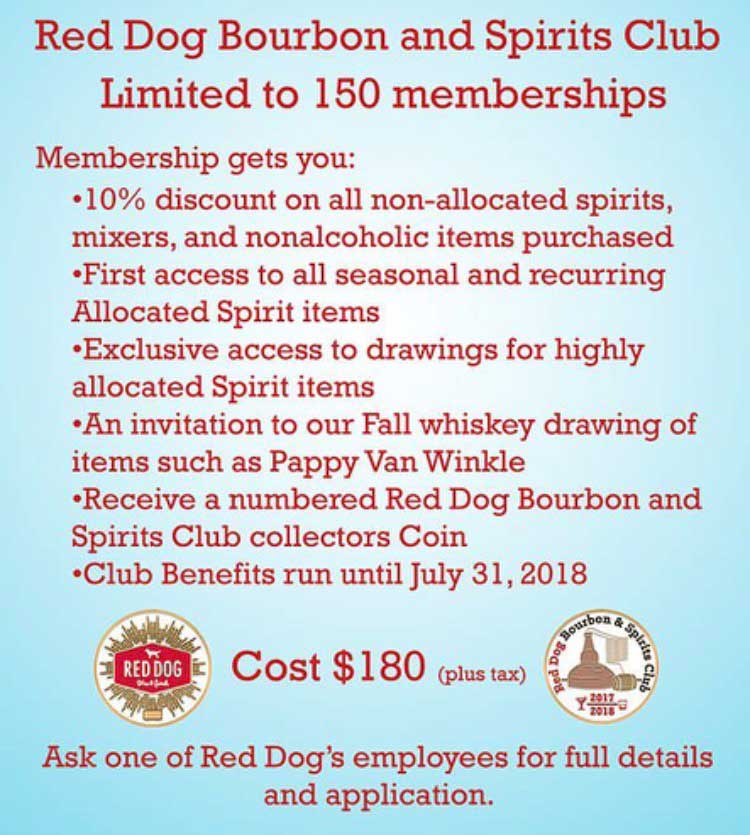 fter a smart-ass comment on the post, I thought more about this store and what they were trying to accomplish. I just didn't understand. So, I called Brian Hulsey, the General Manager of Red Dog in Franklin to get his perspective on the Bourbon & Spirits Club.
Brian was eager to get the explanation out to the public. In fact, he explained the club over and over in response to emails, in-person customers, and phone calls on the program. " We just want to be very fair to as many people as we can be and it takes a lot of time to manage that," Brian said. They used to release the allocated spirits on a first come, first serve one bottle per person bourbon Christmas day like many other stores. I've spent a few nights in retail store parking lots, so I understand the draw. People were nasty to Brian and his staff after standing in line all night and ending up empty-handed. "Unfortunately, hunters (like me) started camping out the night before, and we had to run off lines of people because we just ran out of the allocated bottles. We only had 130-140 bottles last year." What Brian referred to as "allocated" included everything from Pappy and Parker's Heritage Collection to Old Weller Antique and Diageo's Orphan Barrel releases.
So, the response was mixed, but after a month, Red Dog closed the membership, and the results were favorable – sixty (60) people signed up, and 80% were local and regular customers. For Brian and his team, they can take care of their local customers and be completely transparent with the bourbon hunters that drop by. They don't have to lie to your face and say "I don't have it," when it's tucked on a shelf in the back office. Brian said his blood pressure and soul recovered, unlike the wine sales.
When I asked Brian the goal for this year's Bourbon and Spirits Club, he said he hopes his members say "Damn, that was a lot of fun, and I am glad I did that." I asked Brian if they will open up membership again in 2018; he said, "We'll see how it goes this year and adjust it if we need to." Smart-ass comments aside; I understand where they're coming from. I didn't join the club because Red Dog is not my "home" liquor store but I hope it's wildly successful for the store and the members.
WOULD YOU PAY $180 FOR THESE BENEFITS FOR A YEAR?
Let us know in the comments!