What I Did Right at WhiskyFest Chicago
Well I have survived. Thank to Pops and everyone else who were praying for me to make it back relatively unscathed and with a few stories to tell.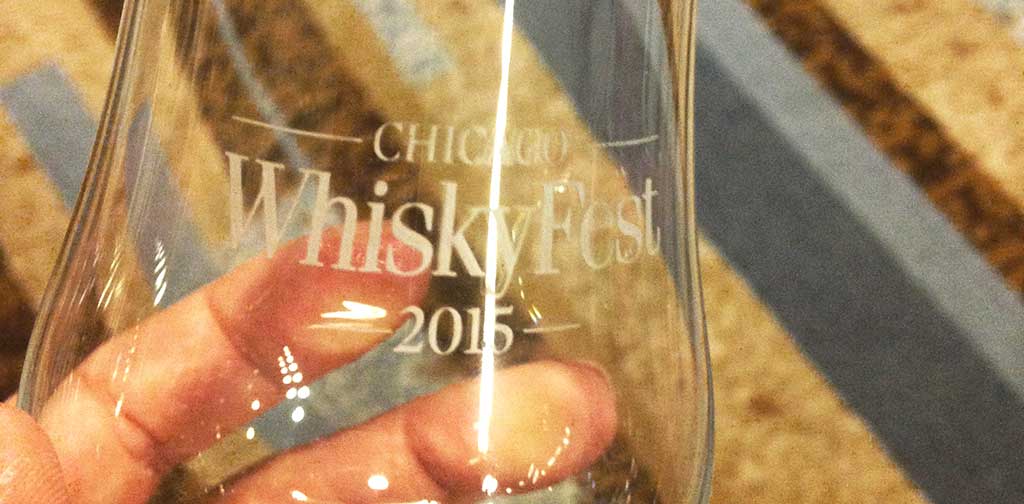 Well I have survived. Thank to Pops and everyone else who were praying for me to make it back relatively unscathed and with a few stories to tell. After failing miserably at my first whiskey festival I learned a few things that I applied this year, and I think I can say that the weekend was a success. Here are some of the top things that helped me make the most of my experience at WhiskyFest Chicago.
1. I downloaded the app: One of the promotional emails I received prior to the event suggested I download the WhiskyFest app prior to attending and it turned out to be a great resource. When you open the app you see the event's social feed. When I opened it the evening before the event it was full of people taking selfies on the train and asking for recommendations and advice. Even today, five days after WhiskyFest, it is still full of pictures and excitement. It was a really nice way to instantly bond with a group of strangers. Once I got into the grand tasting the map of the floor, and especially the list of whiskey, made it invaluable. I was actually able to keep track and rate of each one that I tried. I even managed a few notes before I decided that typing was really not worth the effort.
2. I pre-gamed by observing and planning: Rather than hitting the hotel bar I hung out by the check-in tables after I picked up my media badge. I was in a good position to see that FEW Spirits were going to be there after all, watched as Bernie Lubbers made his entrance and cringed as a staff member asked Jimmy Russell who he worked for. In between the people watching, I circled the tables on my map where I could find my top picks and must-haves.
3. I used the dump bucket: As much as it pained me to throw out perfectly good bourbon and scotch, with over 350 spirits to try it is the only way to get through the evening. Except for a few exceptional drams that I couldn't bear to part with, I had a few drinks and then dumped the rest. I never did get over worrying that I was offending people when I dumped their product so I covered by explaining that I was sorry to have to let it go but I was determined to make it through the night this time. This usually got a laugh and dumping let me try, and remember, a much greater variety of whiskeys than I would have otherwise.
4. I made friends: Since I was flying solo for the night I forced myself to strike up conversations with interesting people I met along the way and I took the time to talk the people behind the tables as well. One of the best things about a whiskey festival is getting the chance to talk to people who actually make the whiskey and not just the brand ambassadors, (although they are usually really cool also). I had a great talk with the people at Whistle Pig about their up-coming barreled spirit, gave High West some high praise for the Midsummer Night's Dram, talked with Few Spirits about the direction they are going and quizzed Koval about their decision to use millet in their bourbon. I also learned a great deal about scotch from many of the tables I stopped and visited with, and everyone was very patient and eager to talk.
5. I went to the seminars: Speaking of learning new things, I also decided to take in two of the seminars. This was not only because I wanted to learn more about whiskey but also because it was a nice chance to sit down and catch my breath after running around a tasting room for a few hours. A big shout out to Bernie Lubbers and Craig Beam for their panel on wheated bourbons and wheat whiskey. They did a great job of balancing basic info with the details and story telling american whiskey fans love. Plus they brought out some phenomenal whiskeys, including the Parker's Heritage Collection.
I am very glad to have gotten a chance to visit a WhiskyFest. I can see why these are some of the most popular whiskey festivals in the country and even with the focus on scotch there was plenty to make a bourbon lover happy. My biggest regret is just that the event was only one night. After spending a weekend with the Bourbon Classic one evening of whiskey drinking felt a little rushed. Charlie and I made up for it by making a visit to The Aviary on Saturday which was an experience like none other. While it is really deserving of an article all its own I will just say that if you are a cocktail geek it is well worth the visit.