Rush Creek Distilling Trophy Whiskey Review
I had the opportunity in February to meet up with the folks at Rush Creek Distilling at Distill America in Madison. I was intrigued by what they had to offer and was interested in learning more.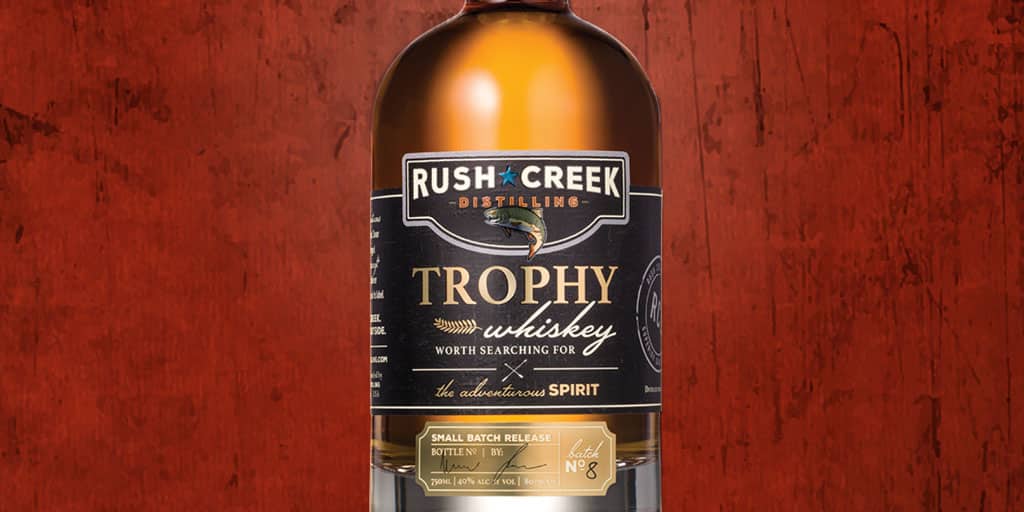 BOTTLE DETAILS
---
DISTILLER: Rush Creek Distilling (Suspect Diageo)
MASH BILL: 88% Corn  |  12% Rye  |  10% Malted Barley
AGE: 10 Years
YEAR: 2019
PROOF: 84.6 Proof (42.3% ABV)
MSRP: $65.00
JEFF'S NOTES
---
NOSE:  Vanilla  | Corn |  Toasted Oak |  Caramel
TASTE:  Corn  | Vanilla  | Peanuts |  Tobacco Leaf
FINISH:  Long-lasting that starts off as white pepper and then morphs to clove.
SHARE WITH:  People who want to try something they've never had before.
WORTH THE PRICE:  Ummmmm… no.
BOTTLE, BAR OR BUST:  Regrettably, a Bust.
OVERALL:  I had the opportunity in February to meet up with the folks at Rush Creek Distilling at Distill America in Madison. I was intrigued by what they had to offer and was interested in learning more. We talked and they were kind enough to provide me with a sample of their Trophy Whiskey for an unbiased, no-strings-attached review.
I enjoy tasting events because I always find something to tickle my fancy in my quest to #DrinkCurious. However, no matter how hard I try, at some point, everything on my palate is muted and things I think taste good really don't and things I think taste bad really don't. As such, I keep a note of the things that are interesting, good or bad, and follow up later with a clean palate.
Rush Creek Distilling is out of Harvard, Illinois. They've been around since 2017 and have about 300 barrels of their own distillate aging, which should be ready in two or so years. As such, to have something available now, they source their whiskey, but it is undisclosed as to who provides the sourcing.

My guess is the sourcing comes from Diageo. I base that upon two things: First, the very high corn content is similar to what Diageo offers, and second, the backstory of Trophy Whiskey. It starts with, "We found a barrel of forgotten whiskey." Sound familiar?  It should because that's the exact same backstory Diageo uses for their Orphan Barrel series.
If you enjoy these marketing stories, skip ahead to the next paragraph, because I'm giving you a spoiler. There is no such thing as a "forgotten" barrel of whiskey. That's not possible for a variety of reasons, the most important being taxation. Distilleries pay a tax on every single barrel of whiskey aging in their rickhouse. Every. Single. Barrel. Moreover, every distillery that I'm aware of catalogs their whiskey so they always have inventory control. The only ways a barrel becomes "lost" is via theft or destruction (such as Barton's warehouse collapse).
All marketing aside, the only thing that really matters in whiskey is how it tastes. I would like to point out that this is marketed as whiskey and not Bourbon. There is no explanation as to why it isn't Bourbon, there could be a variety of possibilities ranging from the barrel to original proofing or anywhere in between.
In my glass, Trophy Whiskey was a bright, clear golden color. This is not something that I'd expect in a ten-year Bourbon, which should be darker. On my Glencairn glass, it left a thin rim that produced droplets that never quite became legs. They just stuck to the wall of the glass.
Aromas of vanilla and corn were dominant. When I sniffed through my various nosing zones, I was able to get past the vanilla and corn and pick up some toasted oak. When I inhaled through my mouth, there was peanut butter and caramel.
The first sip gave a consistency of water. I couldn't describe it as thin or thick. Corn was up front, followed by vanilla and peanuts. Subsequent sips allowed for tobacco leaf and dry oak. Then, there was white pepper that morphed into clove. The finish was very long-lasting.
Trophy Whiskey drinks much hotter than 84.6°. In a desire to see what would happen with water, I added two drops from my eyedropper. Proofing it down allowed a hint of fruitiness to come through on the nose and changed the watery mouthfeel to one that was creamy. The heat completely dissipated, the wood and pepper notes mellowed, and there was even a slight briny quality. The finish remained strong.

On the Bottle, Bar or Bust scale, I've taken a few things into consideration. The first was how interesting the palate was. Trophy Whiskey is not proofed to my enjoyment. At 84.6° it is too hot (and I drink and enjoy plenty of barrel proof whiskey). Adding a few drops of water took care of it but brought the unpleasant brine. The second factor is the price: $65 for low-proof sourced distillate is not a good price point. This is way into the upper echelon of "craft" whiskey despite the fact it is a decade old. Because of these issues, Trophy Whiskey is a Bust.
BRAND NOTES
---
Overlooked. Forgotten. Stashed away for private pleasure. Nobody knows for sure. Our find is your treasure. A superb small-batch release, barrel-aged & left alone. Satisfy your thirst for getting lost and finding yourself.
"The whiskey was discovered by our friend in Louisville who has been in the whiskey business for many years."
– MARK STICKER, "THE TRAVELER" - RUSH CREEK DISTILLING
---
Disclaimer: Rush Creek Distilling provided Bourbon & Banter with a sample of their product for this review. We appreciate their willingness to allow us to review their products with no strings attached. Thank you.