Russell's Reserve Single Rickhouse Camp Nelson F Review
Despite an MSRP jump of $50 from last year's already wallet-wounding price point, it's still a helluva bourbon. It's also priced to claim a piece of the secondary market pie.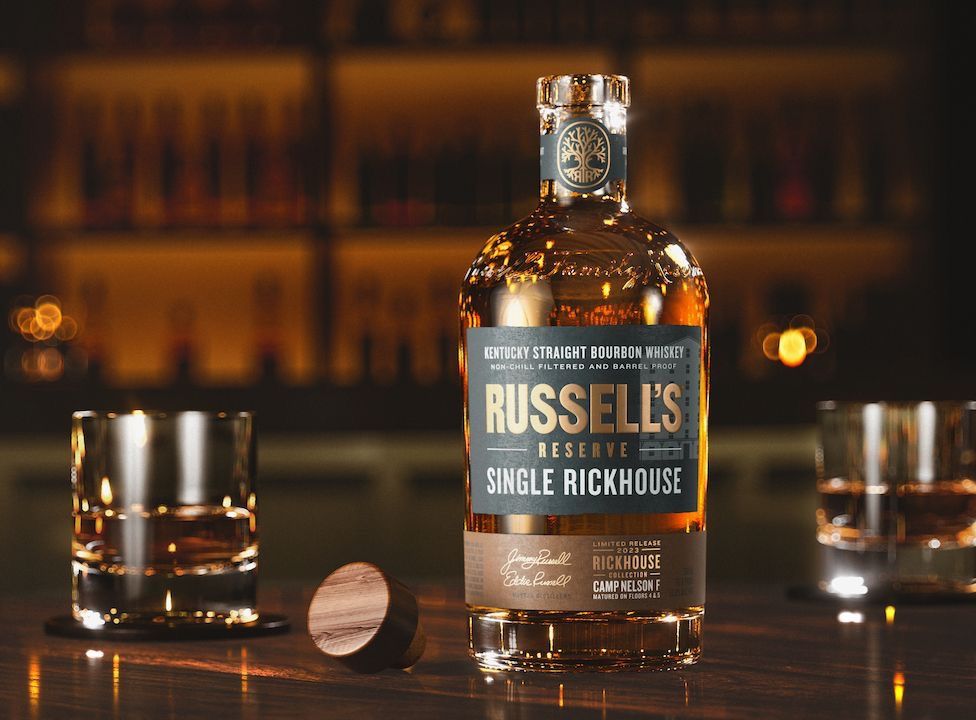 BOTTLE DETAILS
---
DISTILLER: Wild Turkey Distillery
MASH BILL: 75% Corn | 13% Rye | 12% Malted Barley
AGE: 10 Years+ (drawn from floors 4 and 5 of Camp Nelson F)
YEAR: 2023
PROOF: 117.6
MSRP: $300
BUY ONLINE: ReserveBar.com
DREW'S NOTES
---
SHARE WITH: Wild Turkey fans, obviously, and your barrel pick-loving friends who can't stop talking about that one spot in that one rickhouse. At this price, share wisely and on special occasions like weddings or promotions. Or a Friday.
WORTH THE PRICE: Yes and no (don't hate me for that answer). Despite an MSRP jump of $50 from last year's already wallet-wounding price point, it's still a helluva bourbon. It's also priced to claim a piece of the secondary market pie. Russell's Reserve has needed a line to inherit the heavy mantel of the 1998 and 2002, and it appears they've found it with these releases.
BOTTLE, BAR OR BUST: Bar. It's no secret that bourbon continues to premiumize, and the Single Rickhouse line is clearly intended for Wild Turkey's most deep-pocketed devotees (and dentists). That said, an ounce or two is certainly worth what you might spend on an entire bottle of 101. Just make sure to savor the experience.
OVERALL: The Single Rickhouse Collection goes a step beyond single barrel to focus on the "terroir" of a solitary rickhouse and the impact of a barrel's aging location on the whiskey. Wild Turkey forums, David Jenning's Rarebird101 foremost among them, have spent years discussing the nuances and merits of different rickhouses (to the appreciation of many a barrel picker), so it was probably only a matter of time before Wild Turkey capitalized on the concept.
While it may seem a bit of a gimmick, the proof is in the pudding, err bourbon. And comparing this whiskey to the inaugural 2022 release taken from Camp Nelson C, a different rickhouse in the same general location, the results speak for themselves. Eddie Russell said Camp Nelson F was the opposite of the sweet, toffee-filled Camp Nelson C with more spice and oak. And, unsurprisingly, he wasn't wrong.
This bourbon kicks off with a dusty nose of seasoned oak and cream soda, adds cinnamon stick and grated nutmeg, and then mellows considerably as it opens, transforming to a rich, dark fruit and candy bar profile. The palate is silky and well-spiced with an initial chili pepper warmth that simmers across the sip. Early, warm notes of Clove chewing gum and pecan praline give way to a fruit salad of orange slices, cocktail cherry, and caramel apple that build on the midpalate with a lacing of cracked peppercorn. The finish is long and warm with vibrant oak tones, cherry cola, and lingering baking spice. Perhaps not quite as balanced as the inaugural release but a worthy sequel all the same.
BRAND NOTES
---
Aroma: Notes of oak, vanilla and cinnamon transition to aromas of cherry, raisins and dates.
Taste: Robust flavors of clove and white pepper give way to sweet notes of caramel, orange peel and dark fruits.
Finish: A lasting finish with honey and baking spice that gives way to tobacco and mature oak.
---
Disclaimer: Bourbon & Banter received a sample of this product from the brand for review. We appreciate their willingness to allow us to review their products with no strings attached. Thank you.