Russell's Reserve Single Barrel Bourbon Review
At a suggested price of $49.99, Russell's Reserve Single Barrel Bourbon is roughly $25 more than the original Russell's Reserve 10 year bourbon. That's a pretty significant price difference if you compare the two by price only.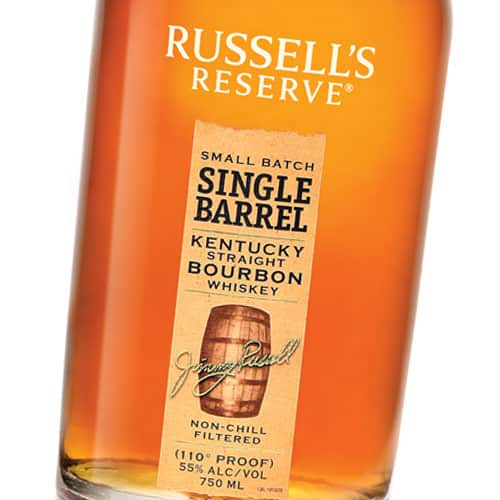 Back in February, I shared with everyone that Wild Turkey was putting out a single barrel release of their Russell's Reserve line. As a fan of the original 10-year-old Russell's Reserve I was pretty excited to hear about this new release. Knowing that Jimmy's "at home" drinking preference is Russell's Reserve, I knew the product would need to be something special for Jimmy to release it to the public. Here's the original press release to bring everybody up to speed.
LAWRENCEBURG, KY (February  20th, 2013) – When it comes to whiskey making in the United States, Jimmy Russell and his son Eddie are America's bourbon aristocracy.  After  an incredible 90 years combined experience  distilling  award-winning whiskey, the  two  are rolling out one of  their richest  and most flavorful  bourbons to date: Russell's Reserve®  Single  Barrel Straight  Kentucky  Bourbon Whiskey. This much anticipated bottling at a take-no-prisoners 110 proof is non-chill filtered, resulting in an unparalleled burst of flavor in every sip. As the  crowning glory  of  America's  famed  Wild Turkey  bourbon family, Russell's Reserve Single Barrel promises to  not  only  be  the  choice for bourbon connoisseurs, but it will also be what Jimmy and Eddie reach for time and time again. As they say in Lawrenceburg, "Our experience guarantees yours."
What makes Russell's Reserve Single Barrel unique is not only its high proof, but the fact that the whiskey bypasses the chill-filtration process. Chill-filtration is a  common  process whereby the whiskey is chilled  at temperatures below freezing and is passed through an absorption filter thus removing fatty acids and other flavor contributors such as esters and proteins.  By avoiding the chill-filtration process, the whiskey is bottled with more flavor compounds and a deeper color which is denoted by an impressive haze when ice or chilled water is added.
Every expression of Russell's Reserve – both the Bourbon and rye Whiskey – is matured in only the deepest number 4 or "alligator" charred American white oak barrels to ensure the richest flavor and color.  Jimmy and Eddie insist on this char level and are among only a handful of whiskey distillers who use it. The best aged whiskey barrels are hand selected by this legendary pair themselves and only from the center cut of the rick house – since that's where the optimal maturation occurs. Adamant about quality, the Russell's will only use the natural, weather-driven process for maturation – never air conditioned or heated "because it's the right thing to do."
"This is Bourbon  at its best,"  declares  Jimmy  Russell, Master Distiller.  "What  is  incredibly special about the Russell's Reserve Single Barrel is that each barrel has its own personality, but still  captures the rich, creamy toffee vanilla style of Russell's Reserve. This bottling celebrates what we love about Russell's Reserve, but takes it to another level." Russell's Reserve Single Barrel delivers a burst of  intense  vanilla  and  hints of burnt orange, along with tastes licorice and anise seed, on the palate, culminating with a rich and long finish. Russell's Reserve Single Barrel (750ml) will be available nationwide at specialist liquor stores priced at $49.99. It will also be available in select bars  and  restaurants  specializing  in  fine whiskies.
Based on the press release here's a few things to note about this release:
The name is redundant and Wild Turkey knows it. As a single barrel release, there's really no reason to include "small batch" on the label. When I asked the brand about it I was told that although it's redundant, a single barrel is inherently the smallest of batches and I shouldn't give it any mind. I know what they mean but I think they should be a little bit more concerned with the possible confusion they may create among less experienced bourbon drinkers. The bourbon industry knows what happens when the labels don't match up with the product and I hope they will remember this and put extra effort into making sure that what they put out is as easy to understand as it is to drink.
This release bypasses the chill-filtration process. I agree that it adds some additional complexity to the flavor profile but be warned that your bourbon may turn a bit cloudy when chilled. The taste won't be affected but we think you should be aware so you don't throw it out thinking there's something wrong with it.
There's no age statement on this bourbon. The original Russell's Reserve has a stated age of 10 years. It's unclear why they decided to skip putting on age on this release but my gut tells me it was done to simply give them more latitude in choosing stocks for future releases. Some will argue that an age statement should have been included at this price point but if you drink enough bourbon you'll know that age doesn't mean quality.
Armed with the details let's dive in and see if Jimmy Russell's got another hit on his hands.
Russell's Reserve Single Barrel Kentucky Straight Bourbon Whiskey
BOTTLE DETAILS
---
Bourbon Name:  Russell's Reserve Single Barrel Bourbon
Proof: 110
Age: 8-9 years (no age statement)
Year: 2013
POP'S NOTES
---
How I Drank It:  Neat, in Glencairn whiskey glass.
My Nose Noticed:*  Vanilla | Baking Spice | Toasted Oak | Hint of Orange
First Sip:  Caramel | Cinnamon & Spice | Oak | Mint (just a hint)
The Burn:**  This one come in smooth and silky, with a sweetness that belies the burst of cinnamon and spice that has come to be a hallmark of Wild Turkey. The spice surges to life in the back of your throat and radiants outs leaving a meandering finish filled with oak and just a suggestion of mint on the tail end. In the end the burn continues to revisit the back of the throat with the warmth that only a good bourbon can deliver.
Neat, Splash or Rocks:  Drinking this one neat was an interesting experience. At 110 proof you would expect a little bit of heat but as I stated earlier, each sip comes in so smooth you forget about the proof until you're hit with a burst of spice. But even then it doesn't feel lik a full 110 proof. Adding water really toned down the cinnamon and spice notes. It also increased the complexity of flavors, adding layers of depth that I can only describe as chewy and meaty. I think I'll continue drinking this one with a bit of water to open things up and make a meal out of it.
Share With:  Russell's Reserve Single Barrel Bourbon is bourbon how it should be done. Bold, but with character and a hint of a sensitive side.  I'd share this one with good friends. Friends that you've invested a lot in and look forward to spending time with on a regular basis. It's quality bourbon that deserves quality friendship and banter. Absolutely a banter-worthy bourbon in my book.
Worth The Price:  At a suggested price of $49.99, Russell's Reserve Single Barrel Bourbon is roughly $25 more than the original Russell's Reserve 10 year bourbon. That's a pretty significant price difference if you compare the two by price only. I decided to sip them side-by-side and I'd choose the single barrel release every time. It has more complexity and depth than the 10-year. Honestly, the 10 year comes across as rather flat in comparison and is full of oak and leather flavor without the sweetness of vanilla and caramel.  I don't think you can really compare them as a result of the significant difference in the flavor profile. I do, however, feel that the Single Barrel is fairly priced for what you get out of the bottle when compared to other bottles in that price range.
Bottle, Bar or Bust:  If you're a fan of Wild Turkey and their signature spice, this is definitely a bottle to add to your home collection. Perfect for a gathering of friends to celebrate the arrival of Spring out on your recently cleaned up patio.
*I like to let my bourbon sit in the glass for at least 5 minutes before I start to smell it or have a drink. I personally find that it's better to let some of the alcohol waft off before diving in. If I'm drinking bourbon on the rocks I skip the waiting and dive in both feet first.
**Some of you refer to this as the "finish" but let's be honest. Don't we all just want to know if it burns good?
---
I would love to hear your thoughts on this release if you've had a chance to try it. Let us know what you think in the comments section.