Short Mountain Distillery Bourbon Review
This is a true craft distillery putting out a unique product in very limited quantities. I'm not sure what Short Mountain is trying to accomplish with their whiskey, though.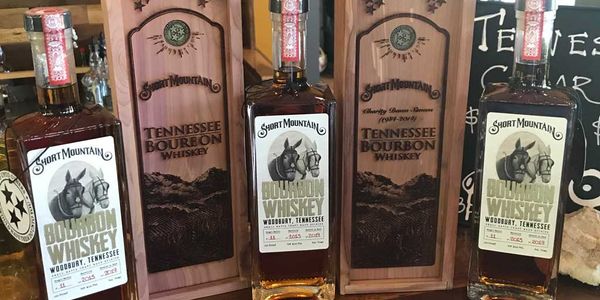 BOTTLE DETAILS
---
DISTILLER: Short Mountain Distillery
MASH BILL: 70% Corn  |  5% Rye  |  10% Victory Malt  |  10% Barley Malt  |  5% Oat Malt
AGE: 5.5 Years – Bottled-In-Bond
YEAR: 2019
PROOF: 100 Proof (50% ABV)
MSRP: $76
MATT'S NOTES
---
NOSE: Wet Grains | Dried Raisins | Orange Peel | Cedar Shavings
TASTE: Malt | Orange Zest | Vanilla | Almond
FINISH: Medium finish that starts sweet and evaporates into the bitterness of oak tannins and lingering heat. With a couple drops of water, the sweetness is prevalent throughout.
SHARE WITH: Anyone interested to try a unique bottled-in-bond offering from a craft distillery. The mash bill and flavor profile are unique and reminiscent of a young EH Taylor four grain. This is not nearly as developed as that Buffalo Trace product, but there is more there than the usual first offering from a craft distiller.
WORTH THE PRICE: While the suggested MSRP of $73-76 is sadly in line with allocated, limited distribution bourbon, there are only 120 six-bottle cases going to market in retail stores in Tennessee and there will be limited product available for sale at the distillery. You're probably not going to find this bourbon, but if you're looking for something new and you happen to have a pre-sale offer from your retail partner, it may be worth a bottle. If this were more widely released, I'd expect a lower price point and would wait for a higher aged version of this product.
BOTTLE, BAR OR BUST: I would rate this as a bar pick, but due to its limited allocation, your only option is a bottle. So let's pretend this has national distribution.
OVERALL: This is a true craft distillery putting out a unique product in very limited quantities. I'm not sure what Short Mountain is trying to accomplish with their whiskey, though. The brand notes describe a classic bourbon but everything from their mash bill to their distillation technique is far from classic. So it is not surprising that the bourbon is far from "classic."
They currently produce five different mash bills: bourbon, wheat whiskey, rye whiskey, organic Tennessee whiskey, and a single malt. I tried the rye from the barrel at 3.5 years and it had a chocolate cherry flavor that was unlike anything else I have tasted previously. Again, it was good, but unique.
My biggest concern with the distillery in reviewing their bourbon is that total production is only three barrels per week on a 250 gallon still. It will be difficult to build a brand with five different mash bills on that production schedule.
The distillery grounds are beautiful. I liked meeting their team. So plug their address into your GPS and take a drive out there if you are inclined. If you are headed to Bonnaroo in June, you are not terribly far off.
BRAND NOTES
---
A small batch, Tennessee Bourbon Whiskey aged 5.5 years in new charred white oak barrels. All products start with water from our limestone cave spring.  We utilize "grain in" fermentation and proprietary distillation techniques to maximize our flavors.
Short Mountain is Tennessee's only golden rule distillery.  Great whiskey made for great people.
Nose - Vanilla, Carmel, Heavy Molasses, Dried Apricot and Orange peel
Palate - Rich & Complex Honey, Mocha & Creme Brule
Finish - Smooth & Balanced with Run Raisins & Chocolate
Conclusion - Full Flavored Smooth Classic Bourbon
---
Disclaimer: Short Mountain provided Bourbon & Banter with a sample of their product for this review. We appreciate their willingness to allow us to review their products with no strings attached. Thank you.