Snowy River Cocktails: Accessorize Your Cocktail
Snowy River Cocktails prides themselves on producing "an award-winning line of all-natural cocktail decorating products." These products range from rimming salts and sugars, beverage colorings and flavors, cocktail glitter, and syrups.


Snowy River Cocktails prides themselves on producing "an award-winning line of all-natural cocktail decorating products." These products range from rimming salts and sugars, beverage colorings and flavors, cocktail glitter, and syrups. Their products are designed "to create eye-catching cocktails and cocktails" for both professional and home bars.
Snowy River Cocktails is definitely created with Instagram in mind, boasting a large array of bright colors and shimmery glitters to adorn the rims of various drinks for special events, weddings, holiday gatherings, gender reveals, whenever those kinds of events happen again. But in the meantime, you can certainly use them in your home bar. All products are gluten-free, certified Kosher, and preservative-free.
I received a sampling of their products, including a few holiday-focused options. I tried a few of the Cocktail Sugar flavors (Pumpkin Pie, Thanksgiving, Copper, and Orange), the Cinnamon Cocktail Salt, a Bloody Mary spice rim, the Copper cocktail glitter, and Maple Bacon flavoring. I tested each individually and in cocktails.
Overall, the winners were the Cinnamon Salt, Pumpkin Pie Sugar, and Cocktail Glitter. The Cinnamon Salt does not taste like salt, but does impart a gentle cinnamon flavor and sweetness. The Pumpkin Pie sugar is the best tasting, with a sweet pumpkin spice flavor that goes great on top of a Flip (recipe below). Finally, I am in general a fan of cocktail glitter; it does not add any flavor but adds a fabulous swirl to a drink. I suggest using it in a spirit forward drink (one in which it is easier to see the shine), to add another visual dimension. I find cocktail glitter very fun, and it doesn't stick to your furniture and find its way onto everything you own.
I absolutely LOVE Bloody Marys, so was very excited about the Bloody Mary Cocktail Salt. I tested it on its designated cocktail, and have mixed feelings. The flavored ingredients in this product are salt, pepper, and sugar. I found the sugar very off-putting, and wish it were just a pepper and salt. My boyfriend did not detect as much of the sugar as I did, but as a frequent Bloody Mary drinker, I would love if this product removed the sugar.
I also have mixed feelings about the Maple Bacon flavor. As a vegetarian, it was not clear if the "natural flavors" in the ingredients included, well, bacon, or if it was just liquid smoke. I confirmed with the company that the flavor is indeed derived from actual pork, which means I did indeed technically have meat in the name of journalism. I tested it in an Old Fashioned, and a little certainly goes a long way, so do be careful. Tasting it out of the vial, it is very artificial tasting, with a strong bacon scent and almost cloying artificial sweet flavor. However, I placed a half a bar spoon (1/2 teaspoon) of the flavor in my Old Fashioned and it did impart a nice smokey flavor. I did not detect much of the maple, but the smoke from the bacon came through and was quite nice. I would suggest this for bacon-die-hards or those who want to try new ways to add smoke to a drink. I did find it odd the Snowy River website suggests to use this with a vodka drink, rather than a whiskey drink.
The Orange and Thanksgiving Sugars are for decoration only, as they are not flavored. The Orange would be a lovely topping for a sour, or as a rim for a Lemon Drop. The Thanksgiving Sugar is not flavored, but more like a Thanksgiving-themed funfetti palette. In general, I prefer not to rim cocktails, as I feel it can get messy (especially lots of chunky salt or sugar), but I do on occasion to achieve a nice visual. The brand suggests to use simple syrup or egg white to bond the sugar and salt rims to a glass because they are rather chunky. So do keep that in mind if you plan to use them in your next cocktail creation.
Overall, if you are looking for a cute way to add some visual pizzaz to a cocktail, this is a great option. They have dozens of products to add color to a drink. I also think the sugars would be fun to add to your baking repertoire, as decoration for holiday cookies, cupcakes, and other baked goods. I will be using the Pumpkin, Cinnamon, and Thanksgiving varieties over the holidays to garnish my Flips, Egg Nog, and Sours. Cheers!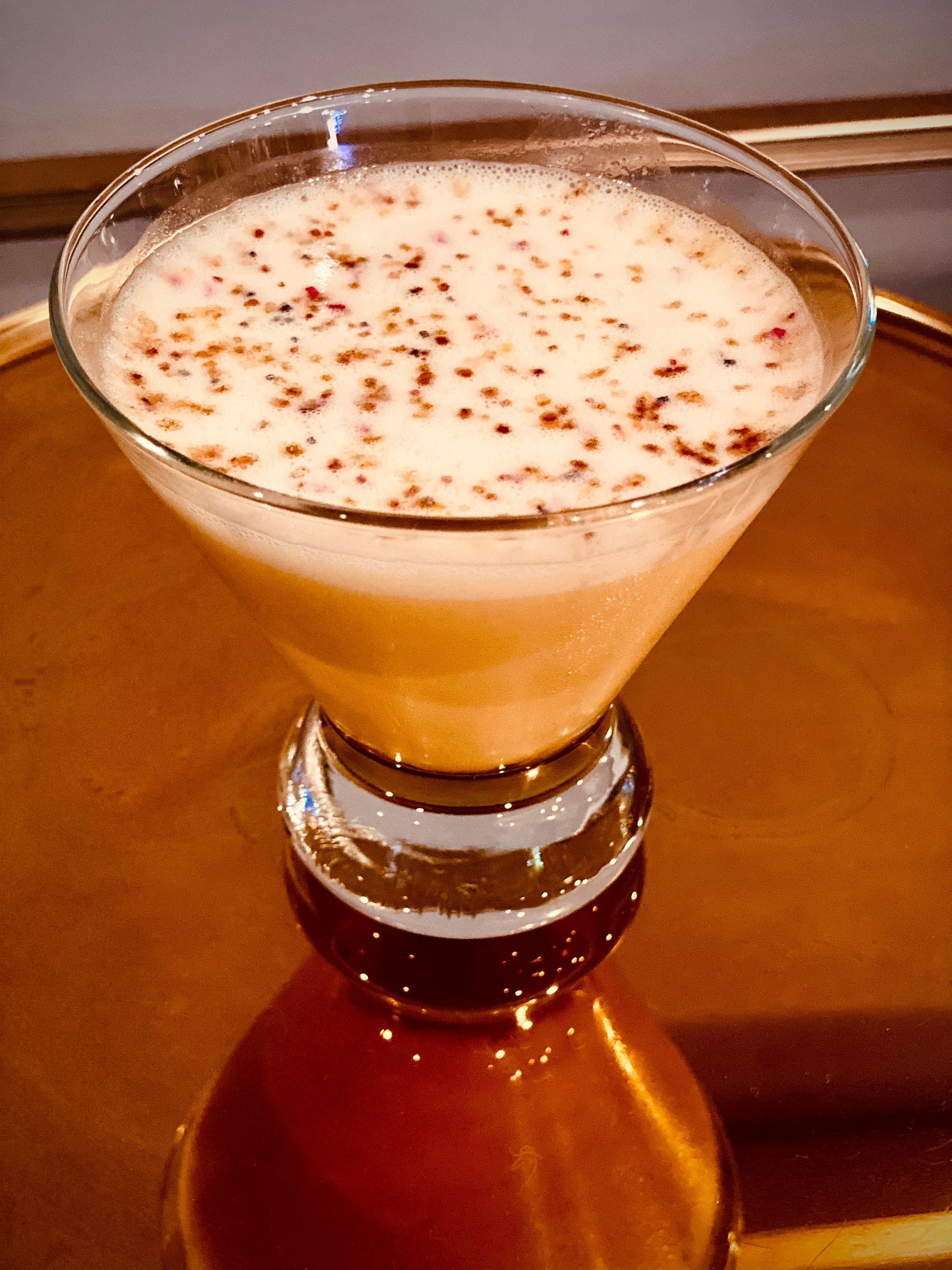 FESTIVUS FLIP
---
INGREDIENTS
1 oz bourbon
1 oz dark rum
½ oz simple syrup
½ oz cream or half + half
1 whole egg
Garnish: fresh nutmeg or Snowy River Pumpkin Pie + Thanksgiving Sugar
DIRECTIONS
Combine bourbon, rum, simple syrup, cream, and egg in shaker with ice. Shake vigorously. Strain out ice and shake vigorously again (dry shake). Strain into a glass. Garnish with fresh nutmeg and cocktail sugars.
---
Disclaimer: Samples were provided by Snowy River Cocktails for this review. I appreciate their willingness to allow Bourbon & Banter to review their product with no strings attached. I also appreciate the wide variety of products they sent! Thank you.