Son of a Peat Batch 02 Whisky Review
I would say that it is. Remember back when blended whiskies were in vogue and more sought after than single malts? Well, neither do I, but I understand that used to be the case.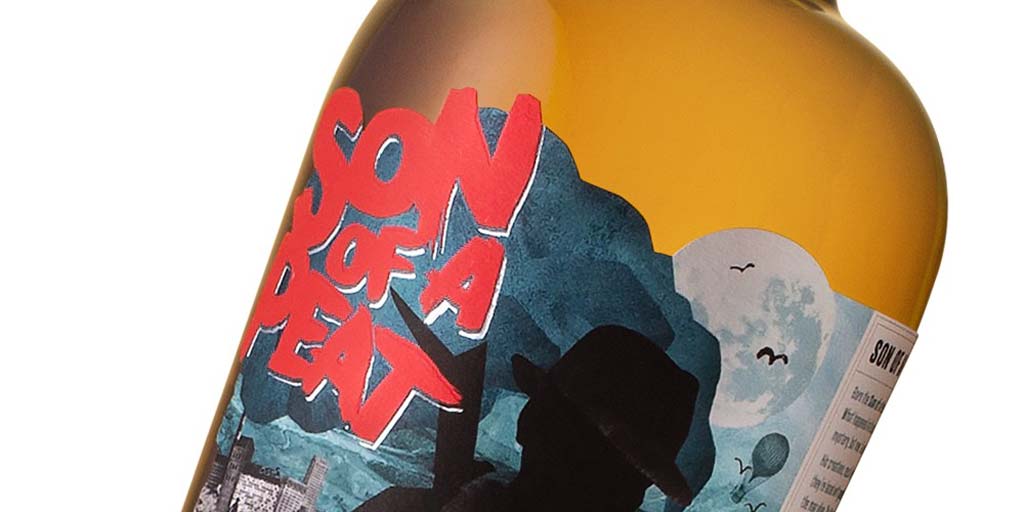 BOTTLE DETAILS
---
DISTILLER: Sourced from several undisclosed distilleries in the Islay, Islands, Speyside and Highlands regions of Scotland - bottled by Flaviar.
MASH BILL: 100% malted barley – This is a 'blended malt whisky' and contains 9 different single malt whiskies
CASK TYPE: The component whiskies were aged in hogshead, sherry butt casks and used bourbon casks
AGE: NAS – but said to contain whiskies up to 20 years old
YEAR: 2019
PROOF: 94.4 Proof / (47.2 ABV)
MSRP: $65.00 / 750ml
BUY ONLINE: To get a chance to secure a bottle (or two) of Son of a Peat Batch 02, register on flaviar.com by March 11, and keep your fingers crossed.
JARROD'S NOTES
---
NOSE: Mild Peat | Red Berries | Sea Salt | Buttered Crackers
TASTE: Warm Salted Peat | Smoke & Ash | Sherry Sweetness | Peaches
FINISH: Little to no burn considering the respectable ABV. Peat, as expected, but a salty sweetness clings to the tongue as a slow rolling fog of ashy smoke moves in. The finish is not excessively long, nor is it fleeting, but lasts plenty long enough for you to savor the experience while still having the time to look forward to the next sip without feeling the need to rush.
SHARE WITH: I would think any scotch fan would be interested in at least tasting this, even if they're not particularly drawn to peated whiskies. The peat is there, make no mistake, and it is right up front, but it's not offensive or overpowering. Remember, it does contain elements of softer, fruitier Speyside and Highland whiskies, which help balance the overall profile.
WORTH THE PRICE: I would say that it is. Remember back when blended whiskies were in vogue and more sought after than single malts? Well, neither do I, but I understand that used to be the case. Blends were more coveted because of their lighter, sweeter, more accessible flavor profiles compared to the rawness of single malt whiskies of the time.  Here we have a hand blended, bottled, sealed and labeled blended-malt that combines the best parts of nine different single malts to come up with an "unapologetically peated, yet warm and welcoming" pour. Adding to its charm, it is non-chill filtered and no artificial color is added.
BOTTLE, BAR OR BUST: Your only option here, really, is a bottle purchase. There are only 2000 bottles available exclusively to Flaviar members (register here) and they will be sold under a lottery system due to the expected high demand. Each 'winner' will be able to purchase up to 2 bottles.
OVERALL: After reading up on this blend and preparing to get underway, I was a little surprised when I popped the cork and wasn't immediately clobbered by peat. It wasn't as heavy on the nose as I was anticipating, but there was no mistaking its presence. Inoffensive, yet warm and round, is how I would describe it.
A hearty, full mouth feel was quickly apparent as it settled on the tongue, which I attribute to the age of at least some of the whiskies in the blend. What I really enjoyed most about this whisky was the balance. Nothing was overpowering, and the peat, salt, smoke and sweetness interplayed perfectly. Yes it is unmistakably peat forward… but in such a nice way. The sherry influence was there as well, but again, not overstated. It was as if it attached to each of the other elements to create a sweet smoke, and a sweetened peat, while at the same time allowing each of those elements to exist on their own.
I can honestly say that this was an extremely enjoyable whisky. If anyone has been following along on my previous reviews, I've said many times that I don't consider myself to be a huge peat fan, although I do enjoy certain peated whiskies. This is a bottle I would buy. That being said, if you just don't like peated whiskies at all then guess what… you probably wouldn't care for this one either. But if you like peat, even just a little, this could be your jam.
While this post isn't intended to be an advertisement for Flaviar.com, I would be remiss if I didn't at least mention them. For those that don't already know, they are a mail order, spirits subscription club that currently has around 15,000 different spirits in their database. For $20 per month, you gain access to membership benefits, as well as complimentary samples. Many different themed packages are available to choose from including whisk(e)y, bourbon, gin, cognac, rum and other spirits. As you head over to the website to register and enter the lottery for your chance to purchase your Son Of A Peat bottles, be sure to spend a little time exploring the site and the different subscription packages available. They have a bunch of them and each one will definitely aid in your mission to always #drinkcurious. Good luck in the lottery, and if you are lucky enough to score a bottle, we'd love to hear what you think of it. Cheers!
BRAND NOTES
---
BATCH 02 is a worthy successor to the original Son of a Peat. Slightly improved original DNA expands and evolves the taste to new heights. The essence of Islay, Islands, Highland, and the Speyside trickled down the cooling pipes to be reborn as a complex peated maelstrom. Another commanding Whisky that sparks the love for peat in the kilns of our hearts.
Treated by hand and bottled at the peak of its power. We made damn sure the Whisky got the care it deserves. 47.2% ABV strong, no added color and non-chill filtered.
No smoke and mirrors, only a smoking barrel and hard truth, invoked by the Son of a Peat's dark & intense, yet remarkably warm and welcoming flavor. A real shot caller.
Flavor profile?
The list of suspects? Quite clear. Peat and smoke with notions of seaweed that take you back to the Scottish shores. Quickly now the sweetness of sherry and honeysuckle step forward and clear the smoke, but just for a bit, till the journey continues towards more earthy, oaky and woody flavor nuances. The finish is buttery and long-lasting.
---
Disclaimer:Flaviar provided Bourbon & Banter with a sample of their product for this review. We appreciate their willingness to allow us to review their products with no strings attached. Thank you.