Few Spirits Rye Whiskey Review
This is a really fresh and grassy rye that leads into a peppery, ginger burn that lingers on the lips. Flavors of plum and vanilla come out with the burn. There are hints of sweetness but it only tempers the spice and never overcomes it.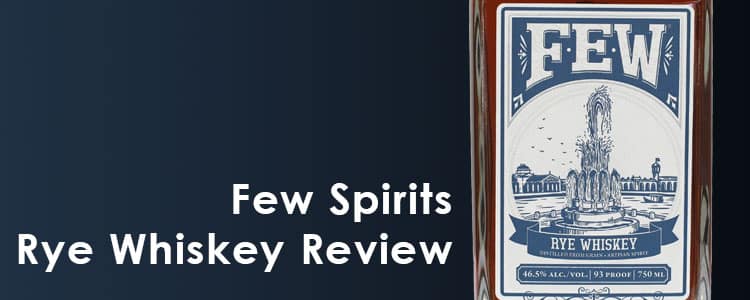 Disclaimer: Few Spirits provided Bourbon & Banter with samples of their products for this review. we appreciate their willingness to allow us to review their products with no strings attached. Thank you.
Editor's Note: This Few Spirits Rye whiskey review is the 2nd review based on a series of samples provided by Few Spirits to Ginny Tonic and Patrick 'Pops' Garrett. Make sure to check out Ginny's first review – Few Spirits Bourbon – and then come back to read this one in its entirety. The introductory text below is a repeat from the bourbon review so go ahead and skip to the actual tasting notes if you've read it already.
At this point in the craft distilling boom, I think it is understandable that those of us who are bourbon aficionados may have become a little cynical. I can speak from experience of how heartbreaking it can be when the cute little distillery with the beautiful bottle that you just paid $50 for turns out to be putting out a less than impressive product or is found to be hiding the source of their whiskey behind a veil of slick marketing and creative back story.
So it was with excitement, but also a bit of hesitation, that I opened my box of samples from Few Spirits in Evanston, IL. The samples included three different gins, a bourbon and a rye whiskey.
My first thought on seeing the whiskeys was to wonder where Few Spirits was sourcing them from. When I read the informational materials and learned that Few Spirits ferments, distills, and bottles all of its products from scratch in their distillery, I had to reevaluate my expectations.
Charlie and I tried the three gins included in the sampler, Few American Gin, Barrel Gin and Few Standard-Issue Gin which results in me writing a very positive review of them for Queen City Drinks. But frankly a good gin, while refreshing and absolutely necessary for martinis and tonics, does not mean that a good whiskey will follow.
Few Spirits began in 2011 in Evanston, Illinois. It is a city that, thanks to its strong ties to the temperance movement, remained completely dry until 1972. Founder, Paul Hletko, is a former record label executive who was inspired by his grandfather who owned a brewery in the Czech Republic before World War II. The whiskeys and gins at Few Spirits all originate in a Vendome still, but the whiskeys are then finished in a 1,500 liter hybrid still while a smaller 150-liter pot still is used exclusively to distill the gins with their botanicals. There is no age statement or information about how the whiskey is aged but if they really are producing it grain to bottle it can't be any older than three years.

I love their story and their production method seems to be solid but here is my formal review of the goods.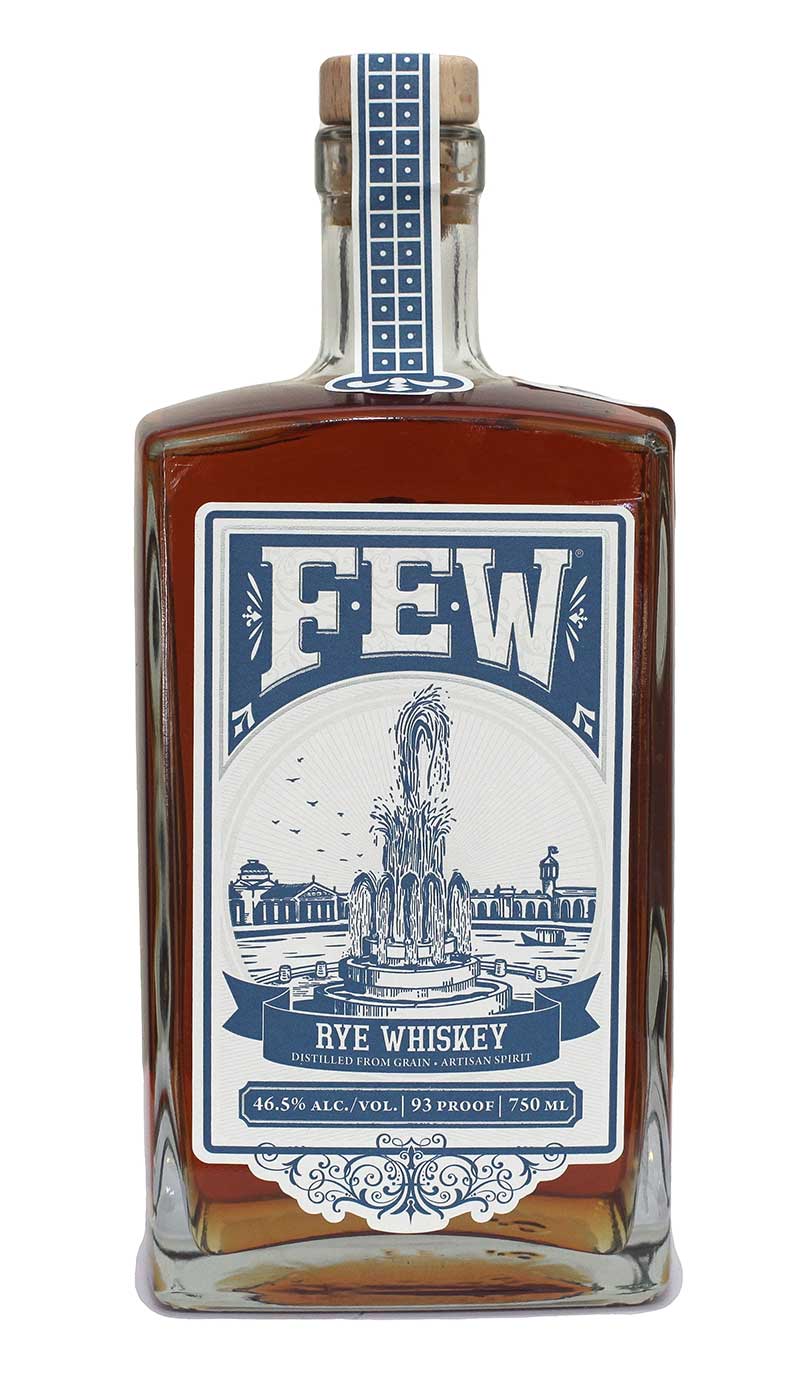 Few Rye Whiskey
Bourbon Name:  Few Rye Whiskey
Proof: 93
Age: Less than 4 years
Year: 2014
How I Drank It:  Neat, in Glencairn whiskey glass.
My Nose Noticed:* Grain | Honey | Banana (Crisp Rye | Honey | Bananas | Green Apple)
First Sip: Grass | Pepper | Vanilla (Ginger | Green Apple | Pepper | Cola)
The Burn:** This is a really fresh and grassy rye that leads into a peppery, ginger burn that lingers on the lips. Flavors of plum and vanilla come out with the burn. There are hints of sweetness but it only tempers the spice and never overcomes it. Few uses a wine yeast for fermentation so that is perhaps where some of the fruit flavors come from. The flavor that lasts in the mouth once the burn has subsided is not quite to my liking which is odd because I really like the flavor initially. I did really like the texture and the butteriness of this whiskey. It felt rather decadent on my tongue.
(Tasty. I like the ginger and green apple combination upon hitting my tongue and appreciate the rye spice that rounds it out. However, I think the rye spice pops too quickly and cuts the sweet flavors out a bit too soon. That being said, the resulting lingering flavors are pretty unique. A cola flavor floats around my mouth with just a flash of cherry or similar fruit. All that was missing was a good burn to round this one out.)
Neat, Splash or Rocks: I think this one did benefit from a splash to ease up the spice level. Actually I suspect that this would be even better in a Manhattan than anything else.
Share With: I think that a rye lover will find plenty to enjoy about this whiskey. Frankly now that I have finished the sample I am feeling a little sad so maybe you should share it with me.
(I love rye whiskey and I'm enjoying all the different brands of rye that are filling shelves across the country. I would easily put this one on the table to share with other rye whiskey lovers and to use in a tasting flight to experience how flavors differ from brand to brand.)
Worth The Price: Suggested Retail Price is $64.99. This is rather steep for such a young whiskey, the same price that Whistle Pig charges for a 10 year, 100% rye. Of course Whistle Pig is sourcing and Few is not. Judged by the standard of other craft whiskeys it isn't outrageous.
(I stand by my comments from the Few Spirits Bourbon Review. The price may be high, but you're paying for something to be different, local and not source from another distillery. If you don't feel it's fair, there's plenty of other whiskeys to spend your cash on.)
Bottle, Bar or Bust: If you have the chance to buy a bottle I would go for it. As with the bourbon, this isn't widely available yet so if nothing else you have something interesting to bring to your next bottle share.