Stagg Jr. Bourbon Review
Two weeks ago Buffalo Trace formally announced the release of Stagg Jr. – an extension of their legendary George T. Stagg bourbon. As a huge George T. Stagg ("GTS") fan I was both surprised and excited to hear about the pending release.

Two weeks ago Buffalo Trace formally announced the release of Stagg Jr. – an extension of their legendary George T. Stagg bourbon. As a huge George T. Stagg ("GTS") fan I was both surprised and excited to hear about the pending release. It's not everyday that a legendary bourbon that's traditionally released once a year launches a line extension that should be more readily available. Even with all of my excitement I have to be honest that I head into my tasting with some concerns as well. More about those after we take a quick review of the original Stagg Jr. press release.
FRANKFORT, Franklin County, Ky (July 25, 2013) At long last, Buffalo Trace Distillery releases Stagg Jr. Bourbon, an uncut and unfiltered bourbon whiskey with a renowned
family name.
The first batch of Stagg Jr. is comprised of barrels aged for eight and nine years. The proof weighs in at a whopping 134.4 proof (67.2% ABV). Future releases will undoubtedly be different proofs, as each batch is unique and no water is added. Just like George T. Stagg Bourbon, this new whiskey is not filtered and offers all the rich and complex flavors of bourbon right from the barrel. Bottles of Stagg Jr. will be limited, but several batches each year are planned. This new Stagg Jr. offering will not affect the stock of barrels already set aside for future George T. Stagg releases.
Master Distiller Harlen Wheatley describes that taste as, "rich, sweet, chocolate and brown sugar flavors mingled in perfect balance with a bold, rye spiciness. The boundless finish lingers with hints of cherries, cloves and smokiness."

"We've been aging these barrels for years in anticipation of this Stagg Jr. offering," said Kris Comstock, bourbon marketing director. "George T. Stagg has won countless awards, but we're delighted to introduce Stagg Jr., which should be a bit more accessible." George T. Stagg is one of the legendary craftsmen of Buffalo Trace Distillery, and is responsible for building the most dominant American distillery of the 19th century on the banks of the Kentucky River, now known as Buffalo Trace Distillery. In 2002, Buffalo Trace introduced George T. Stagg Bourbon Whiskey, an uncut, unfiltered bourbon that has won numerous awards including World's Best North American Whiskey, Number One Spirit in the World, and World Whiskey of the Year. Now the Distillery is offering a line extension through Stagg Jr. that still maintains the integrity of the brand – a big, bold whiskey bottled at barrel proof but at a more affordable price. Stagg Jr. will be available starting in August. Suggested retail price is $49.99 for a 750ml bottle.
If you're unfamiliar with George T. Stagg here are few key facts to remember when comparing it with Stagg Jr..
---
George T. Stagg
*Proof: 142.6
Age: 17 year
Availability: Released once a year as part of the Buffalo Trace Antique Collection & hard to get a bottle
Price: $70.80
---
Stagg Jr.
*Proof: 134.4
Age: 8-9 year
Availability: Limited but with multiple batches per year & therefore a little easier to get a bottle
Price: $49.99
*Since both are barrel strength offerings proof will vary from year to year.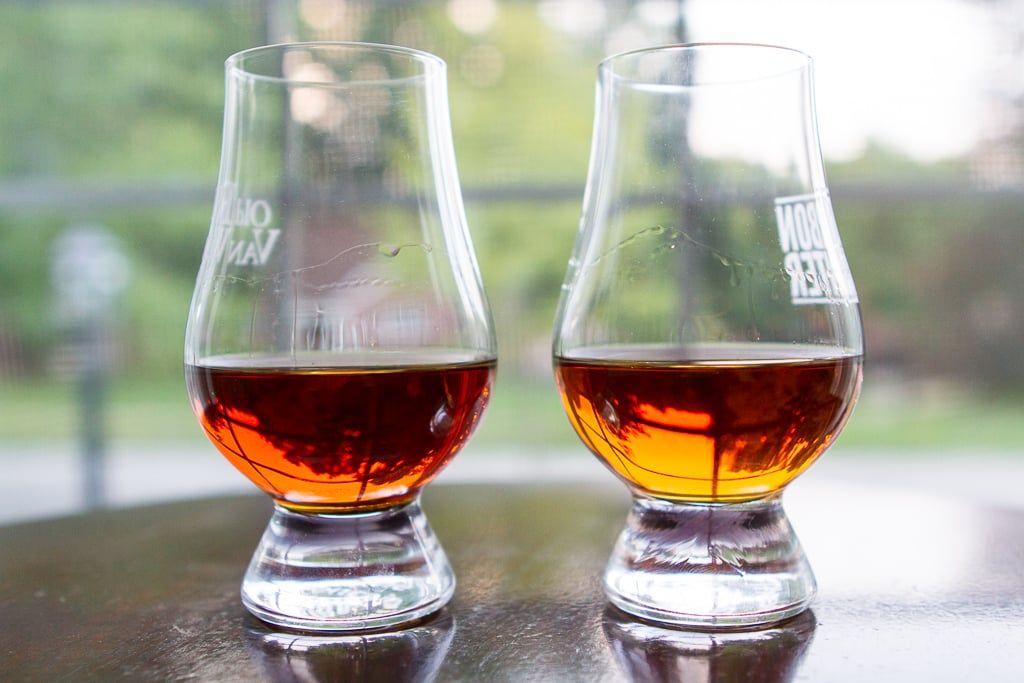 Back to my concerns for a minute. Here they are based on the press release and what I've been hearing from others that linger in the bourbon shadows.
This one comes from the bourbon conspiracy theorists: Buffalo Trace recently announced they were discontinuing Old Charter 10 year old which shares the same mashbill as the Stagg line. Poor demand was quoted as the reason. Anyone know with certainty if they decided to adjust and redirect barrels previously destined for Old Charter 10 to be used for Stagg Jr.? It would be a genius move if it was true. Definitely a lot more money to be made by selling it with the Stagg name attached.
Stagg Jr. is expected to be released multiple times each year but in limited amounts. I learned that Missouri's allocation already got delayed due to registration issues. I'm worried about just how "available" and how often it's going to be available within different states and regions. Definitely come back and let us know if you start seeing it in your neck of the woods.
How is Stagg Jr.'s release going to affect prices of George T. Stagg and the rest of the Antique Collection? Will Stagg Jr. get even more people in line for George T. Staff making it even harder to get?
Is Stagg Jr. positioned for failure? GTS is a truly impressive bourbon in my book. It's intense, packed with layers of flavor and a pure joy to sip. I don't know if releasing a younger version is a fair thing to do to the brand. I know it will sell product but it's going to be really challenging for Stagg Jr. to live up to GTS lovers expectations. A few folks have already challenged me on whether it's fair to compare them directly. Not only do I think it's fair, I also think it's what every experienced bourbon drinker is going to do as well. You can't leverage the Stagg name and expect anything else.
I'll probably never get a straight answer on the first point above but time should answer the rest. Let's go ahead and dive into my Stagg Jr. bourbon review and see if it lives up to the family name.
Sorry, one more thing to note. In doing my review I sampled Stagg Jr. alongside a glass of George T. Stagg from my personal collection in order to provide an honest comparison. I'll do my best to finish the review before I lose my ability to type and see clearly.
Stagg Jr. Kentucky Straight Bourbon Whiskey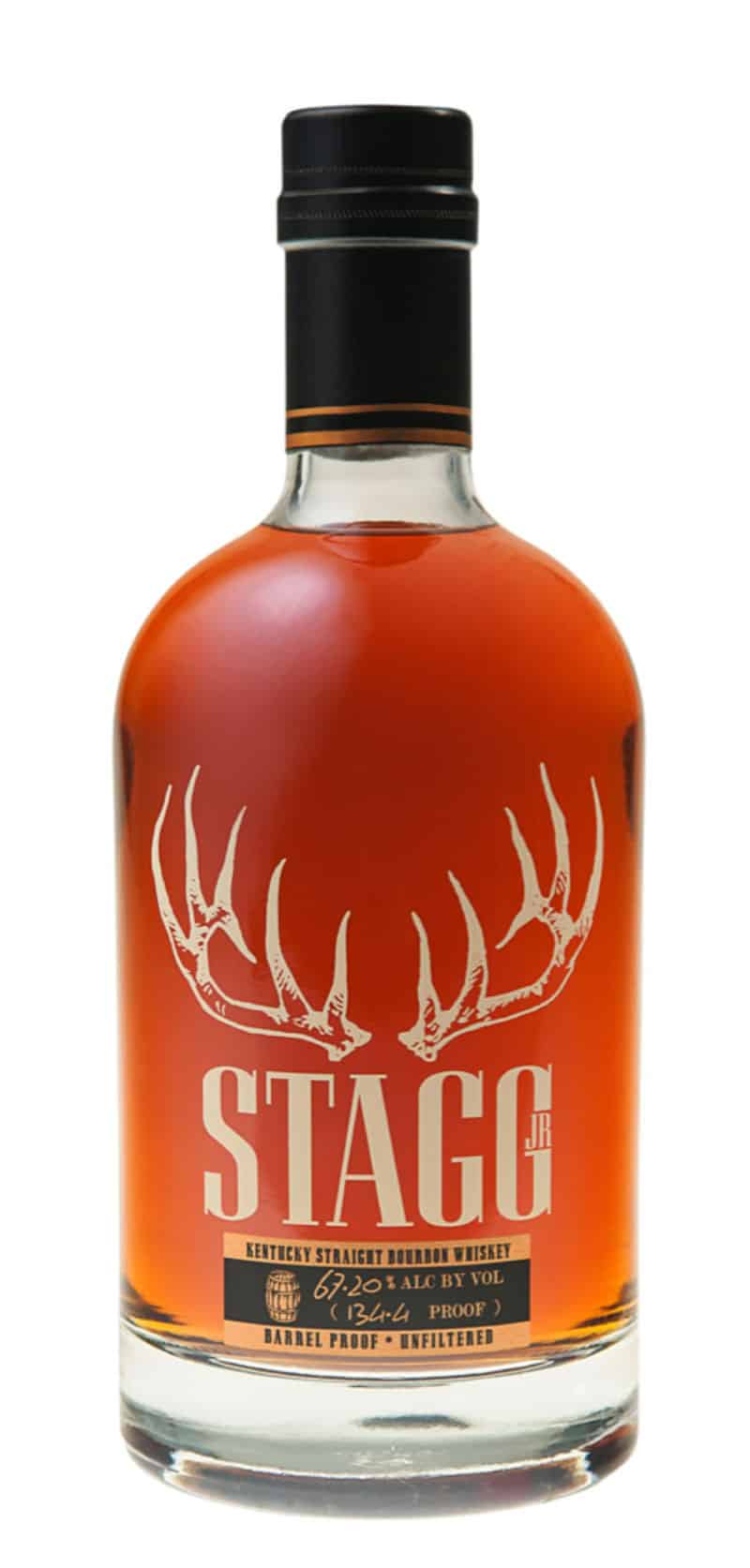 BOTTLE DETAILS
---
Bourbon Name:  Stagg Jr.
Proof: 134.4
Age: 8-9 years
Year: 2013
POP'S NOTES
---
How I Drank It:  Neat, in Glencairn whiskey glass.
My Nose Noticed:*  Honey | Vanilla | Subtle Cherry | Oak
While enjoyable, nose is much more subtle than George T. Stagg. GTS' nose for the win!
First Sip:  Oak | Alcohol | Cherry Sweetness
OMG, just followed with a sip of GTS and we're talking different planets, maybe even galaxies. Wait, what's larger than a galaxy?
The Burn:**  This one is a brute without apology. I drank it neat so I expected some heat but there was precious little flavor other than oak to balance things out. In fact, each subsequent sip tasted of only of oak and spice. There's simply no balance of flavors. While there was a solid burn that came back for a visit, it was very acute and uninspiring. Adding a bit of water chopped down the alcohol burn and brought out some of the softer flavor notes like honey but it also imparted a bit of a medicinal flavor that I couldn't identify.
Neat, Splash or Rocks:  When I drink GTS I always drink it neat. I think you get the best out of it without adding water or ice. But hey, that's my preference. Unfortunately I can't recommend the same for Stagg Jr.. Adding water tames the beast quite well but all hints of flavor get exiled from the glass. Resulting profile is heavy on oak, alcohol and something medicinal – which is still stumping my tastebuds.
Share With:  As feared, Stagg Jr. failed to live up to my expectations. As such, I definitely wouldn't suggest offering it to your boss or anyone else your trying to impress. Leave that responsibility to GTS. Not only with GTS get the job done but it will probably deliver a pay raise and invitations to Xmas parties for the rest of your life. I'm not entirely writing off Stagg Jr. but based on it's pedigree it should be much, much better. In other words, share it with someone who's buying if you must.
Worth The Price:  At a suggested price of $49.99, Stagg Jr. is in line with retail prices for Heaven Hill's recent release of Elijah Craig 12-Year Barrel Strength bourbon. That being said, I strongly recommend picking of the EC Barrel Strength over the Stagg Jr.. I know everybody's tastes are different but if you've ever had the legendary GTS you'll thank me for saving you a few dollars – which you can feel free to spend on some wonderful Bourbon & Banter bourbon-themed items.
Bottle, Bar or Bust:  As always don't take my word as gospel. You need to experience it for yourself before making a final call on whether your like it or not. I suggest trying a glass when it becomes available at your favorite bourbon bar. There's also a chance you'll be able to pick up a few bottles on the secondary market once people realize their pre-order of a case wasn't the best investment.
*I like to let my bourbon sit in the glass for at least 5 minutes before I start to smell it or have a drink. I personally find that it's better to let some of the alcohol waft off before diving in. If I'm drinking bourbon on the rocks I skip the waiting and dive in both feet first.
**Some of you refer to this as the "finish" but let's be honest. Don't we all just want to know if it burns good?
---
I had really high expectations of Stagg Jr. due to my love of GTS. A little unfair? I don't believe so but others will undoubtedly disagree. The truth is that despite my expectations, Stagg Jr. doesn't pack anything really unique beyond its' high proof.
For the money, EC 12-Year Barrel Strength is by far the best barrel strength you can get right now. I recommend saving up your money and try to secure a few bottles of GTS when Buffalo Trace's Antique Collection gets released.
Would love to hear your thoughts on this release when you've had a chance to try it. Let us know what you think in the comments section below.