A Quick Getaway in North Texas with a Bonus for the Whiskey-Lover!
If you don't consider whiskey options when planning a vacation or getaway, you might want to start!
Even as a whiskey-lover, I rarely consider the bar at my hotel when choosing a vacation, which might be to my detriment. I recently had an opportunity to stay at the Tanglewood Resort, north of Dallas in Pottsboro, TX and found that a strong selection at a well-priced whiskey bar with a friendly staff really added to the enjoyment I had during my two-night stay.
If I were to sum up the entire stay in 6 words, they would be "Simple, resort-style experience, done right." This is not an exclusive, high-end resort with a steakhouse or anything like that. However, I found it to be a tremendous value for what it was, and I think you'll find you get more than what you pay for. The resort itself sits on Lake Texoma, which had boats you could rent for the day or charters that could be hired for sunset cruises. It is also under relatively new management, and I heard from several regulars how much had changed for the better in the past year or so and how many more positive changes were planned. My wife and I tried to take advantage of everything they offered in the three days we were there. The resort has indoor and three outdoor pools, all adjacent to a grill and bar with small menus for food and drinks while you lounge. The golf course was just the right amount of fun and challenging, and considering I went in the middle of a drought here in Texas after a string of 100+ degree days, I was surprised at how green the place was!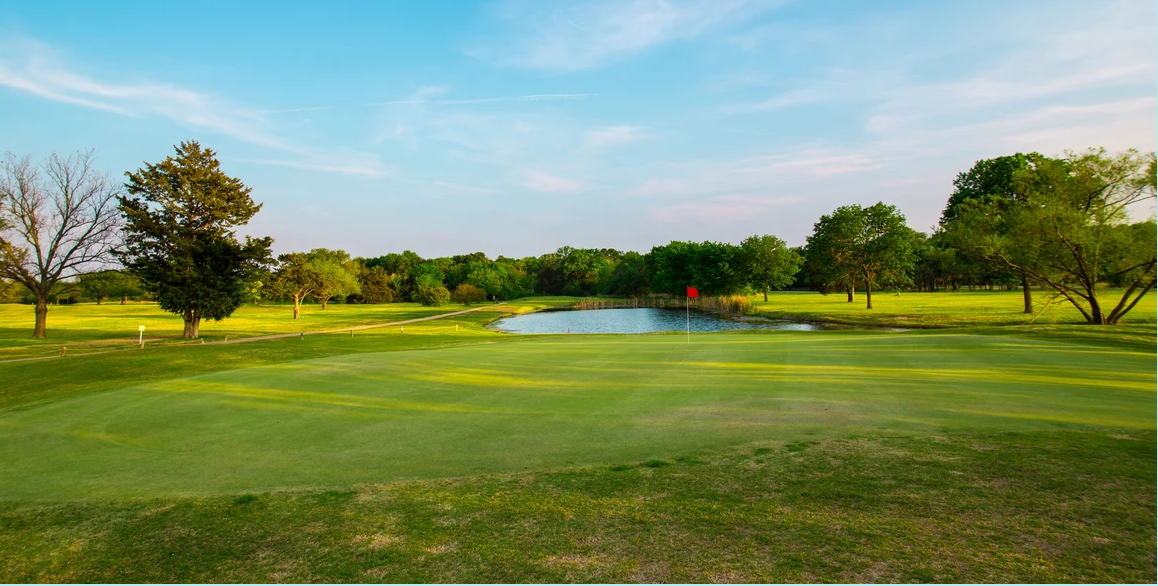 While I was on the links, my wife spent a morning at the spa, where she said the services were well-executed and inexpensive and that the staff was incredibly kind and helpful. That echoes something we found throughout the resort: the staff could not have been more responsive everywhere we went. I would imagine that the Choctaw Casino and Resort, which is just 20 minutes away, can get the most experienced service-oriented staff in the area, but the management and staff throughout the resort were top-notch, and we didn't have a single interaction that I had a negative thing to say about.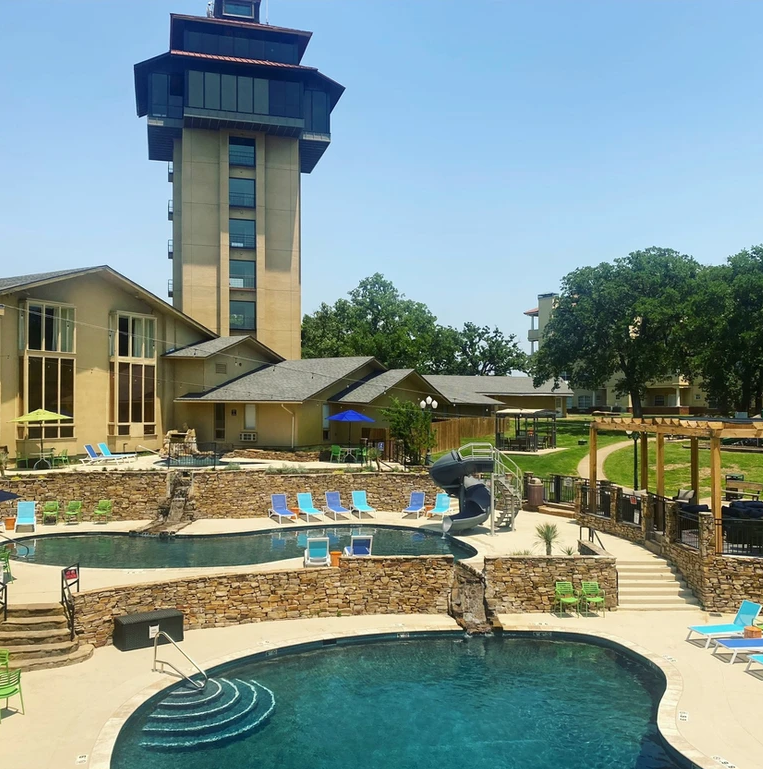 The tower on the grounds immediately catches your attention when you pull up the drive. It was designed by O'Neil Ford, who also designed the Tower of the Americas in San Antonio and is the only human to be designated a National Historic Landmark [There. Now you've had your culture so you can enjoy what's inside]. Floors 2-6 of the tower are suites for guests with increasingly lovely views of the lake while you ascend, while floor 7 is a whiskey bar with live music, and the floor above that, reachable by a spiral staircase, is a cigar bar.
The whiskey bar was obviously a must-visit for me, and it fit right into what the rest of the resort had me expecting. The staff was attentive, the music was fun, the view was stunning (I recommend getting up there for sunset), and everything was more than fairly priced. While I don't think a reader of this blog would be floored by anything specific they had on offer, there was still something for everyone, and you could sip throughout the night without feeling like you'd been robbed when the tab came. Several of my favorite bourbons and scotches were on the menu and had lower prices than I'm used to seeing for them.
This is technically a review of a specific resort, but the bigger message I came away with was how much of an added value it was to have a destination whiskey bar that was affordably priced on the grounds of our resort. When I have options for traveling in the future, this will certainly be something I use as a deciding factor when deciding about lodging. My wife and I went out during one of the days we were there but found ourselves wanting to get back before it was too late to enjoy this amenity further and not have to worry about driving back to our hotel after a night at another establishment.
While Tanglewood provided this whiskey-lover a great local vacation with a surprising bonus, I think that virtually anyone who heads to Pottsboro with the right expectations would have a great time, because there's something for almost anyone. Families, couples, lake lovers, golfing buddies or girls' trips, will find helpful people and a relaxing experience with a bourbon-centric hideaway with a view where you can drink curious.
I'm really curious what other whiskey-centric stays the community knows about. In the comments below, drop some of your favorites and where they can be found. This is not a list of "places in Louisville near distilleries" but hotels or resorts that cater specifically to our shared love of bourbon and spirits. I'll bookmark this page and return regularly to check out your suggestions!
---
Disclaimer: The Tanglewood Resort provided Bourbon & Banter with a two-night stay at their resort. We appreciate their willingness to allow us to review their resort and amenities with no strings attached. Thank you.