Thanksgiving Bourbon Hunt
Just about every year on Thanksgiving after the family gatherings had all but died down, the football is about over, and the kids are fast asleep, I load up in a pick-up truck with my bourbon hunting brother to camp out in front of Midtown Corkdorks in Nashville.

Just about every year on Thanksgiving after the family gatherings had all but died down, the football is about over, and the kids are fast asleep, I load up in a pick-up truck with my bourbon hunting brother to camp out in front of Midtown Corkdorks in Nashville for a shot at an allocated bottle of whiskey. I'm one of those guys. Crazy enough to brave the elements to pick up something that is worth way less than the time and energy spent acquiring it. Before I had developed relationships in the retail world, this was one of my best shots at getting a top shelf bottle. My first bottle of Eagle Rare 17 came from showing up in time to be #4 in the queue. I managed a bottle of NAS Black Maple Hill several years ago for a cool $40. If only I had known people would pay $400 today for it, I wouldn't have drunk half that bottle over the past several years.
But as most of us have experienced in recent memory anything good in the whiskey world has been overrun with enthusiasts. Case in point is the bottle of 25-year Willett rye I was fortunate enough to purchase in the summer of 2015 in the Willett gift shop. I walked in about 10:00 am and found a bottle at $325 in the gift shop glass case. I had to debate with my colleagues on whether or not to buy that bottle at that price. Today, we would likely buy out our limit if fortunate enough to find that bottle for sale at that price. Just this week Drew Kulsveen put up a 26-year white wax top Willett bourbon for $750+ tax at the gift shop. I'm sure they sold out before their morning commute Starbucks lattes got cold. And those bottles were up online at 3x the retail ask within hours if not minutes. So in that context, camping out for the opportunity to purchase whiskey doesn't seem all that crazy.
The world went and got itself in a big damn hurry.
-Brooks Hatlen, The Shawshank Redemption
It's only that the scarcity and demand have created frustration and anger that can distort the enjoyment of pursuit and consumption. I was reminded of that frustration and anger at the 2016 Thanksgiving campout. My compadre and I showed up about the same time we had arrived in previous years, only this time we were in the high teens in the line rather than top five. As we got to know the other whiskey fanatics in the line, we learned that several groups had traveled several hours to camp out. We drove about five minutes after all the Thanksgiving festivities had commenced, but these folks had left their homes halfway into the Thanksgiving holiday to drive for hours to set up camp in front of a liquor store. The guy who was first in line? He showed up at 9 am on Thanksgiving morning to buy a Pappy 23 year at retail.
The temperature wasn't frigid this year, and there was only a slight rain overnight. My sleeping bag and camp chair set-up slept pretty well. The bourbon hunting professionals had satellite TVs, propane heaters, and tailgating tents that could shelter a small army. We ordered pizzas and take out around midnight and followed that up with Krispy Kreme doughnuts and coffee at dawn. The gates were scheduled to open at 8 am, and we were more than ready to storm the castle at open. All night long, the camaraderie of bourbonphiles shared samples, debated favorites, and discussed their draft boards. Midtown publishes an email list of offerings about 24-48 hours before Thanksgiving, but there are no definitive quantities, the lineup often includes hold-backs from previous years' releases, and is subject to change.
THIS YEAR'S ALLOCATION INCLUDES:
---
Van Winkle Offerings:
Van Winkle 10-year
Van Winkle 12-year
Pappy Van Winkle 15-year
Pappy Van Winkle 20-year
Pappy Van Winkle 23-year
Antique Collection Offerings:
Eagle Rare 17-year Bourbon
Thomas Handy Rye
George T. Stagg Bourbon
William Larue Weller Bourbon
Miscellaneous Offerings
Abraham Bowman Limited Edition
Angel's Envy Cask Strength
Angel's Envy Rye
Black Maple Hill (Original Bottling)
Booker's 25th Anniversary
Buffalo Trace Experimental 15 Minute Infared
H. Taylor Rye
H. Taylor Small Batch
H. Taylor Single Barrel
Elijah Craig Barrel Strength
Elijah Craig 18-year
Elmer T. Lee Single Barrel
Four Roses Single Barrel Limited Edition 2016
Four Roses Distiller's Select Single Barrel 2016
George Dickel 17-year
High West Midwinter Night's Dram
Hirsch Selection 25-year
W. Harper 15-year Bourbon
Jefferson's Old Rum Cask Finish Bourbon
Jefferson's Chef Collaboration
Jefferson's 25-year
Knob Creek Limited Edition 2001
Michter's Barrel Strength Rye
Michter's 10-year Single Barrel
Old Forester Birthday Bourbon
Miscellaneous Offerings – cont'd
Orphan Barrel Rhetoric
Orphan Barrel Barterhouse
Orphan Barrel Old Blowhard
Parker's Heritage 24-year
Pikesville Straight Rye
Prichard's Double Barrel
Rock Hill Farms Bourbon
Stagg Jr.
Weller Antique 107-proof
Weller 12-year
Wild Turkey Diamond
Wild Turkey Forgiven
Willett Rare Release 2-year Rye
Willett Rare Release 3-year Rye
Willett XCF #1
Whistlepig Vermont Estate Oak 15-year
Woodford Reserve Master's Collection 1838 Style White Corn
Woodford Reserve Master's Collection Classic Malt
Woodford Reserve Master's Collection Straight Malt
Scotch Offerings:
Ardbeg Ardbog
Ardbeg Auriverdes
Ardbeg "Perpetuum"
The Balvenie Tun 1509
Irish Whisky Offerings:
Jameson Limited Reserve 18-year
Japanese Whisky Offerings:
Hakushu 12-year
Hibiki Harmony
Hibiki 12-year
Yamazaki 12-year
Yamazaki 18-year
Note: Some of these items are extremely limited. In some cases only one or two bottles are available. This list is for reference purposes only, and may be altered at the management's discretion at any time up to and/or throughout the sale.
---
We knew the guy who showed up at 9 am would pick the Pappy 23 and with good reason. Showing up that early and hanging out in a parking lot for 24 hours would make any decision difficult. Fortunately for him, all he had to remember was where he put his credit card and how to sign his name. The rest of us were peeking over the counter as the line wrapped around the store hoping to get a glimpse of the bottles available and update the draft list as the patrons in front of us walked out with bottles in brown paper bags.
"There goes the Pappy 15. There's no Van Winkle Rye this year. There goes the William Larue Weller. There goes a George T. Stagg. Was that the only Stagg this year? Crazy! Last year there were four!" Any bourbon aficionado takes the best player available when it is time to pick, but there were some surprises. One of the foreigners (to Tennessee) had skipped Thanksgiving dinner at home and driven halfway across the south to get in line for an Eagle Rare 17. It was on the email list. It should've been available at his draft spot. But it wasn't there. And the grumbling started.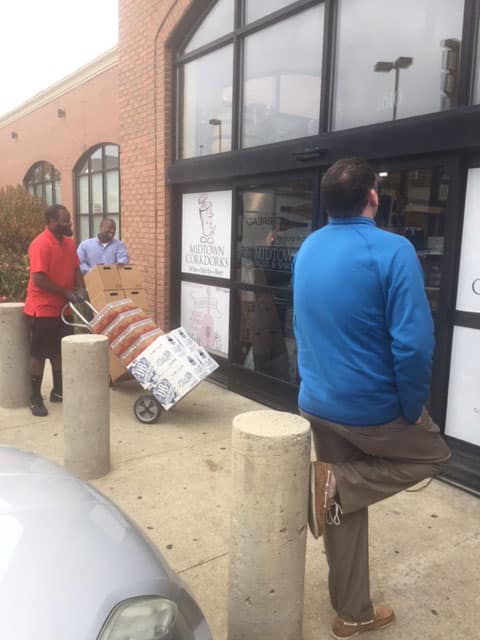 Being the blogger hack that I am, I started to get some quotes, on the record of course. "But I called the guy, and he told me on the phone they had one and how many of each they would release!" Following my online chat groups, twitter feeds, and Instagram posts, the fervor, and frustration of the injustice was building. Until I corresponded with the Midtown staff later that morning on why that Eagle Rare 17 was conspicuously absent from the lineup. They had likely pulled the bottle for a really good customer. I couldn't argue with that logic and approach. Sure, there were some great people from another state who played by the rules and earned a shot at whatever might be on the table for sale. But those people will likely disappear until the next Black Friday sale and not spend a dime in their store over the next year. The management pulled a bottle for a great customer who I can only imagine spends thousands if not tens of thousands of dollars each year.
As I continued the conversation with the Midtown staff over email, they relayed their point of view: "It is worth mentioning that it is very rare for anyone to choose to open the sale of these whiskeys to the public in a non-selective manner (most raffle to email subscribers or simply sell their allocation to their best customers), though I think the hassle surrounding the sale this year is causing the management to reconsider that approach." This whole black Friday sale takes a lot of effort, there are always frustrated patrons who don't get what they want, and there are the carpet baggers who swoop in and pick the prize offerings from the local patrons. Here's a thought Maybe we should be thankful for the opportunity to buy the good stuff on a first come, first serve basis. I am grateful for my retail relationships that don't require me to camp out in a parking lot, but I have come to enjoy the experience of the Black Friday campout as much as the bottles it has produced. Maybe this year we can all slow down the fervor of the hunt and enjoy the experience. Perhaps this year we can offer thanks to the stores that treat us right; say "thank you" rather than "How dare you." This is my hobby. This is their livelihood. I hope Midtown decides to do another Black Friday sale. It's an annual tradition I have grown to love regardless of the prize.