That Bourbon Ketchup: Spiked Ketchup For Grownups
I feel I should disclose the following: I'm not the biggest fan of ketchup. I don't hate ketchup, but compared to many of my friends, who put ketchup on everything from eggs to hash browns and burgers to hot dogs, I'm rather simple. I dip my fries in ketchup, and that's about it.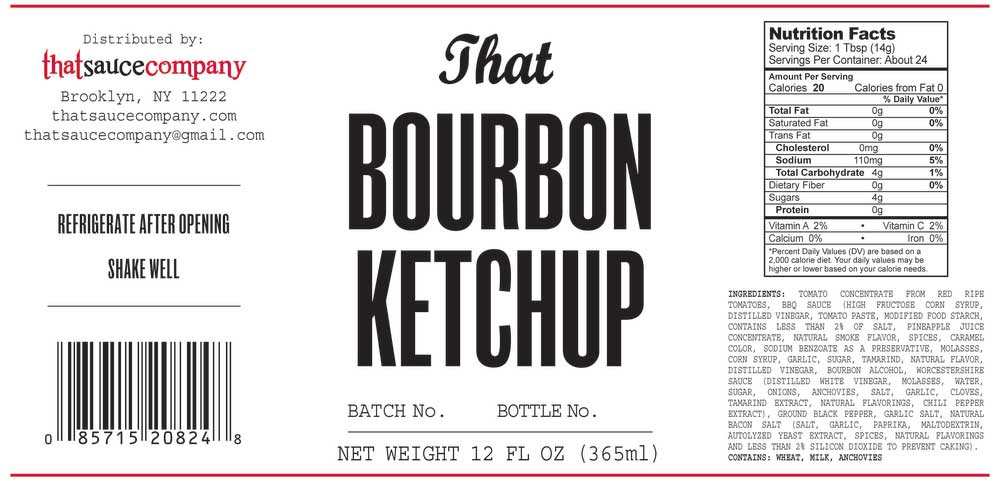 Disclosure: A bottle of That Bourbon Ketchup was provided by That Sauce Company for Bourbon & Banter to review.
Before I even start this review, I feel I should disclose the following: I'm not the biggest fan of ketchup. I don't hate ketchup, but compared to many of my friends, who put ketchup on everything from eggs to hash browns and burgers to hot dogs, I'm rather simple. I dip my fries in ketchup, and that's about it.
However, a bourbon spiked ketchup? That's a different story. But first, a little background on That Bourbon Ketchup.
That Bourbon Ketchup is brought to us by Dan Petersen, founder of That Burger and That Sauce Company. Petersen had been running That Burger in Brooklyn when he decided to take his sauces national via Kickstarter. From Dan himself:
You love ketchup. You love bourbon. You're gonna love That Bourbon Ketchup.
I'm a simple man who loves a good burger and fries. From that humble beginning, I started That Burger Tent as a pop up burger stand on the streets of Brooklyn. After two seasons of outdoor burger madness, I moved from the streets, dropped the Tent and became That Burger – serving up delicious burgers, fries, tater tots and wings inside of Billy Hurricanes and Idle Hands Bar in the East Village.
Once I started cooking every day, adding amazing sauces to the menu became the next step. That Bourbon Ketchup was the first of the many tasty specialty sauces. After perfecting the recipe over a few months and having many satisfied customers demand some of the sauce for themselves, I've decided to expand 'That' empire and am finally launching That Sauce Company to bring the sauce to your home.
While many of my sauces (such as Red Island Sauce, Cowboys from Hell Sauce, Crabby Mayo, That Spicy Bourbon Ketchup, and more) have gotten rave reviews, That Bourbon Ketchup has always been the first choice to bring to the masses.
I love cooking with bourbon, so That Bourbon Ketchup definitely intrigues me. But how does taste? I've never really reviewed food, other than a quick Instagram comment or Tweet, so here goes: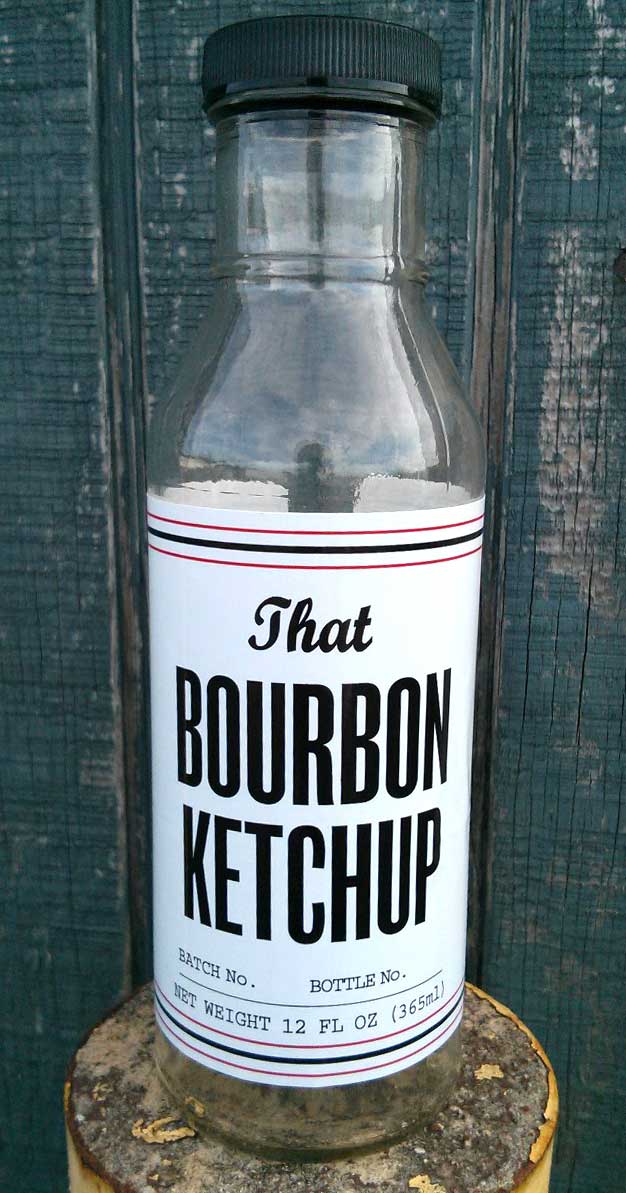 Product Name:  That Bourbon Ketchup
Year: 2013, Batch No. 1, Bottle No. 497
How I Tried It:  By itself, with Zaxby's fries and chicken strips and with sweet potato tots.
My Nose Noticed:  It's obviously ketchup, but not as sweet as other brands. I'm not a ketchup aficionado, so I don't notice much difference between Heinz and Great Value. This, however, smells noticeably different. The spices are more pronounced and it almost smells a bit boozy, although that could be the spices. If I didn't know this ketchup was made with bourbon, I'd probably guess it was a spicy ketchup based upon scent. Upon reading the ingredients I noticed  BBQ sauce is the second ingredient listed and bourbon is about midway through the list, so I'm sure those two being higher up on the list of ingredients have a big effect on the nose.
First Taste:  Not your ordinary ketchup. Much more savory than what you typically find in restaurants. The spices are more mellowed than on the nose, but still make for a very savory product. Not too salty, not too sweet and definitely not spicy. That Bourbon Ketchup reminds me of the ketchup that Restaurant Cotton (one of my local faves) makes fresh in-house, and yet, That Bourbon Ketchup is still better. I almost want to try this with other dishes that use tomato-based sauces, but not ketchup (e.g. pizza, pasta, lasagna).
With Fries:  Oh. My. Gawd. Unbelievable would be the appropriate word. I typically use mustard-based sauces, and sometimes a little ranch dressing, but not anymore. The spices come to life with the fries and turn two things that were already pretty good on their own into a wonderfully delicious dish. I actually had to close the box up and hide the ketchup because I'd been sharing my food and the fries were nearly gone.
With Chicken Strips:  Depending on the restaurant, I usually use their house sauce or honey mustard, as opposed to ketchup, but once again, That Bourbon Ketchup shined.
With Sweet Potato Tots: This was the one area of disappointment, but I actually think it had more to do with the tots themselves, as they tasted somewhat bland without the ketchup. I typically prefer sweet potato fries & tots over regular, but these weren't very good and no sauce was going to fix that. I'll have to get some good sweet potato fries/tots from another local restaurant favorite of mine later this week and try them with That Bourbon Ketchup.
At $13.00 a bottle ($6 for the ketchup and $7 for shipping), That Bourbon Ketchup is a bit pricey. Another point of concern for me is that they use high fructose corn syrup as a sweetener. I realize HFCS is cheaper than cane sugar or agave nectar, but it's also been proven to be even more unhealthy than cane sugar and agave nectar, and by charging $6 a bottle are they really saving that much money by using HFCS? Those two issues aside, I love That Bourbon Ketchup, and seeing as how I don't use ketchup often, $13 is not enough to stop me from ordering another bottle or two to keep in my fridge, so I'll definitely be placing an order once my bottle gets low. Now if only Dan would release his Cowboys From Hell Sauce for me to try, seeing as how I'm a big Pantera fan.
Special Discount for Bourbon & Banter Readers
The Bourbon Ketchup is offering a 10% discount of your order if you place it by November 15th.  Simply go to their website and use coupon code: bourbonbanter to receive 10% off your order.
Then make sure to come back and let us know what you think of That Bourbon Ketchup.