The Balvenie Caribbean Cask 14 Year Old Single Malt Whisky Review
It seemed that much of my 2018 involved barrel-finished whiskeys. Scotch, Bourbon, Rye or Irish – all of it jumped out at me.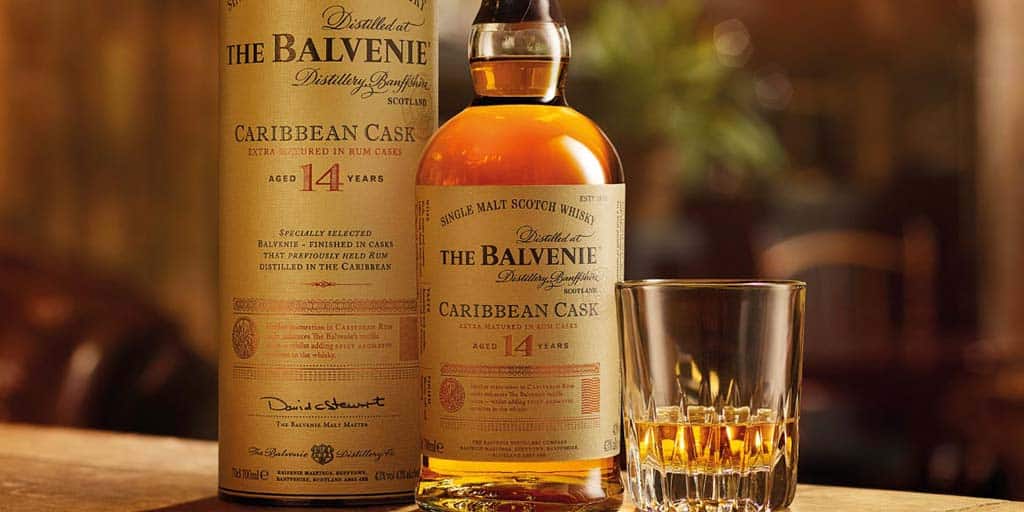 BOTTLE DETAILS
---
JEFF'S NOTES
---
NOSE: Vanilla  |  Toffee  |  Sweet, Dried Fruit  |  Slight Oak
TASTE: Oak  |  Vanilla  |  Brown Sugar  |  Pomme Fruit  |  Honey
FINISH: Sustained sweetness with a build-up of black pepper with a gentle kiss of vanilla.
SHARE WITH: Fans of Speyside Scotches.
WORTH THE PRICE: Most definitely.
BOTTLE, BAR OR BUST: Scotch is comparatively pricier than American whiskeys. For $70, an American whiskey should be a great performer. For Scotch, this is the beginning of mid-tier. Folks who don't enjoy unpeated Scotches probably won't enjoy The Balvenie just the same as most any other Speyside. However, The Balvenie Caribbean Cask has a lot going for it and is an amazing value. I enjoy Scotches from all regions, and for me, this is a very easy Bottle.
OVERALL: It seemed that much of my 2018 involved barrel-finished whiskeys. Scotch, Bourbon, Rye or Irish - all of it jumped out at me. Barrel finishing is an interesting process where the distiller or producer takes an (allegedly) good whiskey and, once properly matured, dumps it to another barrel that previously held something else. That something else may have been another spirit, wine, maple syrup, coffee, or, as we saw with George Dickel, Tobasco sauce.
One of the more memorable finished whiskeys I tasted last year was The Balvenie Caribbean Cask Single Malt Scotch. The Balvenie is from Scotland's Speyside region, which features the largest number of distilleries in the country. Speyside Scotches typically are unpeated, meaning they don't burn peat to dry the barley in the malting process. The Balvenie distillery is unusual in the fact that they grow their own barley and use a traditional malting floor to germinate and dry the barley. They've been doing this since 1892 when the distillery was founded by William Grant.
Distilled from 100% malted barley, The Balvenie then ages this Scotch for 14 years in ex-Bourbon barrels. From there, it is dumped into Caribbean rum casks where it rests for an unpublished amount of time. The Balvenie simply calls it "extra matured."
Some distillers legally use caramel coloring to make their Scotch more appealing. The Balvenie neither colors nor chill filters theirs. This gives the whiskey a more natural appearance. In the case of the Caribbean Cask, it presented as a clear, golden liquid in my Glencairn glass. Very interesting, despite my attempts to do so without swirling, I failed to create a rim or legs. When I gently rolled the glass, all that happened was it fell immediately back to the pool.
Vanilla was the strongest aroma even before it reached my face. When I cycled through my nosing zone, toffee, sweet dried fruit and the slightest of oak hid beneath.  Sweet honey was picked up when I inhaled the vapors through my lips.
The initial mouthfeel was thin and oily, and oak hit the tip of my tongue. Subsequent sips became more creamy, with flavors of vanilla and brown sugar up front, then morphed to pomme fruit mid-palate, and a few drops of honey on the back.
A sweet and peppery finish stuck around for several minutes until it dissipated.  Right before it ended, there was a gentle caress of vanilla before everything disappeared. It absolutely enticed me to take another sip.
I first tasted The Balvenie Caribbean Cask at a Scotch tasting along with five other finished whiskeys. The Balvenie was one of my two favorites of the night and I wound up buying both shortly thereafter. In Scotchland (see what I did there?), The Balvenie Caribbean Cask is a standout and absolutely earns a Bottle rating.
BRAND NOTES
---
The Balvenie Caribbean Cask 14 year old single malt whisky has been matured in traditional oak whisky casks for 14 years, and then 'finished' in casks that previously held Caribbean rum.

To create the ideal finish Malt Master David C. Stewart MBE filled American oak casks with his own blend of select West Indian rums.

When he judged the casks to be ready, the rum was replaced with the 14 year old spirit and the wood was put to work adding the final touches.

The result is an exceptional single malt whisky with the traditional smooth, honeyed character of The Balvenie married with notes of toffee and a hint of fruit, with a warm, lingering finish.
NOSE: Rich, sweet and creamy toffee on the nose combines with fresh fruit notes
TASTE: Rounded with vanilla and sweet oak notes, with a fruity character that develops with time
FINISH: Soft and lingering