The Embassy Series: Chacha – Georgia's Native Spirit
Who we are is largely defined by where we come from. Traditions, cultural norms, and language all contribute to how each of us perceive and experience the world. But tying all of these together is the significant impact that geography has on shaping culture.

Who we are is largely defined by where we come from. Traditions, cultural norms, and language all contribute to how each of us perceive and experience the world. But tying all of these together is the significant impact that geography has on shaping culture. In the Republic of Georgia – a country that sits atop the nexus of Europe and Asia – the unique geographic situation has lent to the birth of an ancient culture rich in both Eastern and Western traditions, with influences spanning from Persia, Mongolia, the Ottoman Empire, and more recently the Russian Empire and subsequent Soviet Union.
But its geographic situation is not only important for its foreign influence. More importantly, the territory of Georgia is well-suited to viticulture, or the cultivation of grapes. The Georgian winemaking tradition began during the Neolithic age, an era marked by the development of domesticated animals and modernized farming. Ambassador David Bakradze, chief diplomat at the Georgian Embassy in Washington, is an eager teacher of Georgia's deep roots in wine. "Georgia is considered the birthplace of wine-making, dating back to 6,000 BC. That means, we've been fermenting grapes in the same traditional way for over 8,000 years now, producing a variety of wines and spirits." Winemaking is one of the great sources of Georgian pride, and it is for good reason. Besides having the historical record of making wine for millennia, what is truly special about Georgian wine is the methodology and variety.
For thousands of years – and into the modern day – Georgians made wine by placing crushed grapes into large clay containers called Qvevri that were buried in the earth to age. The wine would rest in these large vessels (some are stories high) for years, even decades. Grapes – seeds, skins, and all – would be placed into the vessels, instead of being sieved out, which gives birth to the quintessential Georgian Orange or Amber wine. Orange wine drinks like a white but has an earthy minerality and slight funk (a la a light sour beer) that truly distinguishes it from other types of wine. But during the process of actually making the wine, the pomace (all of those leftover bits such as skins, seeds, stems) that didn't make it into the Qvevri would not merely be tossed in the garbage, but go on to live another life as Chacha.
Described by some as "grappa-like" or "grape vodka," Chacha is very much its own category of spirit, in large part due to the cultural significance surrounding the drink. "The distillation of Chacha (ჭაჭა) is a key example of the cycle of interaction of the Georgian people with vineyards, grapes, and the winemaking process," says Dr. Mamuka Tsereteli, President of the America-Georgia Business Council based in Washington, DC. "The process of making Chacha is a celebration," a common theme in Georgian culture, one that is famous for long feasts (supra) peppered with poetic toasts controlled by the iron-fisted Tamada, or toastmaster.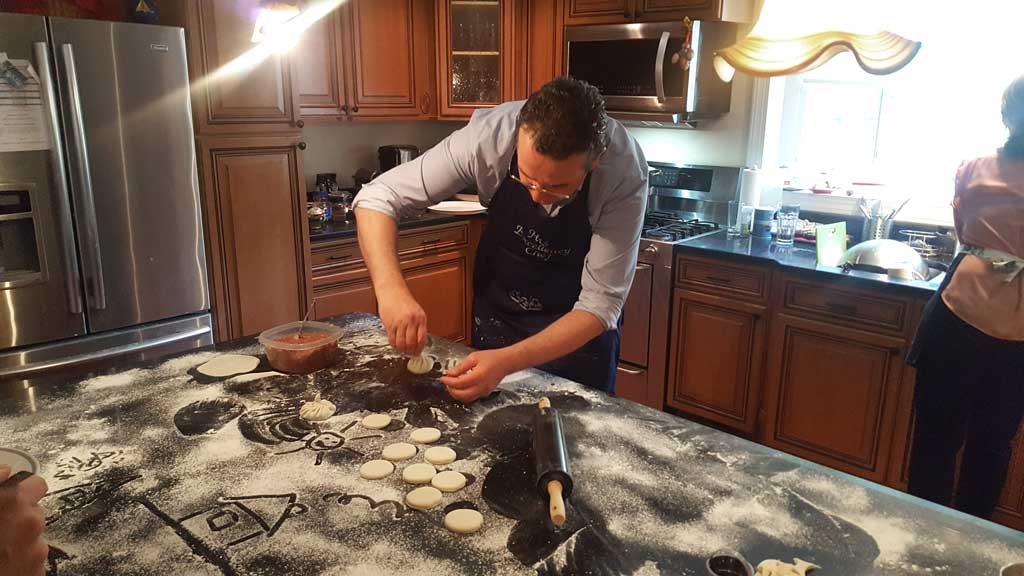 According to Tsereteli, the creation of Chacha is celebrated by preparing a special food: pork skewers (mtsvadi). These skewers, colloquially known to some as "The Dish of Kings," are grilled on open vine-fueled fire. "The smell of grilled pork, mixed with smell of distilled Chacha, is an unforgettable experience." And Chacha pairs well with all types of meats, according to Ambassador Bakradze. "At the Embassy, we started to do monthly Khinkali Brunches at my residence for small groups of our friends and partners from different U.S. government, international, and private agencies. At these events, we teach the guests how to prepare Georgian dumplings and pair them with shots of Chacha, which should be taken preferably icy cold."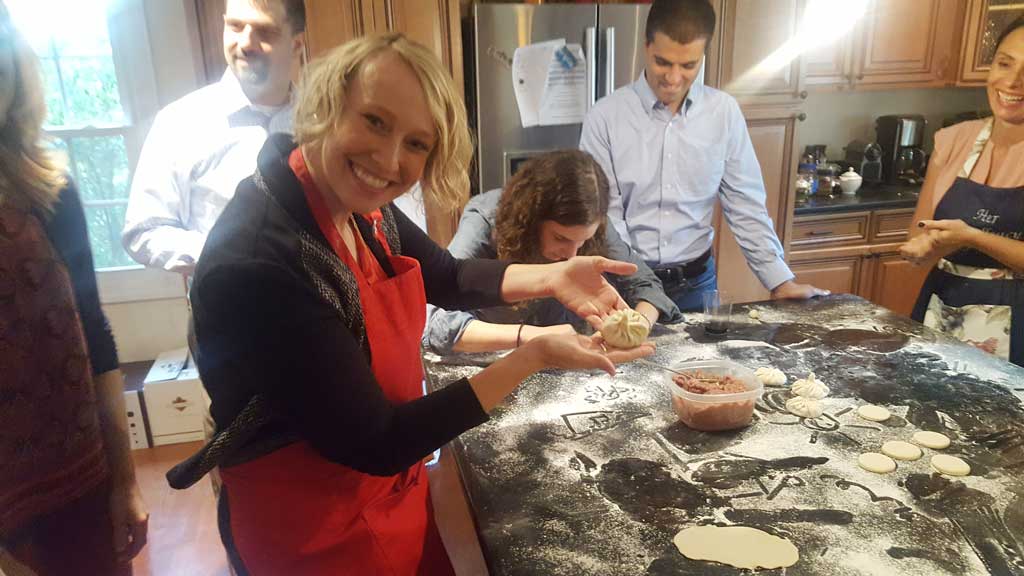 It was at one of these brunches that I first tried Chacha and the life-altering delights that are khinkali. (I even won an award for making the prettiest one!) These dumplings are stuffed traditionally with beef, but can also be made with mushrooms. The fat in the beef filling pools to make a soup inside that you can slurp out and chase with Chacha. Doesn't sound pretty, but you won't care; you'll be far too happy.
Though you can enjoy khinkali at any time of year, luck would have it that the Chacha distillation celebration itself occurs twice per year. Late Fall marks the harvest season in Georgia when the first wave of Chacha is made. But, as Georgian wine aged in Qvevri includes skin-on grapes (yielding that unique Georgian Orange or Amber hue), in early Spring, the wine goes through the maceration process, during which the additional skins and stems that have been marinating in the wine are removed. Thus the Chacha making, and the ensuing revelry, recommence.
The Chacha distillation process itself is not unlike that of Bourbon, and most Chachas do undergo double distillation. The hearts are cleaved from the distillate and redistilled to make the smoothest spirit possible. Though the majority of Chachas are bottled immediately as clear liquors, some are barrel aged in oak, yielding a very whiskey-like hue.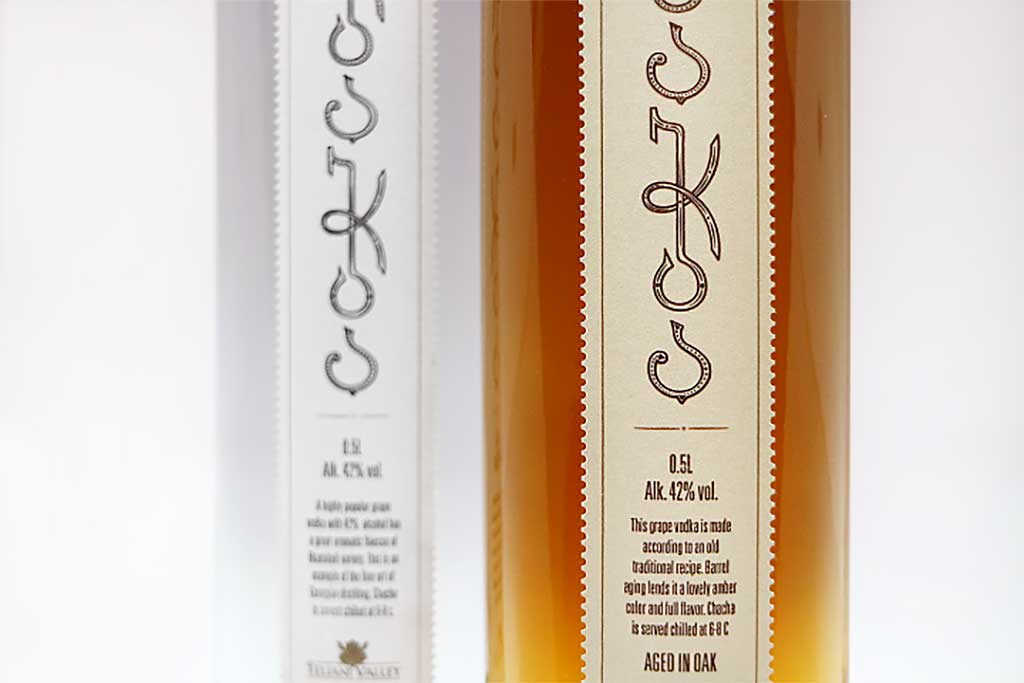 So what does it taste like? Already comparisons have been made to grappa and vodka, but these do not do it justice. Chacha has a remarkably smooth flavor that is more reminiscent of tequila. This similarity likely stems from the plant-base of both liquors. The oak-aged versions impart the usual caramel, vanilla, and woody flavors, yielding a rounder, earthier version of the drink.
And how should one drink it? For Ambassador Bakradze: "I like it cold. Ice cold." But regardless of if you shoot it straight, drink it warm, or chill on ice, Chacha is best served with friends – and khinkali – and ample opportunities for toasting.
Gaumarjos (გაუმარჯოს)! Cheers!