The Ultimate Blind Rye Tasting
If you've read any books on how the mind works, then you are well aware that we humans are excellent at being fooled and fooling ourselves. Case in point: many of you think you aren't improperly influenced by a name, a catchy bottle design, or the story behind a whiskey.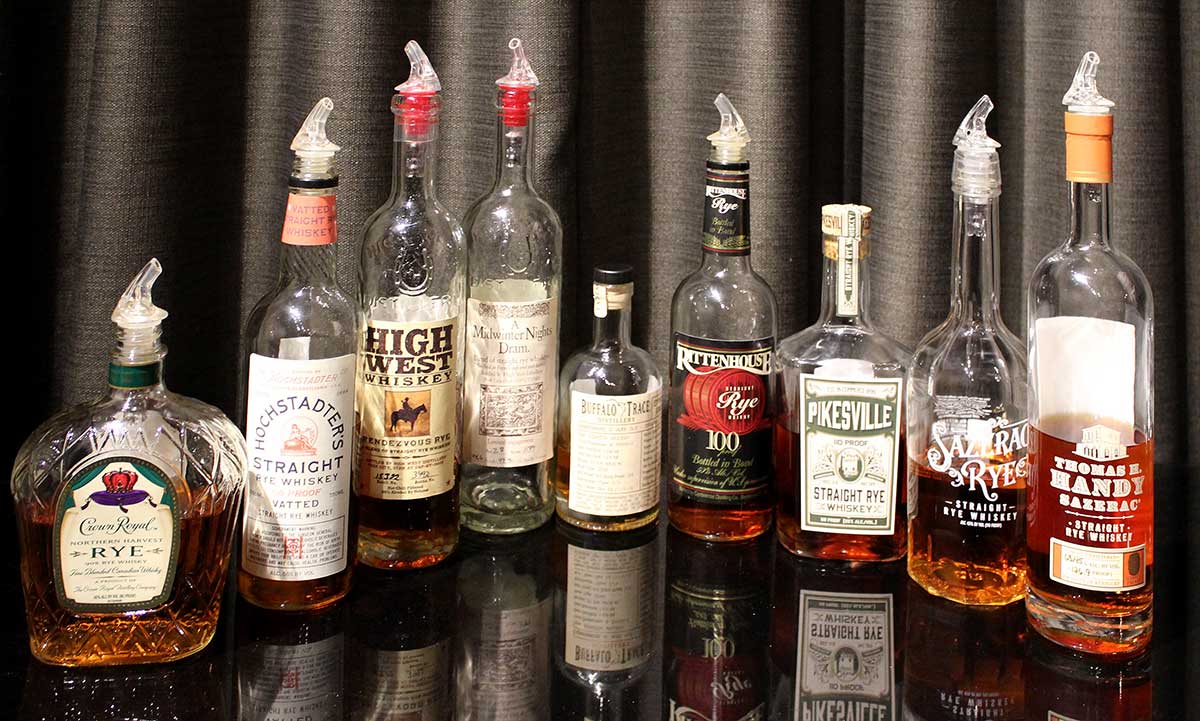 If you've read any books on how the mind works, then you are well aware that we humans are excellent at being fooled and fooling ourselves. Case in point: many of you think you aren't improperly influenced by a name, a catchy bottle design, or the story behind a whiskey. The reality is that our expectations are nearly always set before the first sip. With people, this is often referred to as 'The Halo Effect', where someone's appearance alone can significantly impact your initial impressions about their actual competence or abilities.
Given the current whiskey boom we are in, the thunder of never-ending hype joins the lightning of unprecedented scarcity in a perfect storm on social media. The deluge of photos and early reviews whip up a frenzy for whiskey hunters, who feel a real victory in an acquisition. However, the unavoidable fact is that the more prestige you attach to a bottle, the more likely you are to highlight its positive qualities. That is precisely why I am a huge proponent of tasting blind. Ironically, blind tasting helps you see more clearly.
Some of my favorite evenings in Omaha over the past several years have been spent at Spirit World's epic tasting events, where you not only sample outstanding whiskey, but you also have the opportunity to purchase some rarer spirits as well. Laurie was kind enough to allow my friend Andy and me to host our very own tasting recently and even more generous to allow us to do it our way: The Ultimate Blind Rye Tasting.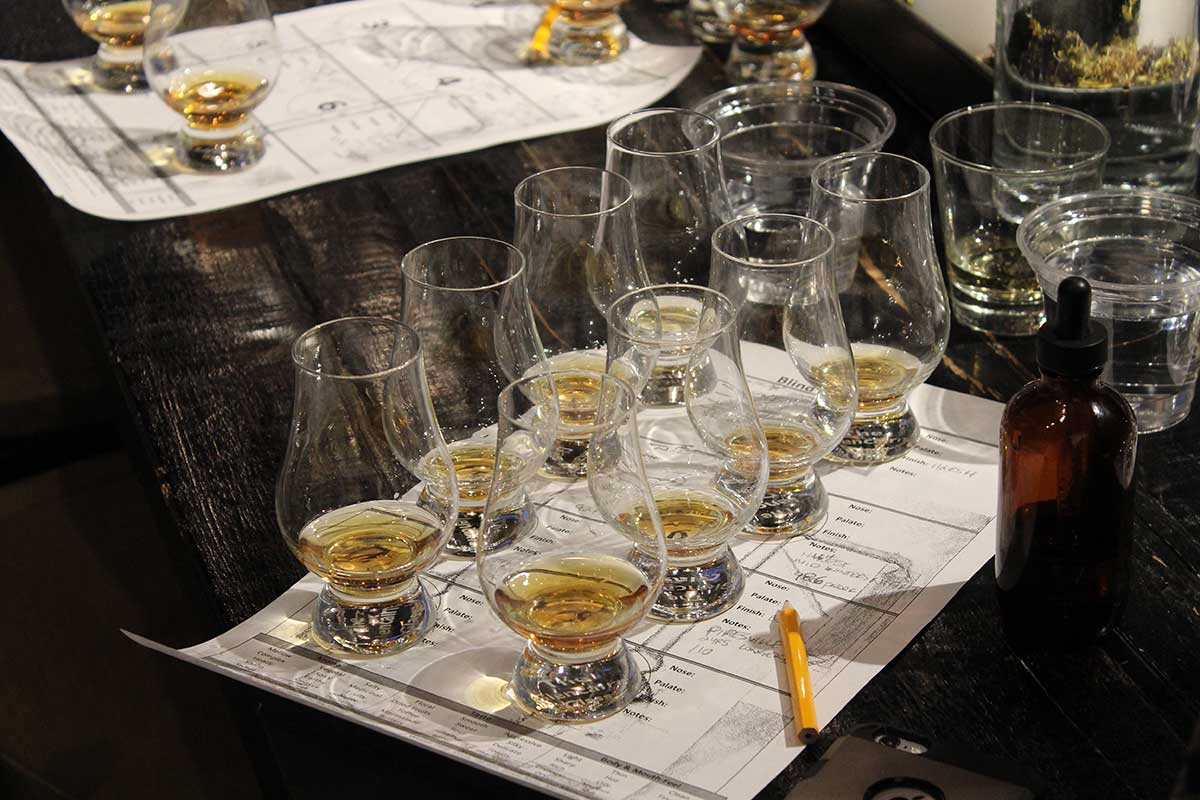 After resident alchemist, Alzuri, primed our 22 guests with a terrific rye-based cocktail called a Scofflaw, we gathered in the tasting room (It's a good idea to wake up your tongue before diving into any tasting). I suggested that our guests chart the different proofs, ages and mash bills as they went along, so they might be able to identify better the taste profiles they should be seeking out in the future. We also asked them to sample each spirit neat first and then with a little water added.
The rye whiskeys were grouped strategically:
High West Rendezvous Rye (92 proof) and the High West 'A Midwinter Night's Dram' (Act 2, 98.6 proof). The Rendezvous is an outstanding blend of 6 and 16-year ryes, and the Midwinter is the Rendezvous finished in Port and French Oak barrels.
Heaven Hill's Rittenhouse Bottled-In-Bond (100-proof, 4-years old) rye and the Heaven Hill Pikesville Rye. Pikesville is Rittenhouse's big brother at six years old and ten more proof points.
The "Baby Saz" Sazerac Rye (6 years, 90 proof) and its bolder twin, the Thomas H. Handy Sazerac Rye (2015, 126.9 proof). Same DNA, same age, different proof, and a different barrel.
The Crown Royal Northern Harvest Rye (90 proof) and the Hochstadter's Vatted Straight Rye (100 proof). The Hochstadter's is a robust blend of 5 ryes aged 4-15 years, sourced from Kentucky, Pennsylvania, Indiana, and Canada. It's an affordable, easy-to-find rye with a versatile proof that works great in cocktails as well.
The Northern Harvest Rye was our monkey wrench to throw into everyone's thinking, and Jim Murray (author of 'Jim Murray's Whiskey Bible') gave us the perfect opportunity. Murray shocked many people (myself included) when he picked the Northern Harvest Rye as his 2016 Whiskey of the Year, adding, "To say this is a masterpiece is barely doing it justice." Neither of us agreed, but we wanted to see how it fared in a blind tasting. We also served it first so it would remain on the table the entire evening, and people would return to it and compare it to the others.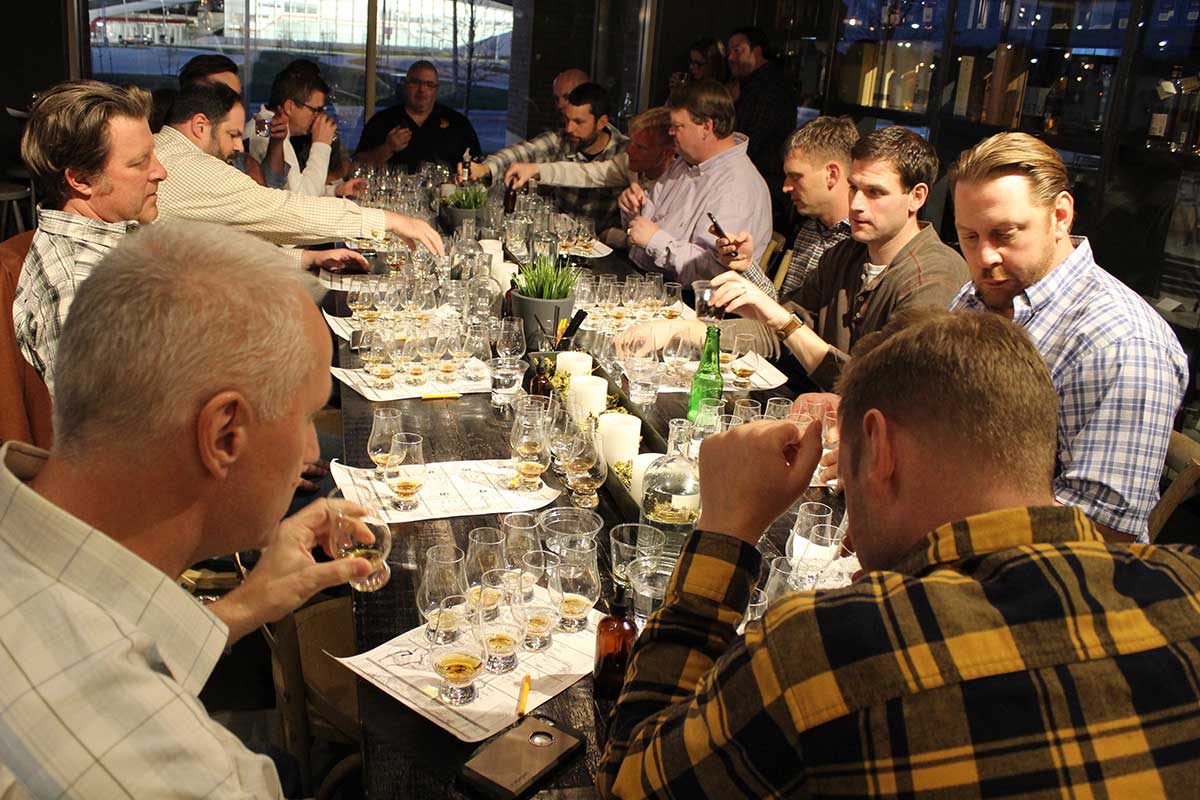 We never revealed a whiskey until everyone had a chance to form their opinions on each group and commit them to paper. The only exception to the reveal was the Northern Harvest/Hochstadter's pair, which we saved until the very end. Before each reveal, we asked for discussion and feedback on each group, a show of hands on their favorite of the two, and any tasting notes they wanted to share. We also played a game called "Guess the proof" and "Guess the age."
There were some surprising discoveries from the tasting (listed in order of reveal):
HIGH WEST RENDEZVOUS RYE & HIGH WEST 'A MIDWINTER NIGHT'S DRAM RYE
Tastings tend to build in proof and/or quality as they move along. To throw everyone off a little, we tasted the High West ryes early. These are terrific spirits, and even at the end of the evening, three people had Rendezvous as their favorite and three people had Midwinter as their favorite. By pairing the Rendezvous Rye with a finished Rendezvous, we demonstrated the differences a barrel finish can provide. The Midwinter we tasted was Act. 2 (my least favorite Act so far), which was more heavily influenced by the French oak than the port. Acts 1 and 3 were more port-forward to me. It was also a great opportunity for us to point out that different releases of limited spirits can taste very different from others.
RITTENHOUSE "BOTTLED-IN-BOND" RYE & PIKESVILLE RYE
The Rittenhouse has been a staple for a long time and a genuine bargain at its sub-$30 price. It's a perfect direct comparison to the new Pikesville, which is the same spirit with ten more proof points (110) and two more years of aging (6) than the Rittenhouse. I've heard a lot of people declare Pikesville their favorite rye, so this one should have been an easy win for the older, bolder Pikesville. Surprisingly, only one person had Pikesville as their favorite rye of the evening, while three chose the Rittenhouse. Our lone female guest even guessed it was Rittenhouse before we revealed it!
SAZERAC RYE & THOMAS H. HANDY SAZERAC RYE (2015)
If you read my Thomas H. Handy (THH) Rye review, then you know it's my favorite spirit. I was excited to see minds blown open by what I considered the Undisputed Champion of the evening. Even at the 2015 THH's lower proof of 126.9, when I taste these two side-by-side, THH shifts into a new gear of flavor, and the Baby Saz just can't seem to swim through that lower proof.
You can imagine my shock when only four people picked the THH as best in show, while four people preferred the Baby Saz to it. One person even jokingly guessed the THH at 190 proof. We even prodded them to add water to the THH and try it again multiple times. It was the head scratcher of the night for me, without a doubt.
CROWN ROYAL NORTHERN HARVEST RYE & HOCHSTADTER'S VATTED RYE
This was supposed to be the grand reveal of the night for us, and we waited until the end to pull the curtain back. Andy thought people would join Jim Murray in its praise and run to buy it. I didn't think there was a chance we'd be able to sell even a single bottle of it, so we bet on it at dinner before the event.
At the very beginning of the tasting, comparing only the lighter Crown Royal against the punchier Hochstadter's, there was a nearly even split between the two ryes. Even after tasting all of these incredible (and well-lauded) ryes, someone still had the affordable (and readily available) Northern Harvest as their best in show. And guess what? That person still didn't purchase the Crown Royal. And even though half the people in the room said they enjoyed it, nobody bought one.
The Hochstadter's Vatted Rye, also affordable and readily available, maintained three votes as the best and several bottles of that were purchased. Perhaps people just don't want to leave an event called "The Ultimate Blind Rye Tasting" with a bottle of Crown Royal. We set out to prove that when it's just the whiskey itself that matters, people will surprise themselves. The results show that we succeeded. However, once the blinders come off, psychology again rears its ugly head.
For new tasters, the list of 'best in show' votes below should emphasize the point that you can never argue taste. There is no runaway favorite in our group of eight rye whiskeys, and a sub-$30 rye that you can buy all day held its own against a $100 rye that is never on the shelf. Try a blind tasting yourself, and you may better discover what you like, not what you're supposed to like.
'BEST IN SHOW' VOTES FROM THE 22 TASTERS
---
Thomas H. Handy Sazerac Rye (2015) | 4 votes
Sazerac Rye | 4 votes
Hochstadter's Vatted Straight Rye | 3 votes
High West Rendezvous Rye | 3 votes
High West 'A Midwinter Night's Dram' (Act 2) | 3 votes
Rittenhouse 'Bottled-In-Bond' Rye | 3 votes
Pikesville Rye | 1 votes
Crown Royal Northern Harvest Rye | 1 votes
---