Todd Weiss – Bourbon & Banter Member Spotlight
I'm pleased to introduce everyone to this month's Member Spotlight – Todd Weiss, CEO of Striped Pig Distillery in Charleston, SC. I met Todd online several months ago when I first launched the Bourbon & Banter website.
I'm pleased to introduce everyone to this month's Member Spotlight – Todd Weiss, CEO of Striped Pig Distillery in Charleston, SC.
I met Todd online several months ago when I first launched the Bourbon & Banter website. I think I might have sent him a message inquiring about getting a sample of his products for review. Turns out that Todd is still working on getting the distillery up and running so I haven't gotten to try any product but I'm glad to have made another bourbon connection & friendship.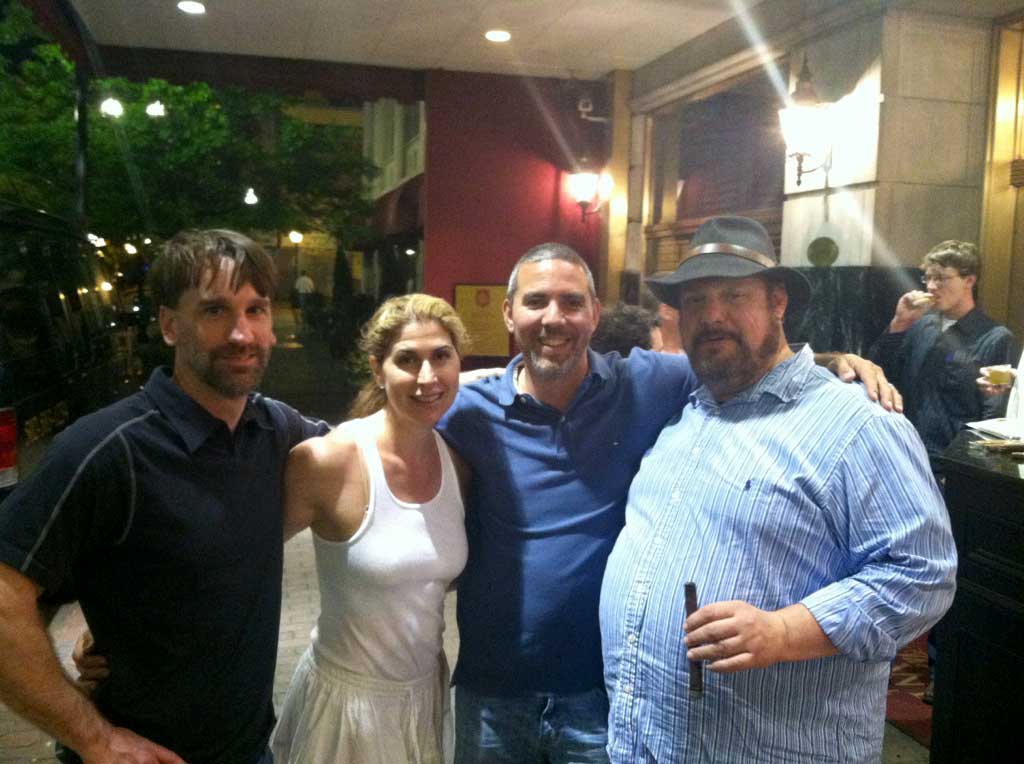 Todd's distillery, Striped Pig, is looking to open up in Charleston, SC and be distilling by end of the year. (They're finishing up financing right now and are still accepting investors if you're looking to invest in American spirits. ($10k minimum, though, folks!) Their initial products will be rum focused (read Todd's words further below) but they will feature limited-edition whiskey releases until their American-style Whiskey debuts in 2-3 years.
Here are a few more details on their initial products from Todd himself,
White rum: Will combine the caramel flavors of molasses and the fruity, earthy flavors of cane juice to come up with our signature blend. Look for this unaged rum to have plenty of flavor both on the nose and in the mouth, something missing in most "light" rums.
Gold rum: Our gold rum features a similar blend of ingredients, but hints at heavier molasses flavors. Speaking of "heavy," we aim more towards the Jamaican-style methods for the production of heavy rums.
White Whiskey: The focus here is on the sweet taste of South Carolina's heirloom varieties, but who knows what might happen when we throw in a little wheat or rye?
Our limited editions: We will produce 3 or 4 limited edition whiskeys each year.
Wheat
Rye
Bourbon
Single Malt (Scotch-style)
Our Benchmark: We won't rush this one, you'll just have to wait a while.
American Whiskey: This will be our benchmark whiskey when it is released. We begin barreling this on day 1 of production but hold it back for a few years in our coastal Carolina heat to age, much like the island rums. What to expect? The initial recipes leans towards a 4-grain whiskey, using both wheat AND rye for flavoring components. But what is the main ingredient? That is our little secret.
I can't wait to try what Todd's distillery puts out. I suggest you keep tabs on his operation and ensure you get your order in quickly when things become available. Until then, please give Todd a big welcome as we celebrate his love for Bourbon this month.
Name: Todd Weiss
City: Charleston, SC
Favorite Bourbons: Most everything from Buffalo Trace, especially Blanton's and Elmer T. Lee. Also interested in Four Roses methods. Jim Rutledge does some great things there. Eagle Rare is a new favorite. I must admit, most that I have tried between $20 and $50 have been fantastic. OH, also Angel's Envy (Hi Wes!). I like what they are doing, and can't wait until everything is in-house.
Least Favorite Bourbons: Honestly, I can't recall a bourbon I didn't like. That being said, I can't recall having anything under $20 or anything flavored…
How I Drink My Bourbon: Usually with a cube or two.
What is it about bourbon that you enjoy the most?: The main thing that drew me into the bourbon world was the historical aspect. The bourbon culture is just such a colorful aspect. My other interest is in the exploration. I'm always on the lookout for something new or hard to find. Whenever I'm in a restaurant, I will always try a bourbon that I haven't had yet. I've tried that with rum, as well, but most restaurants carry Bacardi and, well… Bacardi.
How did you come to be a bourbon fan?: I'm originally a rum drinker. I am working towards opening a distillery in Charleston, SC. A few years back, I had the opportunity to meet and share a few drinks with Chuck Cowdery. I asked Chuck to ease me into whiskeys. So my first was actually not bourbon, but Berheim's Wheat Whiskey. From there I just branched out and took what I could find (and afford). I've found I enjoy the full, vibrant flavors of bourbon over the "other" flavors in Scotch.
What do you enjoy most about the Bourbon & Banter community?: I am always looking for new (or old) information to share on Facebook and Twitter. Whenever I find something, it seems that Patrick usually sent out the same thing a few hours before me. He either has a keen eye or has my computer bugged!
If you'd like to connect with Todd, you can do so on Facebook.