Union Horse Distilling Bourbon Review
Founded in 2010, Lenexa, KS-based Union Horse Distilling Company (Formerly Dark Horse Distillery) is a family owned and operated, grain to bottle craft distillery featuring award winning small batch, artisanal spirits. From milling locally sourced grains to barreling and bottling, everything is done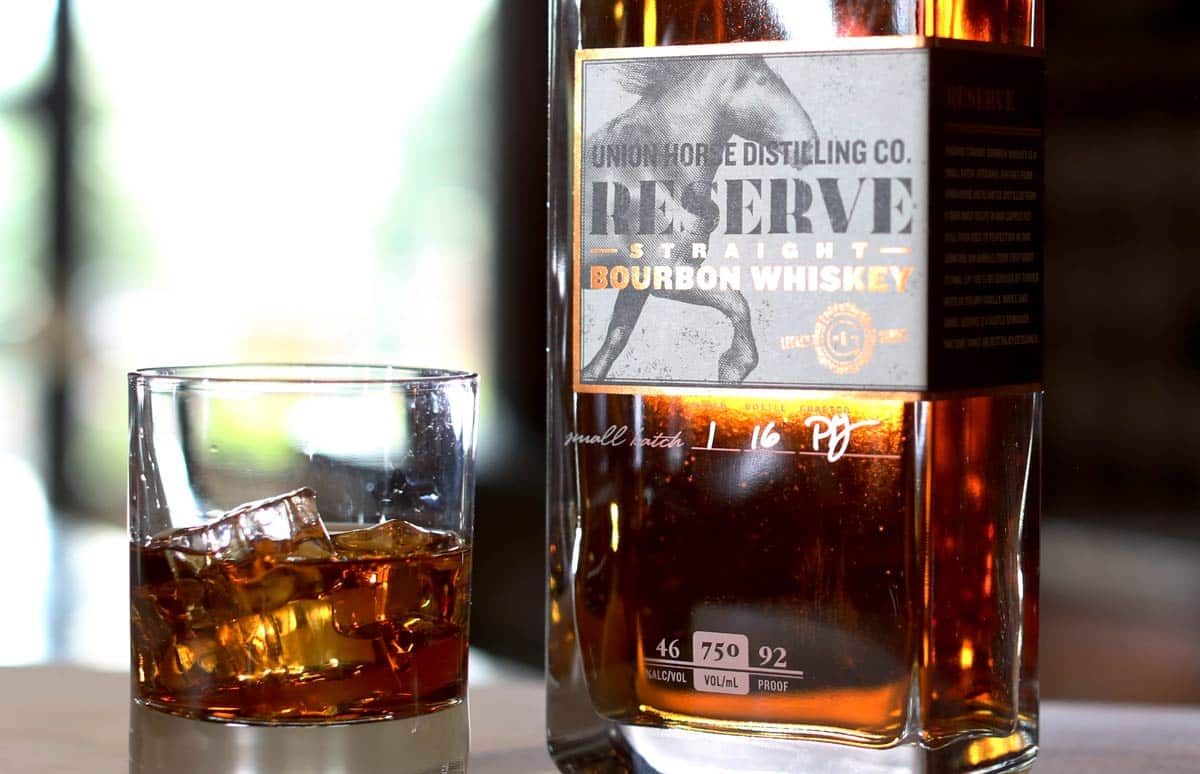 Founded in 2010, Lenexa, KS-based Union Horse Distilling Company (Formerly Dark Horse Distillery) is a family owned and operated, grain to bottle craft distillery featuring award winning small batch, artisanal spirits. From milling locally sourced grains to barreling and bottling, everything is done in-house. Each bottle of their Reunion Straight Rye and Reserve Straight Bourbon is hand numbered and signed by Master Distiller & Co-Founder Patrick Garcia.
They currently distill four spirits, Reserve Straight Bourbon, Reunion Straight Rye, Long Shot White Whiskey, and Rider Vodka. All are distilled using "Chester Copperpot", their 500-gallon column pot still. Then, the whiskeys are aged in new American oak barrels crafted in Missouri.
The Reserve Straight Bourbon arrived as advertised, in a sleek, rectangular, well-labeled bottle, brand spanking new, complete with batch number and signature. Now I'm not normally a flavored bourbon type of guy, but when one comes along boasting hints of maple, vanilla, and smoke, well, I tend to take notice. Among being some of my favorite taste temptations, what stuck out was the addition of smoke. So as I sat down to give this bourbon my undivided attention, I was hoping for some good things to happen. I wasn't' disappointed.
GERALD'S REVIEW OF UNION HORSE BOURBON
---
Name: Union Horse Distilling Company Reserve Straight Bourbon Whiskey
Proof: 92 proof / 46% ABV
Age: This bottle says over 2 years. Company information suggests their products are aged 2- 5 years in new oak barrels.
Year: 2016
How I Drank It: First neat, then with a splash, then over ice.
Nose: Mildly sweet, more vanilla than maple or smoke, with a bit of oak and spice.
Taste: First sip provided a quick hit of mild smoke, followed by mild hints of vanilla and perhaps maple or caramel. Not nearly the sweetness I expected, which made me happy. The flavors were very mild and stayed in the background to the bourbon. The finish was a pleasant, smoky, aftertaste.
The Burn: Medium mouth burn dissipates quickly with no throat burn detected.
Neat, Splash or Rocks: This is bourbon that adapts to the way you want to drink it. Sipping it neat provides the most full bodied and complete flavor, allowing the entire profile to come through. Adding a splash of Old Limestone was satisfying as well, yet I felt that it washed out a bit of the sweetness, allowing more of the smokiness to come through. Sipping over ice had a similar effect as the splash, weakening the already-mild sweetness, allowing more of the smoke to come through.
Price: I found this bourbon priced from $35.99 – $54.00. Shop around.
Bottom Line: Bottom line is this bourbon is mild enough to be compatible with mixers but complex enough to stand on its own and be enjoyed as a slow sipper. I can picture myself with a pour of this bourbon sitting on a porch, watching the world go by. The key is the smoke that, although mild, lingers as the aftertaste. If you're a fan, as I am, you'll enjoy. If not, you may want to try a glass before indulging in a bottle. You may just be converted.
---
Disclaimer: Special thanks to Union Horse Distilling Company for providing Bourbon & Banter with a sample of their whiskey. We appreciate their willingness to allow us to review their product with no strings attached.